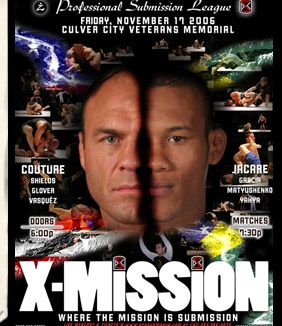 General Information
Date: 17-Nov-2006
Country: USA
State: California
City: Los Angeles
Venue: Culver City Veterans Memorial Auditorium
Jake Shields
vs
Marcelo Garcia


Marcelo Garcia defeated Jake Shields by choke in rd 1.
Alberto Crane
vs
Joe Camacho


Alberto Crane defeated Joe Camacho by arm bar in rd 2.
Vladimir Matyushenko
vs
Vinicius 'Pezao' Magalhaes


Vladimir Matyushenko defeated Vinicius Magalhaes by points (1-0).
Kron Gracie
vs
Andy Wang


Kron Gracie defeated Andy Wang by points (4-0).
Main Event

Randy "The Natural" Couture

vs

Ronaldo "Jacare" Souza



Randy Couture and Ronaldo "Jacare" Souza battled to a draw (0-0).
Jeff Glover

vs

Shane Rice



Jeff Glover defeated Shane Rice by points (3-0).
Rafael Lovato Jr
vs
Robert Camargo


Rafael Lovato Jr. defeated Robert Camargo by points (7-0).
Mac Danzig
vs
Allen Zvbrosky


Mac Danzig defeated Allen Zborovsky by choke in rd 1.

Our Forum is now open, what we need is your posts to make it work.

All interviews and Archived stories and results can be found Here.

It can only be what you make it ...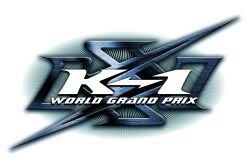 | Date | Tournament | Series |
| --- | --- | --- |
| 2006-11-25 | K-1 WORLD GRAND PRIX 2006 FINAL | K-1 World GP |
| 2006-09-30 | K-1 World Grand Prix 2006 in Osaka | K-1 World GP |
| 2006-08-14 | K-1 World Grand Prix 2006 in Las Vegas II | K-1 World GP |
| 2006-07-30 | K-1 World Grand Prix 2006 in Sapporo | K-1 World GP |
| 2006-06-03 | K-1 World Grand Prix 2006 in Seoul | K-1 World GP |
| 2006-05-13 | K-1 World Grand Prix 2006 in Amsterdam | K-1 World GP |
| 2006-04-29 | K-1 World Grand Prix 2006 in Las Vegas | K-1 World GP |
| 2006-03-05 | K-1 World Grand Prix 2006 in Auckland | K-1 World GP |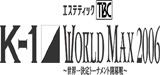 | Date | Tournament | Series |
| --- | --- | --- |
| 2006-09-16 | K-1 Khan 2006 in Seoul | K-1 MAX |
| 2006-09-04 | K-1 World Max 2006 Champions' Challenge | K-1 MAX |
| 2006-06-30 | K-1 World Max 2006 World Tournament Final | K-1 MAX |
| 2006-04-05 | K-1 World Max 2006 World Tournament Open | K-1 MAX |
| 2006-03-26 | K-1 Holland Max 2006 | K-1 MAX |
| 2006-03-10 | K-1 Lithuania Max 2006 | K-1 MAX |
| 2006-02-25 | K-1 Khan 2006 in Busan | K-1 MAX |
| 2006-02-04 | K-1 Japan MAX 2006 | K-1 MAX |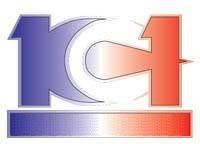 | Date | Tournament | Series |
| --- | --- | --- |
| 2006-09-16 | Fight Night Mannheim | K-1 Rules |
| 2006-09-16 | K-1 Kings of Oceania 2006 Round 2 | K-1 Rules |
| 2006-08-05 | Rumble on the Beach | K-1 Rules |
| 2006-05-20 | K-1 Scandinavia Grand Prix 2006 in Stockholm | K-1 Rules |
| 2006-04-08 | K-1 Italy Grand Prix 2006 in Milan | K-1 Rules |
| 2006-02-25 | K-1 Hungary Grand Prix 2006 in Budapest | K-1 Rules |
| 2006-02-17 | K-1 Slovakia Grand Prix 2006 in Bratislava | |
| 2006-01-20 | K-1 France Grand Prix 2006 in Marseilles | K-1 Rules |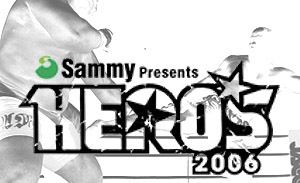 | Date | Tournament | Series |
| --- | --- | --- |
| 2006-12-31 | K-1 Premium 2006 Dynamite!! | Hero's |
| 2006-10-09 | Hero's Middle & Light Heavy Weight World Championship Tournament FINAL | Hero's |
| 2006-08-05 | Hero's Middle & Light Heavyweight World Championship Tournament | Hero's |
| 2006-05-03 | Hero's 5 | Hero's |
| 2006-03-15 | Hero's 4 | Hero's |