Women to Watch For ....

By Adam Pollack


These are the women who promoters should try to put on their cards, writers should take notice of, and most importantly, television networks should consider putting on their televised shows. There are competitive, interesting, and entertaining matchups in women's boxing if they are put together. Fans would enjoy them. If it can be done for women's tennis, it can be done for women's boxing.

Have you ever noticed that HBO has never televised a women's bout? This needs to change, especially given some of the boring fights the network had this past year. These women will provide viewers with more entertainment than some of the men's bouts. ESPN gets my Intelligent Equality Award for recently televising some of these top women, and every time it was done, the women proved that they were skillful and entertaining.


168 lbs to 175 lbs

Laila Ali (22-0, 19 KO's): She truly isn't just a name, but in fact is one of the best pound-for-pound women boxing today. Her years of hard work and consistent improvement have truly paid off. Laila Ali can really box and punch. That said, with her talent and ability, she needs to fight top competition. In her last fight, she took on a gal with only five pro bouts who had lost her previous bout. Ali can do better than that.

Ann Wolfe (22-1, 15 KO's): This is one of the strongest and toughest women in boxing. She truly could be Laila Ali's toughest test. A match between the two would be awesome, and a top network should try to put it together. Both Wolfe and Ali come to fight and are entertaining and skilled. Wolfe twice clearly avenged her only defeat, which came early in her career.

Leatitia Robinson (13-0, 9 KO's): This former top U.S. amateur is very fast, has beautiful skills and footwork, and has shown that she has enough pop to get respect.

Analysis: Both Wolfe and Robinson should be given the opportunity to box against Ali, or each other. If Laila can defeat them, then she is clearly the best pound-for-pound woman in the world and should go down as an all-time great.


140 lbs to 147 lbs

Sumya Anani (25-1-1, 10 KO's): Anani flat-out comes to fight, and she's always in shape. She is a Joe Frazier-type fighter who keeps a good pace and packs a powerful left hook. Anani won a decision over Christy Martin in a great and entertaining fight back when Christy was the best. Anani twice avenged her only loss and also avenged her only draw (which Anani deserved to win -- terrible decision). She is one of the pound-for-pound best in women's boxing today and will make for an entertaining match with anyone. Someone please put her on television!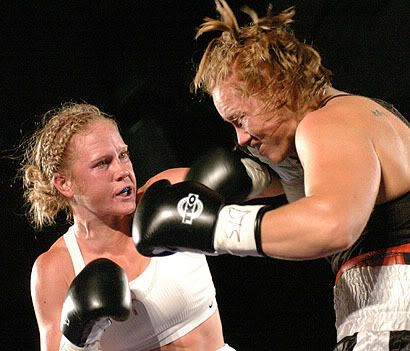 Holly Holm (12-1-2, 4 KO's): This 5-foot-8-inch 24-year-old southpaw boxer (pictured) really put her name on the map with a recent unanimous decision upset win over women's boxing legend Christy Martin. She is also coming off a unanimous-decision win over Mia St. John. Her beauty makes her even more marketable. Just ask Oscar de la Hoya whether looks help.

Mary Jo Sanders (18-0, 5 KO's): Sanders is very talented, throws nonstop punches, and has the skill to back it up. She has a win over the very tough Chevelle Hallback, an entertaining fighter in her own right. Recently KO'd Iva Weston.

Analysis: All three of these women would make for great and true championship fights if matched up. Sumya Anani is the most entertaining champion that no one knows about but should.


130 lbs to 135 lbs

Chevelle Hallback (25-4-1, 11 KO's): She's a very rough and tough customer who has improved with experience. She brings an entertaining style to the table and is game to the core, willing to fight anyone.

Kara Ro (13-0, 7 KO's): This former top Canadian amateur stands 5-foot-8 and has some decent pop. Ro has recent wins over Tracy Byrd and Belinda Laracuente.

Analysis: Hallback is one of those fighters who is a true, gritty veteran who brings the strength and maturity of a woman. She deserves TV exposure.


122 lbs to 126 lbs

Missy Fiorentino (13-1, 6 KO's): Furious Fiorentino is a female version of Roberto Duran, bringing a nonstop attacking style and working the body and head. She's a former top U.S. amateur and is coming off a hard-fought victory over well-respected and well schooled 18-2-1 Esther Schouten in an action-packed bout that should have been nationally televised. Esther Schouten was clearly a skilled boxer with a good guard and solid punches, but Fiorentino's brutal pace was too much. Fiorentino's only loss is a controversial decision to Japan's Emiko Raika in Japan (which I saw and disagreed with). She and Hallback or Garside would probably make for a great fight.

Jeanine Garside (4-0, 1 KO): Canadian southpaw can box and punch and just easily won a title against 12-1-2 Lisa Brown in only her fourth pro bout. That's how talented she is. She is quite strong and very experienced as an amateur, and she has a marketable appearance and personality.

Rhonda Luna (10-0-1, 1 KO): Just fought a draw with 12-0-1 Cindy Serrano, but reports suggest that Luna may have deserved the decision.

Cindy Serrano (12-0-1, 7 KO's): Another good fighter worth consideration given her effort against Luna.

Michele Aboro (21-0, 12 KO's): Brit living in Germany has wins over Eva Jones and Kelsey Jeffries.

Analysis: Fiorentino is definitely a TV fighter because she is so entertaining. She and any of these women would make for excellent fights.


115 lbs to 118 lbs

Bettina Csabi (26-0, 10 KO's): Hungarian boxer mostly known in Europe is well schooled.

Anita Christensen (17-0, 7 KO's): Danish fighter is tough and skilled.

Myung Ok Ryu (4-0, 3 KO's): Has wins over Mariana Juarez and Alicia Ashley, but until she fights outside of Asia, it will be difficult to tell just how good she is.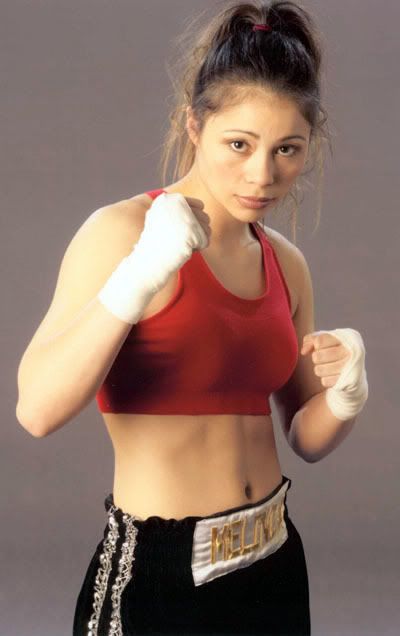 Melinda Cooper (16-0, 9 KO's): 20-year-old Las Vegas fighter (pictured) started young and has gained the experience necessary to make her a top pro. She too has an entertaining style.

Mariana Juarez (14-4-3, 8 KO's): This Los Angeles-based Mexican comes to fight, is very well conditioned, and has a solid chin. Recently lost to Ryu on cuts.

Analysis: I'm calling for a Cooper-Juarez fight because it could be made here in the U.S. and it would be an entertaining style matchup. There are a lot of undefeated boxers in this weight range, and I think someone's 0 must go. Let's get some good matches made and see who the real champion is.


112 lbs (and under)

Regina Halmich (49-1-1, 15 KO's): It's hard to argue with results, and she always manages to pull out the close ones. She never fights outside of her native Germany, which gives her the hometown edge, but it makes perfect economic sense because she's a huge star there, packing the house for her fights. Anyone who thinks women can't fill a house need only watch a DVD of one of her fights.

Carina Moreno (8-1, 3 KO's): Former U.S. amateur champion from California is well-rounded and could be the future of the division, despite recent loss to Wendy Rodriguez. She might be the one to dethrone Halmich.

Wendy Rodriguez (16-2-3, 2 KO's): Tough little scrapper out of Los Angeles has the experience and speed to give anyone a tough bout. Rodriguez recently won a split technical decision over Carina Moreno, when a head butt caused a cut on Rodriguez and it went to the scorecards. There should be a rematch to truly determine who is the better fighter.

Analysis: The money is in fighting Halmich, so you have to go to Germany to fight her. Rodriguez should now take on Halmich, though either Rodriguez or Moreno would give Halmich a good, entertaining fight.