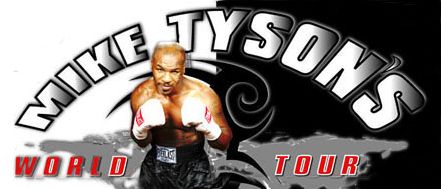 Cash Poor, Tyson will fight Exhibitions
Former Heavyweight champion Mike Tyson says he needs Exhidition Tour to keep up with bills...
By Joe Milicia
YOUNGSTOWN, Ohio Sep 29, 2006 (AP)— Even Mike Tyson doesn't know why people would pay to see him fight anymore.
"That's what I said," he said to that question Thursday, drawing laughter at a news conference to announce "Mike Tyson's World Tour," in which he will fight in a series of four-round exhibitions.
"I think I'm useless to society. I don't think I'm worthy of the people who come out to see me, but they do."
The former heavyweight champ appeared calm and relaxed, smiling and joking about the shape he's in physically, mentally and financially.
But he said he was nervous to be back in front of an audience and in inner turmoil, his recent years marked by embarrassing fights inside and out of the ring and staggering debt.
"The money I make here is not going to help any of my bills really from a tremendous standpoint," he said. "But I'm going to feel better about myself. I'm not going to be depressed."
The "baddest man on the planet" acknowledged he's in horrible shape and only capable of going three or four rounds.
So Tyson, who last fought in June 2005, losing to the unheralded Kevin McBride, will return to the ring Oct. 20 at the 6,000-seat Chevrolet Centre in Youngstown for a pay-per-view event against former sparring partner Corey "T-Rex" Sanders.
"Hopefully, he's gentle and kind to me," Tyson said. "If he starts winging, I'm going to start winging."
The 40-year-old Tyson had said he was finished with boxing after his bout with McBride, which he quit after six rounds.
On Thursday, the man who vowed to eat Lennox Lewis' children and bit off a piece of Evander Holyfield's ear seemed accepting of his current position and emphasized he's in no mood for a comeback.
"If I don't get out of these financial quagmires, there's a possibility I may have to be a punching bag for somebody," he said.
After the news conference, he said quietly, "I don't want to do that anymore. Everybody's saying, 'Mike, make a comeback.' I'm not going to do that.
"The best decision I ever made was to retire from boxing. Because I don't have any stress. I'm pretty simple. I like the person I am now more than I did. I don't like 'Iron Mike' I like Mike Tyson."