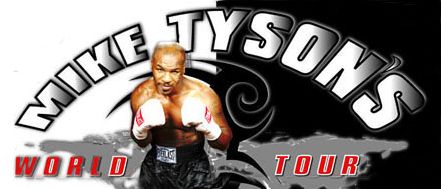 Tyson to go four rounds with 'T-Rex' in exhibition fight
YOUNGSTOWN, Ohio -- Mike Tyson was very clear about the extent of his boxing skills heading into an exhibition match on Friday.
The former heavyweight champion was meek and understated while promoting the fight at a news conference on Wednesday at the 6,000-seat Chevrolet Centre in Youngstown.
"How much you got left, Mike?" someone asked.
"Well, enough to box four rounds," Tyson said.
That's how long the 40-year-old will be in the ring as he kicks off "Mike Tyson's World Tour," which will include stops in Virginia, California, China, Russia, Croatia and South Africa, promoter Sterling McPherson said.
Tyson asked people not to judge him by his exhibition match and reiterated he has no desire to return to boxing professionally.
"I don't miss it at all," he said. "I realize that I'm retired and I'm just not into the game anymore."
The man who once vowed to eat Lennox Lewis' children will go up against former sparring partner Corey "T-Rex" Sanders, who stands about a head taller than Tyson.
The two could elect to wear headgear in the pay-per-view match, although McPherson said he prefers that they don't so the public can see their faces.
"How often do you get to see Elvis Presley or The Beatles? This is what Tyson is," McPherson said.
Tyson last fought in June 2005, losing to the unheralded Kevin McBride. Tyson had said he was finished with boxing after the bout, which he quit after six rounds.
Tyson shot to fame by knocking out Trevor Berbick in 1986 to become the youngest heavyweight champion in history at age 20. He was knocked out by James "Buster" Douglas in 1990 and lost his world heavyweight title. He later served prison time for rape, returned to fighting and bit Evander Holyfield's ear in a 1997 fight.
AP NEWS