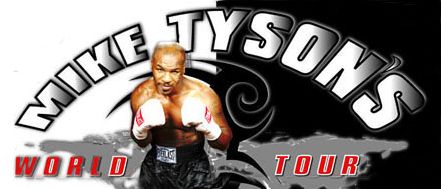 Tyson speaks about World Tour!
September 29, 2006
By Brady Crytzer
The mood was light and spirits were up at the press conference in Youngstown, OH when Sterling Promotions Inc. announced that "Mike Tyson's World Tour" would officially kick off on Friday October 20th at Chevrolet Centre where the former heavyweight champion of the world would meet the 6'6 Corey "T-Rex" Sanders in a four round exhibition bout.
"It has taken some time to mold this 'World Tour'," promoter Sterling McPherson said. "I am grateful to be back home and present this kind of card. Fans will get to see Mike Tyson fight for $25. You can't see Barry Bonds or Michael Jordan for that amount of money. Mike is thrilled to be doing this for the fans."
A grateful Sterling McPherson said his peace before introducing "Iron" Mike.
"This is a true honor for me to be working with Mike," McPherson said. "When I first saw Mike he was a humble kid. He was the second coming of Joe Louis. Guys would be talking trash and he would just put his head down. Mike talks in the ring."
"This is the most gracious man I have ever worked with. Everyone says 'Oh, Mike's crazy' and this and that. I have been around this man a lot and he is one of the hardest working and most humble men that I have had the pleasure of knowing."
Tyson, who hasn't been in the ring for nearly sixteen months since his 2005 loss to Kevin McBride, was in good spirits and was happy to answer questions regarding his future, his past and what lies ahead of him on October 20th.
" I am doing this because I am a little overweight," Tyson began. "I was smoking and I needed to get in shape."
"As Jeff (Fenech) and I were training I felt good again. I did a promotional thing at the Aladdin Casino is Las Vegas to have public workouts and thousands of people were coming everyday. I told Jeff that I feel like I can do this again if I could just get out of some financial quagmires."
"People will come out to see me fight," Tyson said. "I really feel that I am useful to society."
Though the rules and stipulations to the "exhibition bout" were sketchy at best, promoter Sterling McPherson commented on the scheduled four round main event.
"This will be a regular, normal fight with full three minute rounds," McPherson said. "The fighters have the option to either wear the headgear or decline. Mike and I have discussed it and he would preferably not wear it."
"Remember, this is an exhibition bout," McPherson reiterated. "There is no win or lose for either fighter. They will go out there for four rounds and put on a great show."
The opponent, Corey "T-Rex" Sanders (23-10, 15 KO's), is most memorable for stopping current WBC heavyweight champion Oleg Maskaev in the eighth round of their 2002 meeting. Though he was not in attendance, Sanders presence was certainly felt when Tyson-Trainer and former world champion Jeff Fenech approached the microphone.
"This is not going to be an easy fight," Fenech claimed. "We are talking about a man who is 6'6 and weighs 300 pounds. This is the man that knocked out our current world champion Oleg Maskaev."
"I'm happy to be training Mike," Fenech said. "We still have four weeks to get in shape and Mike will be in shape. On October 20th you will be able to watch the greatest heavyweight of all time."
As the media addressed the former champion, "Iron" Mike showed little hesitation to have some fun with the crowd and be a bit philosophical.
"The money I get from this won't get me out of debt," Tyson said. "It is nice to win though. Depression is a very serious thing for a fighter."
"Right now it's raining outside," Tyson said as he gestured to the windows. "I like the rain. It's like my sunshine. I know that's a bit morbid but I love it."
As for the other stops along "Mike Tyson's World Tour," promoter Sterling McPherson was adamant that Tyson's was the one with the final say.
"If this fight goes anywhere its because Mike wants it to go there," McPherson said. "This is a chance for him to get out and let the world see what he can do. If Mike wants to go to China, we will go to China."
"That's why I let other people make decisions for me," Tyson said laughing. "I don't know what the hell I'm doing."
"I want to fight one hundred of these exhibition bouts," Tyson said sarcastically. "If I fight one hundred four round bouts that will be more rounds than I fought for my entire career."
With a supportive crowd on hand, "The Baddest Man on the Planet" closed the conference with some wisdom of his own.
"I have learned a lot since I started boxing," Tyson said. "I hate the business of boxing. I learned that life is unpredictable. Life is short. You have to stay humble and you cant get angry. The world is a hustle and bustle."
Former Titlest Spadafora Returns as Co-Feature
Also announced at the press conference was the return of the unbeaten former IBF world lightweight champion Paul "The Pittsburgh Kid" Spadafora as the co-main event to the first bout of "Tyson's World Tour." Spadafora himself though was not in attendance.
"Paul will be fighting a full ten rounds," Sterling McPherson said. "We will be looking for an opponent to help him get his feet back on the ground again. I do not expect him to fight a world champion in his first fight back."
"He is a competitive kid. He will want to fight somebody that will give him a run for his money for at least six or seven rounds." Though remaining unbeaten, Paul Spadafora announced that he would be moving up in class on multiple occasions due to the strain on his body to make the lightweight limit of 135 pounds. The toll taken on his body was never more evident then in his 2003 unification clash with WBA champion Leonard Dorin.
"I don't know what Paul will be weighing in at for this fight," McPherson said. "His last fight against Dorin was at 135 pounds, so we should see him around there. We could even see him at 140 pounds. He shouldn't have to break his back to make 135 though, that's crazy."
Also on the card is unbeaten amateur standout Juan McPherson. McPherson, who sustained an injury keeping him out of the Athens games, has a professional record of 3-0.
"He is by far one of the most exciting fighters in American right now," Sterling McPherson said. "He was the favorite to win gold in the Olympics and unfortunate circumstances kept him from competing. This is the chance of a lifetime for this kid and I see him winning a world title very soon."