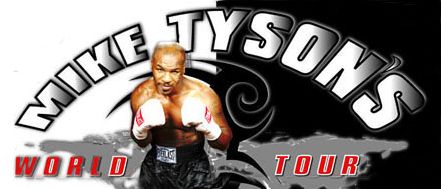 Tyson World Tour presser!
October 19, 2006
By Josh Womack
Photo: Joe Bada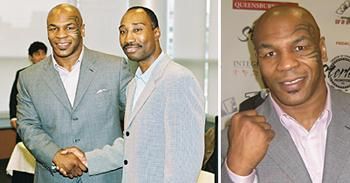 "Mike Tyson's World Tour" held a brief press conference today at the Chevrolet Centre in Youngstown, Ohio. This was the final press conference before Tyson (50-6, 44 KO's) takes on Corey "T-Rex" Sanders (23-11, 15 KO's) in a 4-round exhibition at the Chevrolet Centre this Friday.
Publicist Bob Treiger got things kicked off by welcoming everyone and then introduced former lightweight champion of the world and Youngstown native, Ray "Boom Boom" Mancini (29-5, 23 KO's).
"I just want to welcome Mike and Sterling to Youngstown, Ohio," said Mancini. Youngstown has a great boxing tradition and I wish the Chevrolet Centre was around when I was fighting. It's a great building and it should be a great time on Friday night"
Mancini will be doing color commentary for Tyson's fight.
Promoter Sterling McPherson took the podium after Mancini and addressed many issues boxing fans were curious about including the possibility of Tyson and Sanders wearing headgear for their exhibition.
"I am leaving it up to Mike and Corey, It's their call. I haven't pressured them and we'll find out Friday what they decide. If it were my call I wouldn't have them wear headgear because I want to make sure the fans in attendance and on pay-per-view have a chance to see the fighter's faces," said McPherson.
McPherson also addressed the number of pay-per-view buys thus far.
"I really don't know in terms of how it's going. I'll know more tomorrow (Thursday). Pay-per-view is a tricky thing because a lot of boxing fans wait to the last minute to order."
Tyson offered some final thoughts on the fight, what the people should expect and the city of Youngstown.
"It's going to be fun. I'm a little nervous, but I just want to put on a good show. I'm probably about 240 pounds right now. The city of Youngstown has been great to me. I trained just 18 miles away in Southington so I've seen some familiar faces. The media and everybody else make me a little nervous so I'm glad we chose Youngstown. It's a good fight town," said Tyson.
After the press conference Sterling McPherson caught up with Fightnews and other local media to discuss the tour after Friday night.
"Right now we're looking at a possible November 11 date in Norfolk, Virginia followed by a November 25 date in California, either Los Angeles or San Diego. After that we would like to do something in Florida Super Bowl weekend. This summer possible dates include St. Petersburg in Russia, South Africa and Croatia. No matter what happens on Friday, we are moving forward with Mike Tyson."
It was also announced that light middleweight Juan McPherson (3-0, 2 KO's) will be fighting Will Pietro (pro debut) from Lorain, Ohio. McPherson and Pietro split a pair of fights during their amateur careers so look for an entertaining bout.
The weigh-in will be held tomorrow at the Chevrolet Centre.
* * *
The first leg of "Mike Tyson's World Tour" in Youngstown, presented by Sterling Promotions, will be broadcast live in North America on cable and satellite pay-per-view beginning at 10:30 PM/ET, 7:30 PM/PT. The event is being produced and distributed for Pay Per View by Queensbury Media and Integrated Sports and will be available in more than 50-million homes in North America via iN Demand, TVN, DirecTV & Dish Network in the USA, Viewer's Choice & Bell ExpressVu in Canada. The suggested retail price for the PPV telecast is only $29.95.
Tickets, affordably priced at $25.00, $50.00, $100.00, and $200.00, are on sale and available at the Chevrolet Centre Box Office or on line at www.gettix.net or at Gettix outlets. For more information call 330.746.5600 or go to www.chevroletcentre.com.
Doors opens at 7 PM/ET with the first bout scheduled for 8 PM/ET. All fighters and matches are subject to change.