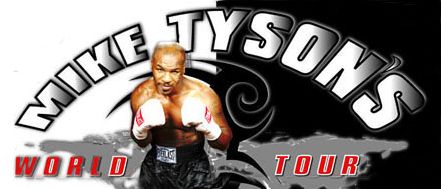 First Impressions :
Tyson vs Sanders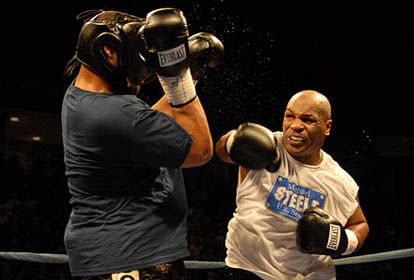 Just got done watching the first fight of the world tour. Sanders came out wearing head gear while Tyson did not. Tyson knocked down Sanders in the first round and the rest of the fight went pretty much like a sparring session. Tyson looked fast and as if he's definitely been "in the gym"… connecting with some nice powerful blows throughout the fight that surely would have knocked Sanders out if not for his head gear.
All in all this was an "exhibition" in every sense and the people in Youngstown were definitely treated to a great evening of being able to see Iron Mike in person. Its great to see Mike again and to know that he will be helping a great many charities. Score was not kept so there was no real winner here although Mike pretty much used Corey for a punching bag throughout the fight.
There is no doubt that many news, blog and message boards will be disappointed with this bout as we were all hoping for a real matchup with a winner or loser evenough it was an "exhibition".
Eventhough Mike says he's done as far as real boxing is concerned…. he definitely looked far from "washed up"… should he decide to fight for real again in the next year or so i think he could DEFINITELY do so… no doubt in my mind. He may have lost stamina but he did not appear to have lost any speed or power.
ROUND BY ROUND REPORT
Sanders walks to the ring first. He wears headgears. Crowd boos him.
Tyson comes out. Surprisingly he does NOT wear headgears. He wears a ripped up version of the Michael Steele shirt. Kinda reminds to the vintage rope with hole he always wore during his ringwalk.
Round 1
Tyson comes out fast! Tyson diggs to the body of Sanders with good bodypunches.
Tyson drops Sanders with a flurry to the head!!
Sanders gets up while getting a count.
Some good shots being thrown by Tyson. This doesn't look like a sparring session at all. Tyson is very serious and dedicated to show the crowd something.
Round 2
Tyson using headmovement to avoid shots. Sanders tries to hold and walk Tyson backwards. Tyson using vintage body-head combos. Good action by Tyson.
Round 3:
Sanders leaning on te rope while Tyson gets in hard shots to the body and head. Sanders holding Mike a lot. Tyson wrestles out of it and gets in hard punches.
Tyson tries to knock Sanders out with hard headshots which are landing! Tyson hits Sanders on the head with bad intention punches. Sanders is lighly wobbling.
Round 4:
Tyson comes in for the kill with hard shots. Looks like Mike wants to put Sanders down again.
Fast flurry to the body by Tyson. Sanders trying to jab but ends up mostly holding.
Tyson isn't going easy on Sanders.
Sanders landing a combo while on the rope.
Tyson hits Sanders bigtime on the head again. Headgear saves Sanders from being knocked out.
Bell ends the fight. There is no decision, but Tyson is the clear winner.
Mike looked very good. Sanders couldn't do much. For a four-round charity fundraising exhibition this sure was a fun fight.
Post interview: Tyson thanks the crowd. After being asked what's next Mike says he'll go to Washington DC to campaign for Michael Steele
| | |
| --- | --- |
| | Mike Tysons World Tour Stage 1 October 20th 2006 |
| | |
| --- | --- |
| | Full Ring Report including other fights |