There's Only One Ken Shamrock
By Thomas Gerbasi

The first time I spoke to Ken Shamrock, he was actually a promoter, pushing an Atlantic City show in 2001 that showcased some of his Lions Den fighters and featured a main event in which he barely broke a sweat in romping over an overmatched Sam Adkins.

But regardless of the circumstances, the fact of the matter was that I was talking to Ken Shamrock, a fighter who competed in the first Ultimate Fighting Championship show in 1993 and was a true pioneer of the sport. So that was a big deal for me.

Five years later, talking to Shamrock is still a big deal because he's one of the few fighters in this game who has lived through the evolution of the game over the last 13 years and who truly helped establish mixed martial arts as the sport it is today.

But of course, nothing lasts forever, and after his third defeat at the hands of former UFC light heavyweight champion Tito Ortiz on October 10th, 'The World's Most Dangerous Man' has decided to leave the fighting to the younger folks.

"I'm not a fighter anymore," said Shamrock after the third Ortiz fight, which did record viewing numbers on Spike TV when it aired. "I have stepped back and realized that this game has passed me by. These guys are phenomenal. Tito Ortiz, strengthwise, and with his takedowns and standup, along with Chuck (Liddell), (Andrei) Arlovski, (Tim) Sylvia, Matt Hughes – all these guys, it's just amazing. When Tito's in my spot, five or ten years down the road, he is going to see the same thing. He's going to see guys that are just phenomenal, and everything's gonna start changing, and it's a wonderful thing to see at one end of it, but at the other end it's a sad thing to see because you know it's passed you by."

A native of Macon, Georgia, Ken Shamrock retires with a 26-12-2, but his impact goes far beyond a win-loss record. Because while fellow UFC Hall of Famers Royce Gracie and Randy Couture went about their business in a low-key fashion that garnered legions of loyal fans, Shamrock built a base of fans who either loved him or hated him, as he was the master of promoting a fight and getting fans to have a reaction – positive or negative – towards him. In fact, his fiercest rival – Ortiz – may have gotten Shamrock's ire up because he was reminded of himself. For 'The Huntington Beach Bad Boy's part, Shamrock was always the prototype of what he wanted to be in the sport.

"People see the intensity that he brought in," said Ortiz. "When he came in, people looked at him like 'wow, this guy is one of the world's most dangerous men' and he brought a lot to the game and carried it all the way up until I got into it. He left and did the professional wrestling stuff and that was great entertainment, and then I stepped in and became the world champion and kept working and I always wanted to be like that, where people were intimidated by me, not just because of the way I fought."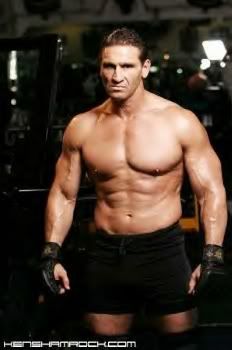 From that first UFC bout in 1993, when he submitted Pat Smith with a heel hook in just a minute and 49 seconds, Shamrock was not only a world class fighter, but he looked and acted the part. Scowl on his face, shoulders barely able to fit through doors, Shamrock's swagger was one of the earliest memories for tons of UFC fans, and it rubbed plenty of his peers the wrong way. Then again, that was the idea, as Shamrock's bad blood matchups both here and abroad lifted his profile to a level of superstardom few fighters enjoyed. Not surprisingly, that's what Shamrock will miss the most of his life as an active fighter.

"It's the feuds," he smiles. "That's something that really drove me and something that I'm sure the fans really bit into. You go all the way back to the first UFC, and the first feud was me and Royce Gracie, then it was Dan Severn and myself – we had a little spat at a press conference, then Kimo, and then it's been me and Tito ever since. Tito's the new blood on the block. Chuck Liddell's another one, and there a quite a few other guys coming up, and I'm gonna enjoy watching Tito and Chuck fight. It's going to be a pleasure for me for me to not actually be involved as a competitor and watch these guys go in there and get it on is gonna bring back memories for me and it's gonna be a wonderful thing to watch."

The biggest of them all was Ortiz-Shamrock, and though they buried the hatchet after Ortiz' second consecutive first round win, when the gloves were on, the animosity was real.

"He's an emotional fighter, I'm an emotional fighter, and anything that goes on, we tend to amplify it, just because that's what gets us going," he said. "All the things that you see happening between me and Tito, it was real, there's no question about that. But we amplify it."

And regardless of whether you thought their second and third fights were mismatches between a 42-year-old fighter and a 31-year-old one at the height of his powers, there were plenty of fans who put objectivity aside and gave the aging lion a chance to pull off the impossible. And that's why we watch – to see something amazing happen. Does it happen in every fight? No, but there's always that chance, and that's what Shamrock made us believe – that with the right training, heart, and the right circumstances, he could pull off the impossible.

For years though, Shamrock didn't need miracles as he scored wins over the likes of Bas Rutten, Matt Hume, Dan Severn, Kimo (twice), and Maurice Smith, and fought Gracie to a draw after losing to him in their first bout.

But in recent years, age and injuries caught up to Shamrock, and he frequently found himself on the losing side of the ledger. It wasn't all negativity though, as he remarried and rediscovered the more important things in life, as evidenced by the fact that his entire family was with him in Florida for what turned out to be his final bout.

"I think as you start to season yourself a little bit more and get more involved in this business, you separate yourself from all the other stuff that comes with starting out, your family starts taking over, and you start making them more important," he admits. "You stick with the training and you train hard, your family supports you through that, and then you go and fight and your family supports you in the fight. That's kinda the way I've lived my life for the past three years."

And though he was noncommittal before the final match with Ortiz, as he walked to the Octagon for the bout, you got the feeling that it was indeed the last time.

"No question," said Shamrock. "The fact is that all the training and everything leading up to this fight, I was gonna make sure that I enjoyed every second of it. The walk to the ring, I wanted to enjoy the fans, when I got into the ring, I wanted to enjoy that, and even the square off with Tito, I wanted to enjoy that moment. So I knew, win or lose, it was going to be the last time."

It's always a sad day when one of the sport's pioneers walk off into the sunset, but now Ken Shamrock can get on with the business of continuing his work as one of mixed martial arts' greatest ambassadors, and we can simply thank him for 13 memorable years and never forget the swagger of 'The World's Most Dangerous Man'.