Juarez added to Marquez-Jaca card
Albuquerque's Tonia Cravens (2-4-1, 1 KO) will take on undefeated Vanessa Juarez (4-0) of Fort Worth, Texas on the undercard of the Juan Manuel Marquez vs. Jimrex Jaca HBO-televised card on Nov. 25 in Hidalgo, Texas at the Dodge Theatre. Juarez and Cravens will go six rounds.
McGee, Figueroa vow KOs!
Merciless" Mary McGee (7-0, 4 KO's) and WIBA America Women's Super Lightweight Champion Rita "La Guera" Figueroa (9-0, 3 KO's) are locked in a war of words as they prepare for their November 17 Octavius James/One In A Million Inc. in association with 8 Count Productions "Night of Champions" at the Radisson Hotel at Star Plaza in Merrillville, Indiana. "I've trained and fought too hard to let her stand in my way, and I will knock her out," McGee said. "I know Mary's been talking a lot of smack lately about knocking me out, but far better people have tried and failed," Figueroa countered. "Let's see what she has in the ring." The night will also feature reigning and defending Indiana State Middleweight Champion Jimmy "The Fighting' Schoolteacher" Holmes (14-0, 7 KO's), who will face Brooke "Schoolboy" Wellby (32-16, 10 KO's) of Canada in the co-main event. Also appearing are undefeated middleweight Michael "The Midnight Stalker" Walker (14-0, 8 KO's); heavyweight Michael "Quiet Assassin" Parker (4-0, 4 KO's); super flyweight Mike Maley (1-3, 1 KO) vs. Jose Guzman (1-0) and lightweight Pedro Flores (1-0).
Holm fights for third belt Dec. 1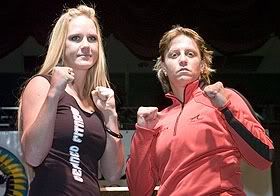 Albuquerque's Holly Holm (15-1-2, 5 KOs) will fight for her third belt on Friday, Dec. 1 when she headlines "Triple Threat" at Isleta Casino . The Fresquez Productions card features Holm moving up to 154 to fight for the vacant IFBA junior middleweight belt against Seattle, WA's Tricia Turton (8-1, 3 KOs). Currently, Holm holds the IBA Women's 140-pound belt and WBA world welter title. In the co-main, Albuquerque's "Hurricane" Hector Munoz (16-1, 10 KOs) will take on El Paso's Carlos Madrid (8-2, 2 KOs) for something called the WBC "US National" jr. welter belt. Six bouts are slated for the undercard that includes a four-round super flyweight bout with Albuquerque's Jodi Esquibel (3-1, 1 KO) .
Lovato-Vela off
Monica Lovato's fight against Audrey Vela on Nov. 11 in San Antonio, Tex. has been nixed due to an injury sustained by Vela while sparring.
Wolfe at the Fitz
The undefeated Peterson brothers are set to appear in separate bouts on November 18th at the Fitzgeralds Casino & Hotel in Tunica, MS, topping the latest installment of Prize Fight's "Fights At The Fitz." The main event will feature undefeated and #3 world ranked NABO lightweight champion Anthony Peterson (20-0, 16 KOs) in an 8 round clash against former world titlist Alfred Kotey (24-13-1, 14 KOs). Brother Lamont Peterson (18-0, 8 KOs) squares off against spoiler Marteze Logan (23-25-2) in a jr. welterweight bout. Also, 8-time female world champion Ann Wolfe (24-1, 16 KOs) will also be on the card in a 6 round super middleweight clash against Valerie Mahfood (19-11-3, 9 KOs). Also scheduled are jr lightweight Ira Terry (10-0, 6 KOs) and Josiah Judah, the younger brother of three-time world champion Zab Judah.
New champions in Canada!
Results from this Saturday's KO Boxing Promotions card in Alberta Canada: ).
Ann Saccurato
vs
Jelena Mrdjenovich



Ann Saccurato (12-1-2, 5 KOs) of White Plains, N.Y. won the vacant WBC lightweight title with a split decision win over Jelena Mrdjenovich (18-2, 11 KOs
Jeannine Garside
vs
Laura Serrano



Jeannine Garside (6-0-1, 2 KOs) of Windsor, Canada won the vacant WIBA featherweight belt with a unanimous decision over Laura Serrano (16-3-2, 6 KOs) with scores of 100-87, 99-89 and 90-98.
Melissa Hernandez
vs
Lisa Brown



Melissa Hernandez (6-0-1, 2 KOs) won the vacant WIBA super bantamweight belt with a unanimous decision over Lisa Brown (12-2-3, 4 KOs) with scores of 96-94 twice and 98-92.
Cruz defends in Korea!
Sunday: .
IFBA bantamweight champion Terri Cruz (15-4-2, 7 KOs) Denver, Colo

vs
Eun Young Kim (4-2) Korea.



Terri Cruz def Eun Young Kim after ten-rounds by unanimous decison