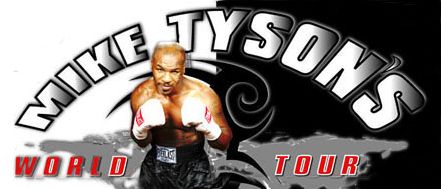 Tyson's World Tour Kicks Off
The former champ goes four with 'T-Rex' Sanders
Ringside report by Brady Crytzer, Antonio Castro and Josh Womack
Photos by Joe Bada

The Chevrolet Centre in Youngstown, Ohio played host Saturday to the inaugural exhibition bout of Mike Tyson's World Tour where, in front of nearly 4,000 fans, the former heavyweight champion of the world went four rounds with veteran Corey "T-Rex" Sanders.
The question hung in the air, almost as heavy as the anticipation for the actual fight: What is to be expected? Would the Mike Tyson of old reappear in stunning fashion?
And: What is an "exhibition," anyway, and what exactly are the rules?
As opponent Corey "T-Rex" Sanders made his walk to the ring it appeared as though more inquires were raised than explained. Brandishing a navy blue t-shirt and 16-ounce gloves, Sanders signaled proudly to the crowd, crowned unexpectedly with black, protective headgear.
Whispers of "He's going to need it," could be heard through the stands.
The fans began to cheer wildly as Tyson made his way to the ring wearing his trademark black trunks and, to everyone's relief, noticeably lacking headgear. "Iron" Mike, smiling ear to ear, met in the ring with deafening cheers.
The men met in the center of the ring where Sanders, despite his nearly eight-inch height advantage and 50-pound weight advantage, was slammed with a hard combination of short punches to the body followed by a blasting overhand Tyson right to the head that dropped him to the canvas.
Though visibly dazed, "T-Rex" beat the count on unsteady legs.
Cheering wildly, fans were delighted to see the former undisputed heavyweight champion of the world jump on his just-risen opponent to land another hard right hand. With his opponent now on the defensive, with his back against the ropes, Tyson landed another hard hook that crumpled the legs of Corey Sanders.
Just when it appeared as though he was going down for the second time in under two minutes, fans were puzzled to see "Iron" Mike lift his opponent back to his feet. The round ended to a chorus of boos with both men in the embrace.
The second round saw Sanders come out with a sly grin on his face as he began to implement a jab. Though carrying a sizable reach advantage, Tyson closed the distance fast with impressively accurate jabs to the head and body.
Tying the shorter Tyson up, the Chevrolet Centre's disapproval of Sanders' lack of punches was heard loud and clear. After being separated by referee Jim Villers, Tyson landed a hard left hook followed by a right hand that spun the headgear of Sanders, halting the negative feedback.
After seeing the number or rights that landed cleanly, it became apparent that Sanders' alleged lack of sight in his left eye was becoming a major factor.
With the tension now gone from the ring, both men became more comfortable throwing combinations. While in close, most of the action was dominated by the tenacious and unpredictable head and body shots of Tyson keeping his opponent off balanced. Finding his grove, Tyson excited the fans by blasting hard uppercuts Sanders' jaw.
With the final round now in full swing, the smile that once graced Sanders' face was gone as shades of the old Mike Tyson began to resurface. After a bit of shoe shining by Tyson, a perfectly placed powder keg of a right hand rocked the former sparring partner to his core.
Only holding on, the now visibly shaken Sanders was rocked repeatedly with jab-overhand right combinations that brought the crowd into a frenzy. As the remaining seconds ticked away, the Chevrolet Centre appeared satisfied as youngest heavyweight champion of all time placed one last uppercut on his opponent's chin.
With no winner to be determined since the bout was held under exhibition rules, some remarks of disapproval could be heard. But, upon the announcement of Mike Tyson's name, cheers of affection and gratitude began to come alive.
Having some good-natured fun, Tyson-trainer and former world champion Jeff Fenech made his way to the corner of Sanders.
The first stop of Mike Tyson's World Tour was over and it will, most certainly, roll on. --Brady Crytzer
Page decisions aging Del Valle
In the co-feature of the evening, Warren, Ohio native Zack Page (12-8-1, 4 KOs) scored a unanimous decision over former WBA light heavyweight champion Lou "Honey Boy" Del Valle (35-4-1, 22 KOs) in a 10 round cruiserweight bout.
Page controlled the pace of the fight by circling around the former champion and causing swelling on Del Valle's right eye from continuous jabs. A cut formed near Del Valle's right eye from an accidental head butt halfway through the fight as Page stung Del Valle with shots to the head and body. –Josh Womack
Undercard results
Archer TKO's Garvey
The first bout of the night featured middleweights Chris Archer (6-1, 4 KOs) and Vance Garvey (6-24-5, 1 KO). Archer utilized his jab throughout the fight, which eventually led up to a massive overhand right that floored Garvey in round six. After Garvey got up, Archer pressed the action, causing the referee to stop the contest at 2:52 of the sixth round. –Josh Womack
Gill TKO's Kellum
Pittsburgh welterweight Frank Gill (2-3) scored a TKO over Ken-Yon Kellum (0-1) at 1:18 of the third round. Kellum provided no offense and his corner wisely threw in the towel. After the fight Kellum was given oxygen for breathing problems and wheeled out on a stretcher. He was walking around later in the evening so it appeared he was fine. –Josh Womack
Narah TKO's Sanchez
Another Pittsburgh product, welterweight "Sugar" Ray Narh (19-1, 16 KOs), scored a 6th round TKO over a very tough challenger in Justo Sanchez (16-20-1). Sanchez was floored in round six from a straight right and never fully recovered. –Josh Womack
Smith TKO's Beckford
Octavius Smith (2-1, 2 KOs) scored a 2nd round TKO over Roy Beckford (0-1).
This was a crowd pleaser from the start as, despite being 273 pounds, Smith showed impressive hand speed. Combine that with his power, and he had Beckford reeling from the beginning. Beckford was down twice in the first, and twice more in the second before referee Jim Villers called the assault of at 2:34 of the round. –Antonio Castro
Son of Pryor loses to Watson
Stephan Pryor's career is not going the way of his famous father, Aaron Pryor. Pryor (10-3) lost his second straight bout, this time to Tyron "T.T." Watson (4-0) by six round split decision. Scores were 58-55 and 60-53 for Watson and somehow Judge John Kikta scored the fight 57-56 for Pryor.
A lead right hand by Watson had Pryor down seconds into the match. The knockdown appeared to be a flash knockdown, as Pryor looked to be on steady legs for the entirety of the round. Watson continued to land right hands at will and Pryor decided to step up his attack in the fourth round.
The middle rounds were close as Pryor started to land the more telling blows, but Watson dug deep and regained control late in the fight. Both men gave it their all and the last round featured great exchanges and back and forth action. –Antonio Castro
McPherson decisions Antoine
In the final fight of the evening, former amateur star Juan McPherson (4-0) won a four round unanimous decision over the game Damon Antoine (4-11-2) with all three judges agreeing on the score of 40-36.
Juan was patient throughout the fight and showed tremendous power with both hands and the ability to go to the body. Antoine deserves credit for staying on his feet as McPherson's power shots could be heard rumbling through the Chevrolet Centre. McPherson was in control throughout and is a promising jr. middleweight prospect. –Antonio Castro.