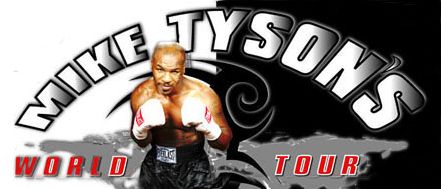 The New Mike Tyson?

By Antonio Castro
Photos: Joe Bada
All black trunks with the solid black shoes.

The look was the same, except for the white Michael Steele U.S. Senate tee shirt.

Be ready for the same look this Friday night when Mike Tyson squares off in a four round exhibition match against Corey "T-Rex" Sanders at the Chevrolet Centre in Youngstown, Ohio.

"This is what I'm wearing for the fight" Tyson said after his media workout at the Downtown Boxing Club in Youngstown today.

Jeff Fenech, Tyson's trainer, put Mike through six makeshift rounds that consisted of hitting the punching mitts and a punch shield.

Tyson looked like he was having fun in the ring, but he was not in a talkative mood afterward.

The only talking was done by Corey Sanders, who graciously said: "You all are going to see Friday night. Enjoy the show!"

When summoned to answer questions from the media, Tyson sent over a member from his crew and politely gestured, "He's going to do my talking for me."

After roughly ten minutes, Tyson reluctantly agreed to approach where the media was standing, but still offered no answers to any of the questions that were posed. When asked how he felt, Tyson simply showed a smile and gave a thumbs up sign. He continued to point to his shirt, showing his support for Michael Steele.

This was a far cry from the Mike Tyson who was introduced at the kickoff press conference in September to announce "Mike Tyson's World Tour" event. There, Tyson gladly answered any questions that were thrown his way.

Today's version didn't seem to be in a bad mood, this writer just thinks that he wasn't in a talkative mood.

Tyson appeared to be in a good mood as he arrived to the gym. After walking in, he slowly looked at all the fight posters on the wall. During the workout, Fenech continuously let Mike know that he was doing a great job and after a series of hard shots to the body punch shield that he was holding, he looked over to the 30-40 members of the media and gave a smile as if to say "the power is still there."

Many members of the media felt slighted afterwards for not being able to talk to Tyson.

This writer wasn't one of them.

You don't have to be a boxing fan to have heard some of the crazy stories that surround Mike Tyson.

Here's to thinking that maybe, just maybe, this is the new Mike Tyson that he's been telling us about. The one that "just wants to have fun."

And honestly, how much fun is it to answer the question, "Mike, how do you feel" for the one thousandth time?

I'm not sure what a new Mike Tyson will be like in the boxing ring, albeit for an exhibition, but I'm ready to find out.