PUDER WANTS REAL FIGHT WITH KURT ANGLE
by Matt Hill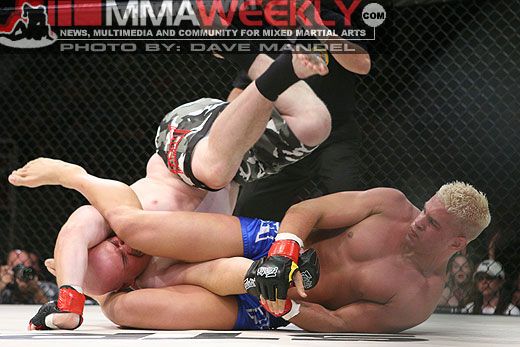 Daniel Puder discussed his bizarre relationship with WWE superstar Kurt Angle and gave his thoughts on what he thinks the outcome would be if he and Angle ever actually secure a fight with one another under MMA rules.

Puder is an American Kickboxing Academy trained MMA fighter who has recently dabbled in the WWE. While on the WWE reality show Tough Enough, Puder and Angle had an in-ring confrontation that – by the looks of it – left Angle stuck in a pitiless key-lock live on national TV.

The referees immediately jumped in and stopped the match under the guise that Puder's shoulders were pinned to the mat. The stoppage – whether legitimate in nature or not – was a lucky break for Angle, because from the looks of it the ref saved him from the destruction of his right arm and shoulder courtesy of a well-applied Puder key lock.

Here is Puder for a brief explanation of his and Kurt's 'relationship' with one another.

"The whole thing started two years ago back in WWE… in the days, we had one of those SmackDown's; it was on million dollar Tough Enough. They made us run sprints, eat some pasta, and run some more sprints. Then we had to go out to the ring and do our daily whatever it was. Kurt Angle came out and made us do up-downs, which is standing up straight, going into a push up, doing a push up and coming back up. I was the only one to do it properly, but they kicked me out," said Puder.

Puder continued, "Nawrocki is one of the other wrestlers, and he is the one that got the lucky chance to wrestle Kurt Angle. Kurt wrestled him; broke three of his ribs right off the bat, and then Kurt came over and challenged everybody else. I raised my hand, so I got to go in and I was the lucky number two to wrestle him, and I key-locked his ass and made him look like an idiot on national television… and he wasn't very happy about it. That's pretty much what happened."

Seeing Puder pull a key lock shouldn't be a surprise to fans that are familiar with him. Puder is an A.K.A. trained fighter who said of his academy, "I'll be there till I die."

Daniel also said of A.K.A., "I've been training at American Kickboxing Academy since I was 17-years-old, now I'm 25. I did the WWE because it looked interesting to me. It's entertainment, it's fun, I watched it when I was younger, and I, you know, got into the competition, so I decided to kick everybody's ass."

When asked what he wanted to say to Angle, Puder said, "Well, there's two things: He goes out there and says he could beat me in 40 seconds. He said he could also beat Chuck and Tito and whoever else, and it took me like 40 seconds to key-lock his ass… I wasn't even trying to submit him in the beginning, and we weren't even striking, so that's the first thing."

Puder continued, "Second thing is, he said I was the worst athlete out of all of the competitors. Well, I won every single competition, except for dressing like a woman. I did the best in every physical competition, which makes me the best athlete out of every single one of them. He also said he hasn't taken pain meds in 18 months, which I knew for a fact that he has. On top of that, he's never done mixed-martial-arts. He's an amateur wrestler and a pro-wrestler, and even though he won the gold medal, I key-locked his ass and I wasn't even trying, which means Tito and Chuck, they would knock his ass out, and I plan on doing the same thing."

Puder didn't seem too expectant that Angle would actually put it on the line and sign to fight an MMA fight with him, though.

"He is all talk, number one," Puder said.

If Angle does actually agree to step up, though, Puder has a one of a kind proposal for him.

"Number two, I'd be willing to put every single penny on that fight," Puder said.

Puder continued, "Let's say I fight for UFC or Strikeforce or WFA, whoever I fight for at that match with Kurt I'd be willing to put – if I lost – let's put it that way, I would be willing to bet my money that I would make on that fight vs. his money that he makes on that fight for the winner. I'd put up every single penny. So, if I made a million bucks, if I get Pay-Per-Views or whatever else, I'd be willing to put that million dollars up against his million that I'd beat him."

It isn't that Puder doesn't respect professional wrestlers, "I respect 100% of pro-wrestlers," but he doesn't like to be called out by a man who will probably never even agree to fight him (in a real match).

"It's a legit fight. It's not like I'm going out there and I'm doing pro-wrestling. If he wants to compare me vs. him in pro-wrestling; the guy's been doing it forever. The guy won the 96 Olympics and he started pro-wrestling like what, a year or two later? I know he's a tough guy, he's broken his neck a couple of times; he won the Olympics with a broken neck… the guy is tougher than balls. He's probably one of the toughest guys out there. He wouldn't tap out when I had him in a key lock, and I thought it would break, it should have broken; I wish it would have broken… then I really could have had something on him," Puder said.

Daniel finished up by saying that he wouldn't mind doing a pro-wrestling match with Kurt, but he'd rather fight him under MMA rules.

"I might want to do some pro-wrestling after I kick your ass in ultimate fighting," Puder said in a message aimed directly at Angle.

Source: http://www.mmaweekly.com