PRIDE set for U.S. debut
Dave Doyle
Japan's premier mixed martial arts organization, the PRIDE Fighting Championships, makes its United States debut on Saturday night with the much-anticipated card The Real Deal at the Thomas and Mack Center in Las Vegas.
PRIDE has a rabid hardcore following here in America. But newer fans might not yet be familiar with the product. So this preview will feature two main parts: a PRIDE primer for new fans; and a breakdown of several of the main fights for the longtime fans, featuring Josh Gross, the editor for Sherdog, the top independent MMA-specific site on the Internet; and Eddie Malone, a correspondent for Ultimate Grappling magazine.
The basics: PRIDE for beginners
So you just started watching mixed martial arts this year, getting hooked on The Ultimate Fighter? Or maybe you've seen PRIDE on FOX Sports Net and you're wondering what it is all about. Here's the least you need to know on the differences between PRIDE and Ultimate Fighting Championship:
PRIDE matches are conducted in a boxing-type ring, with thicker ropes and padding on the apron to keep fighters from falling out.
In Japan, a standard PRIDE fight consists of a 10-minute first round and five-minute second and third rounds. If the fight goes to a decision, the judges vote on the winner based on performance over the duration of the fight and not a round-by-round 10-point must system as in the United States. However, the Real Deal will be conducted under the U.S. unified MMA rules developed by the New Jersey State Athletic commission and adopted by other reputable SACs, with three five-minute rounds and round-by-round scoring.
Several moves are legal in PRIDE matches in Japan that are not legal under unified rules, including the kicking, kneeing, and stomping of downed opponents. These moves will not be allowed at the show in Vegas. PRIDE bans (non-downward pointing) elbows to the head, which are legal in UFC. PRIDE was given the option of allowing the elbows in Vegas, but declined
PRIDE's weight classes are calculated differently than the UFC's, with lightweights topping out at 160 pounds; welterweight 183; middleweight 205; and heavyweight over 205. UFC has lightweight up to 155; welterweight 170; middleweight 185; light heavyweight 205; and heavyweight up to 265.
PRIDE conducts several tournaments, including the Bushido tourney for lower weight classes, and the all-in Open Weight Grand Prix, which was one of the most anticipated worldwide MMA events of 2006.
PRIDE has long been known nearly as much for it's spectacular, rock-concert style showbiz approach to fighter entrances at major stadium shows as for the fights themselves. How much of this they'll be able to pull off in the smaller Thomas and Mack Center remains to be seen.
The group has a tradition of adding "attraction" fights to many of their cards featuring non-traditional fighters. For example, Saturday's show features a match between boxing sideshow Butterbean and either former pro wrestler Sean O'Haire or New Zealand MMA fighter Mark Hunt, depending on if Hunt can get visa issues cleared up in time. It is important to make a cultural distinction here: Pro wrestling is more accepted in Japan than in America, as Japanese pro wrestling emphasizes athleticism, as opposed to the clown show people expect stateside. In Japan, such matches go back at least as far as 1976, when wrestler Antonio Inoki took on Muhammad Ali in a legitimate 15-round draw in Tokyo.
Five foreign fighters you need to know
1. Fedor Emelianenko: Simply a monster, considered by many the best pound-for-pound fighter on the planet. The Ukrainian born, Russian-raised Emelianenko is the current PRIDE heavyweight champion. A judo and sambo specialist, Fedor has a 23-1 record and hasn't lost since 2000.
2. Wanderlei Silva: Muay Thai chute boxer from Brazil and current middleweight champion (no relation to current UFC middleweight champ Anderson Silva). Silva's nickname is "The Axe Murderer," which pretty well sums up his style. Silva is currently on medical suspension after getting knocked out by heavyweight Mirko Cro Cop at the Open Weight Grand Prix.
3. Mirko "Cro Cop" Filipovic: It is not an understatement to call heavyweight Mirko one of Croatia's most popular sports heroes. When Filipovic won this summer's OWGP, nearly a quarter of his homeland tuned in to watch the fight. The former police office has some of the most vicious kicks in the game. His popularity is such that he was elected to Croatia's Parliament in 2003.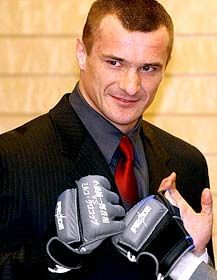 Mirko Cro Cop is so popular in his native Croatia that he was elected to Parliament. (KOJI SASAHARA/AFP / Getty Images)
4.Takonori Gomi: PRIDE lightweight champion and one of the country's most popular fighters. "The Fireball Kid" lost back-to-back matches to Joachim Hansen and B.J. Penn in 2003, but has gone 11-1 with 6 KO/TKOs and three submissions since.
5. Antonio Rodrigo Nogueira: One of the world's top Brazilain jiu-jistu fighters, his wins include Dan Henderson and Kazushi Sakuraba. Eighteen of his 28 victories are by submission; 7 by decision.
Five North American fighters you need to know
1. Josh Barnett: A 28-year old Seattle native who defeated Randy Couture for the UFC heavyweight title in 2002 (Barnett was stripped of the title after testing positive for steroids). Barnett is 16-4 overall, 4-3 in PRIDE, with his losses coming to the big dogs, like Mirko and Fedor.
2. Dan Henderson: The PRIDE welterweight champion is a Team Quest fighter originally from Apple Valley, CA, Henderson was on the 1992 and 1996 Olympic wrestling teams.
3. Mark Coleman: An MMA legend. Coleman first made his mark as an amateur wrestler at Ohio State, where he won an NCAA championship. He competed in the 1992 Olympics and holds a win over 1996 gold medalist Kurt Angle. Coleman won the UFC 10 and 11 tournaments, but unfortunately for him, he was peaking as a star right around the time MMA was railroaded off cable. Now 41, Coleman has been fighting in PRIDE since 1999.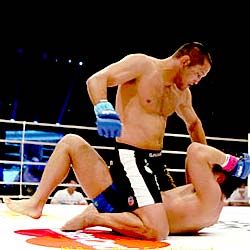 California's Dan Henderson (top) will take on a name familiar to American fans on Saturday when he squares off with former UFC light heavyweight champ Vitor Belfort. (Courtesy PRIDEFC.com / Special to FOXSports.com)
4. Denis Kang: Quite possibly the best fighter you've never heard of, the Vancouver resident and welterweight is 18-0-1 in his past 19 fights, 10 of which have come by submission and 12 of which were in the first round.
5. Kevin Randleman: Longtime vet and another Ohio State wrestler, affiliated with Coleman's Hammer House crew. Randleman went through a four-fight losing streak before winning his last fight in Oct. 2005.
| | |
| --- | --- |
| | PRIDE - The Real Deal - Fight Predictions |