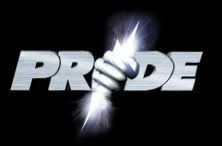 OCT 21 EVENT PRIDE:
THE REAL DEAL
FSN Florida Marlins in-game reporter Craig Minervini joins Frank Trigg and Mauro Renallo ringside to kickoff the pay-per-view.
Photographs from Sport Navi

Robbie Lawler vs. Joey Villasenor
Round 1
Left leg headkick followed by a flying knee ends the bout in the opening seconds, with Robbie Lawler holding the winner's trophy. The brutal knockout comes just 22 seconds into the first round.

Lawler landed the knee when Villasenor dropped levels for a takedown after eating a kick.

Kazuhiro Nakamura vs. Travis Galbraith
Round 1
Galbraith lands an unintentional kick to the groin of Nakamura. The Japanese fighter is given time to recover but he gives the nod to continue shortly after. Nakamura lands an uppercut that drops Galbraith. Nakamura pounces but the American counters with offense, nearly sinking in an armbar then a kneebar before reversing position and working from Nakamura's guard. Nakamura sweeps and moves from half-guard to his feet. The crowd gives a big pop as the fighters trade punches. Galbraith scores a takedown and delivers a hammerfist. Nakamura displays a brilliant Judo throw just before the bell sounds, ending the first frame.

Round 2
Galbraith tries to work from the Thai clinch but Nakamura takes the fight to the canvas with a double-leg takedown. The Japanese fighter works to secure a guillotine. Galbraith escapes the hold and Nakamura stands and allows his opponent to follow. Nakamura lands a knee to the midsection that sends Galbraith to the mat. Kazuhiro finishes him with hammerfists to the side of the head at 1:16 of the second stanza.

Yosuke Nishijima vs. Phil Baroni

Crowd favorite Akira Shoji leads Nishijima down the ramp into the ring. Baroni is followed by American Kickboxing Academy trainer "Crazy" Bob Cook.

Round 1
Nishijima is taken off his feet immediately after throwing a lead right haymaker. Baroni passes to side-control. The American works for a Kimura then an arm-triangle choke. Nishijima escapes. Baroni now pounding on the Japanese fighter from the crucifix position. Baroni again looks for a Kimura. Nishijima refuses to tap. Baroni tries to finish the hold by moving to north-south but Nishijima stuffs the move. Phil finally forces a tap with the same hold at 3:20 of the first from side-control.

Vitor Belfort vs. Dan Henderson
Round 1
Henderson scores a quick takedown and works from Vitor's half-guard. Henderson goes for a guillotine but Belfort defends and sweeps into side-control. Belfort stands and sits down into Henderson's guard. Belfort drops for a heelhook or a kneebar but Henderson escapes. The fighters are restarted on their feet. Henderson rushes in with wild punches and eats a Belfort uppercut. The American scores a takedown. Again Henderson tries a guillotine but Vitor escapes as the round ends.

Round 2
Belfort is slammed on his head after he tries to pull guard. Henderson slugging away with ground and pound from Vitor's guard. Henderson stands and kicks Belfort's legs. The Brazilian lands a kick to Henderson's body. Another takedown from Henderson.

Round 3
Henderson's right hand find finds its mark early in the round. Dan takes the fight to the canvas. Henderson lands 2 shoulder strikes from Belfort's guard. Belfort sweeps and takes top position. The crowd chants "Vi-tor! Vi-tor!" Henderson lands an upkick then reverses into side-control on Belfort. Belfort sweeps just before the bell rings to end the contest.

Official score:
30-27
30-27
*30-26
All for the winner, Dan Henderson.

*The 30-24 score was announed as incorrect and changed to 30-26

Eric "Butterbean" Esch vs. Sean O'Haire
Round 1
O'Haire lands a headkick to start the action. Huge right hand from "Butterbean." Esch lands another solid right hand and some follow up strikes to finish O'Haire just 29 seconds into the bout.

After an extended intermission, DSE Executive Nobuhiko Takada tells America PRIDE is in the States to stay. He is joined in the ring by Kazuyuki Fujita, Hidehiko Yoshida and "Mach" Sakurai.


Pawel Nastula vs. Josh Barnett
Round 1
Barnett clinches Nastula against the ropes. The fighters patiently trade knees and punches to the body to avoid a stalemate against the ropes. The Las Vegas crowd boos for the first time of the evening. Natsula scores a takedown. Natsula looking for a Kimura from side-control. Referee Herb Dean restarts the action. Big break for Barnett, as he was being controlled in a bad position. Again Nastula trips Barnett to the canvas. Barnett spins for a kneebar just before the bell sounds.

Round 2
Barnett opens up with a knee to the body and a punch combination. Nastula rocks Josh with several punches before taking him down and moving to side-control. Josh is hurt from the punches. Josh sweeps and rolls on top to finish with a ankle-lock. Nastula taps quickly. Josh Barnett wins by ankle-lock at 3:04 of the second round.

PRIDE middleweight champion Wanderlei Silva makes his way to the ring. He thanks the American fans for their support, then challenges Chuck Liddell to lace up the leather February 24 on PRIDE's second USA show.


Mauricio "Shogun" Rua vs. Kevin Randleman

"Shogun" enters the ring to the sounds of a pumping techno track. Randleman looks focused as he stares down the Brazilian.

Round 1
Quick double-leg takedown from Randleman. Rua spins for a heelhook. Randleman fights the hold but he is in big trouble. Rua switches to an ankle-lock. Randleman screams several times in pain but refuses to tap. He escapes but Rua rolls into a kneebar. Randleman taps at 2:35 of the first round. Impressive display of leg submissions from "Shogun."


Mark Coleman vs. Fedor Emelianenko

Looking focused and determined, Mark Coleman makes his way to the ring. In a scene of amazing production, artificial snow falls on Fedor as he makes his way to the ring.

Round 1
Coleman jabs and shoots but Fedor stuffs it and rocks coleman with a right hand. Coleman fighting for a single-leg takedown. Fedor goes for a guillotine but Coleman defends and smacks his head on the canvas while attempting the takedown. Coleman appears to be uninjured, as he tries to pick the Russian up and slam him to the mat. Coleman eats a left hand and several other punches as he shoots back in. Coleman's desperate takedown attempts have left him fatigued. His left eye is also cut and swollen badly. Referee Yuji Shimada stops the action to allow the doctors to check Coleman's eye. The action continues, but the bell rings shortly after.

Round 2
Coleman lands a right hand and shoots. Fedor again blocks the shot. Coleman finally scores a takedown. Fedor spins for an armbar and Coleman taps. The end of the fight looks very similar to the heavyweight's first encounter. After the fight Coleman vows to improve and return.
| | |
| --- | --- |
| | Pride the Real Deal Results listing October 21st 2006 |