Result: Feitosa by Unanimous Decision (30-28. 30-29. 30-29)

BJORN BREGY vs. SEMMY SCHILT
ROUND 1
Bregy comes out strong looking to take it to Schilt and out-muscling him on the inside. The inside fighting is all a bit too scrappy. Bregy again marching forward trying to get the big shots on Schilt and walks straight onto a stiff left and goes down. Bregy up at 8 and now it's Schilt's turn to assert some authority and faced with the onslaught of Schilt, Bregy turns his back and the ref. gives him a standing 8 count.

As Bregy punches he turns his head away and Schilt nails him again with a stiff double left to put Bregy down a third time. I wondered if Bregy had some interior facial damage as the punches he went down from didn't seem that hard.
Bregy exits the ring with a pretty swollen left eye.
Result: Schilt by KO in Round 2

RAY SEFO vs. STEFAN LEKO
ROUND 1
Really cautious start from both men. Hardly a technique thrown for the first minute except feeling jabs and powerless low kicks. Ref. calls "Action" Few good low kick exchanges. Not a fantastic round.

ROUND 2
Sefo puts Leko off balance with a side kick and gives a trademark smile. Again this round is mainly jabs, low kick and low kick checking until about 30 seconds from time it starts heating up a bit. At this rate it's got draw written all over it.

ROUND 3
Leko comes out faster and as ever Sefo makes everything look like a walk in the park and never seems to find that extra gear. Sefo does a bit of showboating, stands of a bit then tries an axe kick. Sefo gets through with a few combinations. Leko gets lucky when an attempted spinning backfist gets blocked by Sefo but Sefo doesn't quite manage to connect with a big right hook counter. Leko uses his speed advantage all fight. For Ray it seemed like a day out.
Result: 30-30. 30-30. 30-30 DRAW

EXTRA ROUND
Leko comes out faster and hunting for a K.O Sefo throws a punch that looks like a baseball pitch and almost falls over. Leko uses his speed and picks with jabs and 1-2`s. Sefo needs to find another gear but fails and Leko, with a higher work rate gets the extra round decision.


Result: Leko by Unanimous Decision in an Extra Round

Leko leaves without his trophy and has to be chased down by an announcer shouting "MR.REKO MR.REKO"

The second half of the show is kicked off with Mike Bernardo in the ring centre, spotlighted, silent as the ring bell is rung 10 times. There's a tear in his eye as he makes his retirement speech. He continues with a list of thanks to various people, trainers and organizations and ends with "NEVER FORGET ME" Kakuda enters the ring to raise his hand...and give him a big bunch of flowers. Mike receives a standing ovation in the arena.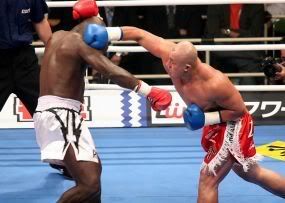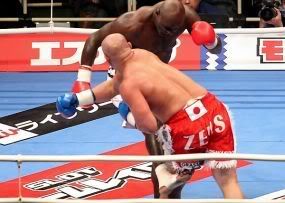 YUSUKE FUJIMOTO vs. ERNESTO HOOST

Pre-fight clips show Hoost talking about becoming the 5 time champion of K-1 and how he believes he can still do it.

ROUND 1
Fujimoto comes forward like he wants it but swinging wildly as Hoost with a wealth of experience makes a slow start and mainly puts in low kicks. Fujimoto gets some useful hooks in to the body but both men are very flat footed and with minimal movement it turns into a waiting game for the counter.

ROUND 2
Scrappy exchanges. Fujimoto working the body. Hoost taking the back foot putting in right low kicks.

ROUND 3
Fujimoto continues the long looping hooks; Hoost plants the low kick when he's off balance. From the angle I was at it looked like Fujimoto had nailed Hoost with a haymaker as both men went down at the same time. But then Hoost got to his feet....Fujimoto didn't. Fujimoto starts receiving a count and can't make it. Accumulative low kicks had pretty much rendered his left leg useless.
Result: Hoost by KO in Round 3

After moving from a seat to walking around the arena floor I just happened to look to my right and noticed Badr Hari standing a few metres away watching the action from the back, and Manhoef further down. When I turned around Schilt was standing behind me having a peak out of the door checking out the Hoost fight. Took the opportunity to get a few programs signed before the Japanese fans noticed and mobbed Schilt. Hari posed for some pictures but stayed and watched pretty much the rest of the show.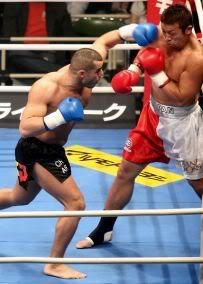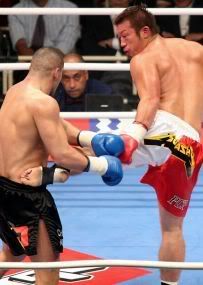 CHALID DIE FAUST vs. MUSASHI


ROUND 1
Chalid doing most of the chasing as Musashi tries to keep him at distance with teeps and low kicks. Chalid constantly trying to close the gap and looking for a close range punch up as he hardly uses any kicks in his arsenal.

ROUND 2
Continues as above. Chalid putting useful punch combinations together. The uppercuts and hooks come thick and fast from Chalid, Musashi covers well and continues to try and keep him off with kicks and even manages to back Chalid up for a second catching him with a good right cross. Musashi plants a few good knees to the body this round. High action round with a lot of exchanges.

ROUND 3
Chalid takes it to Musashi from the start and the non stop toe to toe combinations are starting to get through, catching Musashi with some good uppercuts and close hooks. Musashi looks rocked at one point and puts a hand down. I thought it was going to be an 8 count but ref. waves box on.

MMM...decision time!! Even though I thought Chalid won the fight I was expecting a draw and extra round at the best...well, we all know about Musashi and judges.

30-29 DIE FAUST
29-28 MUSASHI........................Everyone holds their breath
30-29.......................................................................... .........DIE FAUST

UNEXPECTED POINTS LOSS FOR MUSASHI

Result: Chalid by Split Decision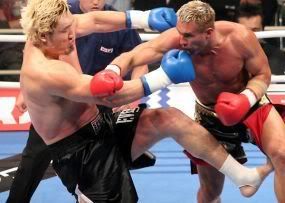 JEROME LE BANNER vs. HONG MAN CHOI

Main event of the evening.
Choi's choice of entrance song had me laughing. "the beautiful ones" by an old British band called Suede I think. So the lyrics go "Here they come, the beautiful ones......" Hold on. Le banners shipwrecked canoe nose and Choi's Halloween lantern-esque head. Could there be a less appropriate song??!

ROUND 1
For the first minute or so JLB tries to find the low kick distance while Choi does nothing. JLB gets some slapping low kicks in and the occasional right hand to the body similar to a karate style lunge punch.

ROUND 2
Le Banner chants go around the arena. JLB ducks and bobs and jumps in with some body shots, still continuing with the low kick. JLB gets in close slipping punches well and letting of some hooks. Choi's strength really shows as even small jabs seem to push JLB off balance easily. Choi has some success with a knee and 2 straight that push JLB across the ring. although mainly defended, the weight of them sends him reeling. Off the ropes JLB goes for a jumping right hook. bell sounds and both guys are smiling.

ROUND 3
Choi comes to life a bit more and starts sticking out the jab more making it more difficult for JLB to get low kicks in. Decent body lunge punches from JLB. More slipping punches in close. Can't remember which round but JLB in close tries to almost shoulder barge Choi a bit to get a bit of distance to throw hooks. However in the tussling department moving Choi is impossible what with being the Korean sumo champion. JLB gets man handled inside whilst continually slipping punches to get hooks off. Choi pushes JLB away and has a BONJASKY MOMENT with a flying knee attempt!!!

GOES TO DECISION
30-30
30-29 JLB
29-29
With 1 for JLB and 2 tied, it's not enough

EXTRA ROUND
It's more of the same. JLB low kicks, slips punches, Choi using his size and strength in close.

Result: Le Banner by Unanimous Decision in an Extra Round

So that was K1 from Osaka Jo Hall.


I went backstage where JLB stole the show and was being quite jovial and making jokes. I have a basic translation of some of the interviews backstage. Mostly JLB, but both Choi and De Faust gave interviews. Musashi didn't turn up but sent a message.

Post fight interviews to follow......
First up De Faust took the chair and gave the interview in English which was useful.

"First of all I'd like to thank the judges for the decision"

Q. You were chasing him a lot, did you think you would catch up with him eventually

A. I prepared for 5 rounds that's why I come on strong at the beginning of every round. We always train for 5 rounds and I had a feeling it would go to a 4th but I'd prepared and was ready for it. Our training is harder than fighting. Musashi's good. He did well to keep me away. I respect him, he's a good fighter...and I have to remind him to give me his shoes.

Q. Shoes?

A. The ones he was wearing at the pre-fight conference. I like them and I want them. I was going to remind him but I just saw him sleeping backstage. I'll remind him when he wakes up.

Q. How do you feel about fighting such a high profile fighter like Musashi in Japan?

A. It doesn't matter who it is. I take every fight like it's a gym sparring session. That's how we train. Lock away the feeling and treat it like a sparring session.

CHOI
I felt a bit nervous fighting Le Banner and know I didn't do my best. I don't have any regrets about the fight, I like Jerome.

I was expecting more punching from him but was surprised by all the low kicks.
I don't have so much experience in K-1 yet but I fight hard.

LE BANNER came in limping a little.

Q. Did the fight go as planned?
A. In France my sparring partner is small so it's impossible to prepare properly for a fight with Choi. You can't find sparring partners like that in France! It wasn't the usual kind of fight I'm used to. He's not human....but he's handsome and has a nice smile. He's like a big kid. He has very hard bones, very strong. Kicking him is like kicking a wall.

Q. Why did you change from punching to low kicks?
A. It's easy to get kneed on the inside and he's so tall he only has to raise his leg (this much) to knee you.

Q. Why did you lose weight?
A. I've changed my lifestyle and food. My blood type is A+ so being vegetarian is good for me or so I read. Recently I've eaten mainly vegetables and tofu. It's easy for an A+ blood type to get fat eating meat.


I feel a lot better. I started the diet 3 months ago. I'm going to be in a movie so I have to get in shape for it.

Q. You came to Japan quite late, why was that?
A. I get frustrated waiting for a fight if I come here early and I can't focus on the fight ahead of me. Can't stand the waiting.....and AIR FRANCE were on strike.
(in English) "you ever take air France?? don't....they're not good. JAL is better I think"

Q. What do you think of Choi?
A. With a little more experience, 2 years or so I think he'll be good. he's strong, hard bones, I don't think anyone can knock him out.

Le Banner talked for ages and sat their enjoying his moment and actually had to be asked by one of the event staff if he could finish his interview now....then in English says

"WHY, DO THEY TURN THE LIGHTS OF OR SOMETHING. CAN`T YOU PAY THE BILL?"

HA HA.