Mike Tyson
Mike Tyson
Statistics
Real name
Michael Gerard Tyson
Nickname
Iron Mike
Kid Dynamite
Baddest Man on the Planet
Weight
Heavyweight
Nationality
American
Birth date
June 30, 1966
Birth place
Brooklyn, New York, USA
Style
Orthodox
Boxing record
Total fights
56
Wins
50
Wins by KO
44
Losses
6
Draws
0
No contests
2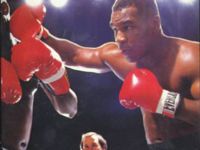 Michael Gerard Tyson (born June 30, 1966, Brooklyn, New York, USA) is a former American professional boxer and World Heavyweight Champion. The youngest man to win a heavyweight title belt, he was rated by Ring magazine in a 1999 listing as the fourteenth greatest heavyweight of all time. He was nicknamed "Iron" Mike Tyson, Kid Dynamite, and The Baddest Man on the Planet.
During his prime he was the most feared man in the heavyweight division, but his once promising career was undermined by personal problems, lack of preparation, and periods of imprisonment. Upon release following his first prison sentence, he made a heavily anticipated comeback but failed to reclaim his previous dominance. On June 11, 2005, Tyson suffered a defeat to journeyman Kevin McBride, and shortly thereafter retired from the sport.
Early years
Tyson was born and raised in the notorious Brownsville section of Brooklyn to parents Lorna Smith Tyson and Jimmy Kirkpatrick. His early childhood was marked by strife and unhappiness, and his mother had to fend for the entire family following the departure of his father when Tyson was two years old. He grew up on the streets of Brownsville, where he would sometimes savagely beat those who ridiculed his high-pitched, lisping voice. As a youth, he was constantly in trouble with the police over petty crime and thuggery. Tyson was passed in and out of juvenile detention centers, and was expelled from high school for fighting. He was discovered by Bobby Stewart, who noted his raw boxing ability and awesome potential for the ring. Tyson was an outstanding physical specimen, weighing 200 lbs at the age of 13 and bench pressed more than his own weight. Stewart trained him for a few months, then introduced him to the legendary Cus D'Amato.
Rise to stardom
Mike Tyson made his professional debut on March 6, 1985, in Albany, New York, a match which he won by a first round knockout over Hector Mercedes. He fought frequently in his first two years as a professional, staying undefeated and winning his first 19 fights by knockout, usually in the first round. His quality of opposition gradually increased to journeyman fighters and borderline contenders, and his win streak attracted much media attention, leading to his being billed as the next great heavyweight champion.

Tyson's first nationally televised bout took place on February 16, 1986 at Houston Field House in Troy, NY against journeyman heavyweight Jesse Ferguson. Tyson knocked down Ferguson with an uppercut in the fifth round that reportedly broke Ferguson's nose

. During the sixth round, Ferguson began to hold and clinch Tyson in an apparent attempt to prolong the fight. After admonishing Ferguson several times to obey his commands to break the clinches and box, the referee eventually stopped the fight near the middle of the sixth round and Tyson was declared the winner by TKO.

On November 22, 1986, Tyson was given his first title shot, fighting Trevor Berbick for the WBC heavyweight title. Tyson won the title by second round knockout, and at the age of 20 years and 4 months became the youngest heavyweight champion ever.

Tyson aged 20 was around 222 lbs (101 kg), having approximately 5.5 percent body fat, and stocky for his height of 5'11" (1.80 m).Feared for his brute strength, many fighters were too scared to hit him and this was backed up by his incredible hand speed, accuracy, coordination, extremely powerful hits and timing, and he was a force to be reckoned with. Perhaps what was most overlooked was Tyson's defensive abilities. Holding his hands high in the peek-a-boo style taught by his mentor Cus D'Amato, he would slip and weave out of the way of the opponent's punches while closing the distance to deliver his own devastating attacks.

Expectations for the young champion were extremely high, and he embarked on an ambitious campaign to fight all the top heavyweights in the world. In 1987, Tyson defended his title against James 'Bonecrusher' Smith on March 7 in Las Vegas, Nevada. He won by unanimous decision and added Smith's WBA title to his existing belt. 'Tyson mania' in the media was becoming rampant. He beat Pinklon Thomas in May with a knockout in the sixth round. On August 13 he took the IBF title from Tony Tucker, winning by unanimous decision to become "undisputed heavyweight champion of the world". His only other fight in 1987 was in October against the 1984 Olympic champion Tyrell Biggs, a great performance from Tyson which ended with a victory by knockout in the seventh round.

Tyson had three fights in 1988. He faced an aged but still game Larry Holmes on January 22, and defeated the legendary former champion by fourth round knockout. He fought contender Tony Tubbs in Tokyo in March, fitting in an easy two-round victory amid promotional and marketing work.

On June 27, 1988, Tyson met lineal heavyweight champion Michael Spinks. Spinks, who had taken the heavyweight championship away from Larry Holmes via a fifteen round decision in 1985, had never lost his title in the ring. The IBF title which he had won from Holmes had been stripped from him, but many (including Ring magazine) considered him to have a legitimate claim to being the true heavyweight champion. Tyson cleared up all confusion by brutally knocking him out at 1:31 of the first round. This fight is often regarded as the pinnacle of Tyson's career.
Controversy
During this time period, Tyson's problems outside boxing were also starting to gain prominence. His marriage to Robin Givens was heading for divorce, and his future contract was being fought over by Don King and Bill Cayton. In late 1988, Tyson fired longtime trainer Kevin Rooney, the man many credit for honing Tyson's craft after the death of D'Amato in November 1985. Without Rooney, Tyson's skills slowly deteriorated and he became more prone to looking for the one-punch knockout, rather than utilizing the fierce combinations that brought him to stardom. He also began to headhunt, neglecting to attack the opponent's body first. In addition, he lost his fabulous defensive skills and began to barrel straight in toward the opponent, neglecting to jab and slip his way in. In 1989, Tyson had only two fights amid personal turmoil. He faced the popular British boxer Frank Bruno in February in a below-par fight, and managed a one round knockout of Carl Williams in July.
In 1989 Tyson was granted an honorary doctorate in Humane Letters from Central State University in Ohio. Many in the academic community expressed displeasure at this (as well as at the practice of giving honorary doctorates to celebrities in general), claiming that it cheapened the value of such awards, particularly for those who had worked years in their fields to earn them .
By 1990 Tyson seemed to have lost direction, and his personal life and training habits were in disarray. In a fight on February 11 he lost his championship to James "Buster" Douglas in Tokyo. On paper it looked like an easy victory for Tyson, but Douglas was at an emotional peak after losing his mother to cancer three weeks prior to the fight, and fought the fight of his life. Tyson failed to find a way past Douglas's lightning fast jab that had a thirteen-inch reach advantage over his own. He did send Douglas to the floor in the eighth round, catching him with an uppercut, but Douglas recovered sufficiently to hand Tyson a heavy beating in the later rounds. After the fight Tyson and his corner complained that Douglas had received longer than ten to get to his feet. Thirty-five seconds within the start of the 10th round, Douglas unleashed a combination of blows that sent Tyson to the canvas for the first time in his career. He was counted out by referee Octavio Meyran. The sight of the then 37-0 undefeated champion rolling around on the floor trying to put his mouthpiece back in was an image that contrasted deeply with many boxing fans' perceptions of Tyson up to that point.
In 1991 Tyson fought Donovan "Razor" Ruddock twice, once in March and again in June. These fights were notable because of Tyson's bizarre "jailhouse" talk towards his opponent. He told Ruddock, "Everyone knows you're a transvestite and you love me. I'm gonna make you my girlfriend. I can't wait to get my hands on a pretty thing like you." There was some controversy over the first fight which Tyson won in the seventh round; many believe the referee, Richard Steele, stopped the fight prematurely. Tyson won the rematch comprehensively in a unanimous points decision.
Rape conviction, prison, and aftermath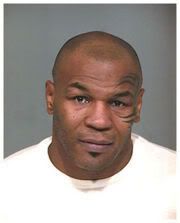 In 1992, Tyson went on trial in Indiana after being arrested there in 1991 for the rape of Miss Black Rhode Island, Desiree Washington, in an Indianapolis hotel room. Tyson was convicted on the charge of rape on February 10, 1992.
He was given a sentence of six years and was released in May 1995 after serving three years. Under Indiana law, a defendant convicted of a felony must begin serving his prison sentence immediately after the sentence is imposed. While in prison, Tyson converted to Islam.
Tyson did not fight again until 1995. After two comeback bouts against Peter McNeeley and Buster Mathis Jr., he regained one belt by easily winning the WBC title from Frank Bruno in March 1996 in three rounds. In September 1996 Tyson won back the WBA title in 93 seconds from Bruce Seldon, having paid Lennox Lewis $4 million to "step aside". Seldon was subjected to much ridicule for his first round loss to Tyson because he seemed to go down and out from a very light punch.
The Holyfield Fight
On June 28, 1997, Tyson fought Evander Holyfield with Mills Lane as the referee, at the MGM Grand Garden Arena in Las Vegas. It was dubbed "The Sound and the Fury," the $100-million rematch between these titans, since Holyfield had knocked Tyson out 8 months earlier, and the rematch was drawing more attention than the first bout, with Tyson getting $30 million, Holyfield $35 million, and pay per view fees set at $49.95.
Problems started when a clash of heads in the second round opened a three-inch cut over Tyson's right eye. Tyson had repeatedly complained about head butting in the first bout between the two. A time-out was called briefly, but since there was no indication that Holyfield had intentionally fouled Tyson, no point deduction was taken from Holyfield. Tyson continued the second round with blood trickling into his eye. As the third round was about to begin, Tyson came out of his corner without his mouthpiece, but Lane noticed this and ordered Tyson back to his corner to get his mouthpiece. The two got back into position and the fight resumed. Tyson rushed hard at Holyfield, catching him with a solid right and then a combination. Suddenly, with 40 seconds left in the 3rd round, the fight took an unexpected turn. Holyfield got Tyson in a clinch, and Tyson rolled his head above Holyfield's shoulder. He then bit Holyfield's right ear, severing it. Holyfield pushed Tyson away and started hopping up and down in pain, spinning around in a circle holding his ear.
Lane abruptly called for a time-out, Holyfield turned to walk to his corner, and Tyson ran up to Holyfield to push him in his back, startling the crowd and Holyfield who fell into the ropes. Lane quickly moved Tyson and directed Holyfield back to his corner as Tyson walked calmly back to his. The fight was delayed for several minutes as Lane told Tyson he was penalizing him with a two-point deduction. A physician examined Holyfield's ear and determined he could continue to fight.
The fight resumed with 30 seconds left in the round. The two fought into another clinch. Tyson craned his neck around again and bit Holyfield's left ear with 22 seconds left. Holyfield threw his hands around to get out of the clinch and jumped back as Tyson waved his arms in a "come on" motion. Lane did not stop the fight this time, so the two men continued fighting until time expired. The men walked back to their respective corners when the fight was then stopped. After the fight was stopped, Tyson still tried to get at Holyfield and Holyfield's trainer Brooks while they were still in their corner. Tyson took swings at anyone who got in his way, including a police officer, until he was finally held back into his corner. Announcer Jimmy Lennon Jr. read the unprecedented decision: "Referee Mills Lane has disqualified Mike Tyson for biting Evander Holyfield on both of his ears."
Later, Tyson was walking back to his locker room when a fan tossed a full bottle of water in Tyson's direction. Tyson climbed over a temporary railing and up into the stands, made obscene gestures to the crowd, and made his way up the side of a stairway before he was dragged to his locker room. Tyson was suspended and his license withheld.
Tyson tried to justify his behavior when he later told reporters:
| | | |
| --- | --- | --- |
| | Holyfield butted me in the first round and then he butted me again in the second round. As soon as he butted me I watched him. He looked right at me and came right at me. He kept on going down and coming up, then charged into me, and no one warned him. No one took any point from him. What am I supposed to do? This is my career; I can't continue getting butted like that. I've got children to raise and he keeps butting me, tryna get me, stopped on cuts I gotta retaliate. Listen, Holyfield's not the tough warrior everyone says he is. He got a little nick on his ear and he quit. I got one eye, he's got ears, he's not impaired. I got one eye, big deal, if he take one, I got another one. He didn't wanna fight; I'm ready to fight him right now... He didn't want to fight, regardless on what I did...he been buttin me for two fights (Tyson points to his eye) Look at me, man, look at me. I gotta go home and my kids are gonna be scared of me now, look at me! | |
Decline
In January 1999 Tyson fought the South African Francois Botha and while Botha initially controlled the fight, Tyson attempted to break Botha's arms during a tie-up. Nonetheless, Tyson landed a straight right-hand in the fifth round that knocked Botha out.
On February 5 Tyson was sentenced to a year's imprisonment, fined $5,000, and ordered to serve 2 years probation and perform 200 hours of community service for assaulting two people after a car accident on August 31, 1998. He served nine months of that sentence. After his release he fought Orlin Norris on October 23, 1999. Tyson knocked Norris down with a left hook he threw after the bell sounded ending the first round. Norris injured his knee when he went down and said he was unable to continue the fight. The bout was ruled a no contest.
In 2000 Tyson had three fights. The first was staged at the MEN Arena, Manchester, England against Julius Francis. Following controversy as to whether Tyson should be allowed into the country, he knocked out Francis in the second round. He also fought Lou Savarese in June 2000 in Glasgow, winning in the first round. The entire fight only lasted 38 seconds. Tyson continued punching after the referee had stopped the fight, knocking him to the floor as he tried to separate the boxers. In October Tyson fought the similarly controversial Andrew Golota, winning in round three, a result that was changed to no contest after Tyson tested positive for marijuana. Tyson fought only once in 2001, beating Brian Nielsen in Copenhagen with a seventh round TKO.
Tyson sought to fight Lennox Lewis in 2002 in Nevada, but the Nevada boxing commission refused him a license to box as he was facing possible sexual assault charges. Tyson made inflammatory remarks to Lewis prior to the eventual bout stating, "I want your heart, I wanna eat his children, praise be to Allah". A mass brawl on January 22, 2002 at a press conference in New York to publicize the planned event finally removed any chance of a Nevada fight. The fight actually occurred on June 8 in Memphis, Tennessee. Lewis dominated the fight and knocked out Tyson in the eighth round. Tyson stated that the loss was due to not being allowed enough warm up fights leading up to the fight, due to Lewis insisting on the date.
On February 22, 2003, Tyson beat fringe contender Clifford Etienne 49 seconds into round one, once again in Memphis. The pre-fight was marred by rumors of Tyson's lack of fitness and that he took time out from training to party in Las Vegas and get a new facial tattoo.
In August 2003, after years of financial struggles, Tyson finally filed for bankruptcy. His bank balance was said to have been only $5,000. In 2003, amid all his economic troubles, he was named by Ring Magazine at number 16, right behind Sonny Liston, among the 100 greatest punchers of all time.
On July 31, 2004, Tyson faced the unregarded Englishman Danny Williams in another comeback fight staged in Louisville, Kentucky. Tyson dominated the opening two rounds. The third round was more even, with Williams getting in some clean blows and also a few illegal ones, for which he was penalized. In the fourth round Tyson was surprisingly knocked out. It transpired that Tyson was trying to fight on one leg, having torn a ligament in his other knee in the first round. This was Tyson's fifth career defeat. He underwent surgery for the ligament four days after the fight. His manager Shelly Finkel claimed that Tyson was unable to throw meaningful right-hand punches after the knee injury.
Retirement from boxing
On June 11, 2005, Tyson stunned the boxing world by quitting before the start of the seventh round in a close bout against journeyman Kevin McBride. After losing the third of his last four fights, Tyson said he would quit boxing because he hasn't "got the fighting guts or the heart anymore." (BBC Sport).
Tyson has stayed in the limelight by promoting various websites and companies. In April 2005, he joined a group of strippers on the roof of a strip club in New York to promote skill gaming site FortuneFun.com. Tyson has also endorsed online gaming site Casino Fortune. In June 2004, sportswriter Max Kellerman suggested that Tyson should move out of boxing and into product endorsement, as this had worked well for former boxer George Foreman. In the past Tyson had shunned endorsements, accusing other athletes of putting on a false front to obtain them.
On the front page of USA Today on June 3, 2005, Tyson was quoted as saying: "My whole life has been a waste - I've been a failure." He continued: "I just want to escape. I'm really embarrassed with myself and my life. I want to be a missionary. I think I could do that while keeping my dignity without letting people know they chased me out of the country. I want to get this part of my life over as soon as possible. In this country nothing good is going to come of me. People put me so high; I wanted to tear that image down."
Tyson now spends much of his time tending to his coop of around 350 pigeons in Phoenix, Arizona . He shares his house with his pug, Meatball. He has signed on as a referee for mixed martial arts bouts with British MMA organization World Cage Fighting Championship .
Japanese mixed martial arts organization PRIDE Fighting Championships announced that they had signed Tyson on August 23, 2006. He is slated to make appearances at PRIDE fight cards and promotional events.
For a period of several weeks from August 30 to September 20, 2006, Tyson was contracted by the Aladdin Hotel and Casino to hold exhibition boxing sessions billed as "Tyson's Training Camp" as entertainment for the guests at the casino. A BBC commentator who attended these shows noted how severely out of shape Mike Tyson was and the lacklustre response he elicited from the spectators.
On September 28th Tyson announced "The Mike Tyson World Tour" in which Mike will fight in a series of four round exhibition matches in the US, Europe and Asia. The first of these matches is schedueled to be held in Ohio on October 20th, 2006. The explicit purpose of the tour is to help ease Mike Tyson's spiraling debts.
Marriage and children
Tyson has 7 children: Gena, D'Amato, Mikey, Rayna, Amir, Miguel, and Exodus.
First marriage was to actress Robin Givens from February 7, 1988 - February 14, 1989
Rayna (born February 14, 1996) and Amir (August 5, 1997) are from his second marriage to Monica Turner. Monica Turner is a pediatric resident at Georgetown University Medical Center in Washington DC.
Admits paternity of an 8-month-old girl born to Kimberly Scarborough of New York. (March 28, 1991).
Trivia
Tyson was good friends with rapper Tupac Shakur, and often came out for a fight with a Tupac rap as his ringwalk music (most common song "Ambitionz Az A Ridah" ). Shakur had been in attendance at a Tyson fight on the night he was fatally shot in a drive-by shooting.

Ottawa Senators goaltender Ray Emery had a picture of Tyson on his goalie mask, before he was told by Senators management that this was unacceptable due to Tyson's reputation.
Tyson's well hyped and short bout with Peter McNeeley served as obvious inspiration for the parody film of that phase of Tyson's career, The Great White Hype, with a caricature of Tyson played by Damon Wayans and a caricature of Don King played by Samuel L. Jackson. Although the same could be said that this film is based on the fight between Larry Holmes & Gerry Cooney by which Don King hyped up by calling Cooney "The Great White Hope." This fight drew huge attention worldwide and was one of the biggest closed-circuit/pay-per-view productions in history, being broadcast to over 150 countries.
Rap artist 50 Cent purchased Mike Tyson's 48,000-square-foot mansion in Farmington, Connecticut for $4.1 million on September 21, 2003.
Cameos and parodies
Tyson was the special enforcer for a World Wrestling Entertainment match at WrestleMania XIV on March 29, 1998, in which he pretended to be a member of D-Generation X and ended up punching out Shawn Michaels after making the 3 count for "Stone Cold" Steve Austin to win the WWF Championship from Michaels.
In Scary Movie 4, during a flashback scene (A boxing match not so subtly disguised as a Million Dollar Baby spoof) involving lead character Cindy (Anna Faris), there is an African-American female boxer with a Tysonesque facial tattoo; at the conclusion of the fight, proceeds to bite off the ears of every spectator and official within the boxing stadium. This is clearly a reference to the incident involving Mike and Evander Holyfield.
Tyson made a cameo appearance on 1980's TV sitcom Who's The Boss at one point, during a scene when Tony Danza is impersonating Tyson's infamous voice. Tyson rings the doorbell as a neighbour and asks who the person who's been making fun of him.
In 1987, Nintendo released Mike Tyson's Punch-Out!!, an NES game based on the arcade game Punch-Out!!, although there was later a version released in 1990 that replaced Mike Tyson with a fictional character, "Mr. Dream", after Nintendo's license with Tyson expired. Defeating Tyson (through mini-boxer Lil' Mac) is extremely difficult, as he can knock Mac down with a single "lightning punch", modeled after the real-life Tyson's devastating right upper-cut.
In 1989, DJ Jazzy Jeff and the Fresh Prince scored a #23 R&B/#58 Pop hit with "I Think I Can Beat Mike Tyson", in which the Fresh Prince envisages himself taking on the heavyweight champion (and taking a beating in the process). Tyson appears as himself in the song's music video.
In the Japanese version of Capcom's Street Fighter II series, Balrog is called Mike Bison, as a parody of Mike Tyson, possibly with the full name of "Michael Gerard Bison". Capcom USA switched the names of the Shadaloo Grandmasters around for the American versions in order to avoid a potential lawsuit from Mike Tyson. In Street Fighter Alpha 3 one of Balrog's victory phrases is "If you fight me like that again I'll have to bite your ear off!"
In 1999 he made another movie cameo appearance, playing himself in James Toback's Black and White, a serious look at race, sex and hip hop music in Manhattan. Tyson appears in When Will I Be Loved, another film by Black and White's director James Issa Toback, in 2004.
In the manga series Hajime no Ippo (the anime series is called Fighting Spirit in the US) by Morikawa Jyoji AKA George Morikawa, Mike Tyson's highlight reel is shown in the first chapter and he is brought up numerous times thereafter. The main character of the series, Makunouchi Ippo uses the same Peek-a-Boo style as Tyson and is often compared to him.