Kerr's IFL comeback
Dave Doyle
Mark Kerr is OK with how he was portrayed in the 2002 documentary The Smashing Machine, which was shot during the height of a drug addiction that derailed his mixed-martial arts career when he should have reached his peak.
"The person I was in the movie, that might be a tough thing to look back at and it isn't comfortable," said the former NCAA wrestling champ at Syracuse University. "That's where I was then."
But Kerr, the tournament winner at Ultimate Fighting Championship 14 and 15 in 1997, doesn't want the film to be his final image for the general public.
"I have a kid now," said the 37-year old Kerr, a Phoenix resident. "I have a two-year old son. That just changes your perspective on everything. Once you have responsibility for someone else's life you become a whole lot less self-centered. I've been clean, I've been off drugs for four years now."
With his head clear, Kerr is ready to give fighting another shot. Kerr will have just his second match in the past five years and his first in the United States in eight years when he takes on Utah's Mike Whitehead in the Superfight co-main event of the International Fight League show next Thursday at the Memorial Coliseum in Portland, Ore.
"The thing is, it isn't even that I want to go out on top," said Kerr. "It is that I still want to compete and know I still have a place in MMA. I just know that I feel good and I feel healthy and I feel like I have a good four, five, six fights left in me."
Like many who broke into mixed martial arts in the 1990s, Kerr got into the sport as a way to make some money while continuing his wrestling training. Kerr blitzed his way through a Vale Tudo tournament in Brazil in 1997; then tore through the competition in the UFC, winning his two fights at UFC 15 in a total of 1 minute, 10 seconds.
But the bottom dropped out on the MMA business in the U.S. as UFC when politicians and ignorant media portrayals helped force the sport off cable television. So Kerr went to Japan and continued to dominate in PRIDE, where he had six wins and a no-contest before finally losing a fight in 2000.
"You have to go where the money is," said Kerr. "UFC ran in to trouble under the old ownership and couldn't pay for the top talent, and PRIDE started taking off really big."
Somewhere along the way, Kerr fell into the clutches of addiction, which deepened at the same time he had a camera crew following his every move for a documentary. The end results weren't pretty, but they also helped him get his life back together.
"Sometimes I do stop and think about whether I want to use the past as a motivation," said Kerr. "You want to live for today and you don't want to use something from your past as a negative motivation, but to some extent I have to admit that yes, I do think about the string of losses I had and how I wasn't fighting at my best and that's not how I want to go out."
While still coping with his personal issues, Kerr lost four out of his last five fights in PRIDE. Kerr knows MMA is a fast-moving sport and what worked yesterday might not work today. He says this is part of the challenge of getting back in shape.
"The motivation really is simply of having a goal, and something to fight for, and the whole structure of getting up and training every day and knowing this will all pay off in the end," he said. "I love fighting. Fighting isn't a problem. That's fun. It was getting back into the hardcore training that took some time. My first month I started training, I can't even come up with a cute phrase for this, it just sucked. I'm 37. There were days I'd get done and I'd ache from head to toe and just think 'what the hell am I doing?'"
But training with Bas Rutten and his Los Angeles Anacondas, who are also competing on Nov. 2, helped bring him around.
"At some point it all came back together, and I started to feel like I'm in my groove again," he said. I'm back training with Bas and his boys, and it's really got me going again. ・I'm a wrestler and I always will be, but if you step away from MMA for awhile, the sport evolves and moves so fast that I know I need to learn new things and keep up if I'm going to keep pace. Now, if I go out, and I find that I can't keep up, can't move fast enough to block a punch, can't move like I used to, then yeah, I'll step aside and walk away. But I have to find out for myself."
The IFL show also features the semifinals of the World Team Championships, as the Anacondas take on Matt Lindland's hometown Portland Wolf Pack and Pat Miletich's Quad City Silverbacks go up against Carlos Newton's Toronto Dragons. Also, Daniel Gracie challenges Allen Goes in an added attraction.
Around MMA
PRIDE's Oct. 21 U.S. debut, The Real Deal, was a success as a live event, with a paid attendance of 8,079 (12,121 in the building) and a gate of $2,056,444, according to the Nevada State Athletic Commission. That number doesn't include reportedly brisk merchandise sales. The gate is the sixth-largest for an MMA show in Nevada and the only one in the top 20 not produced by the UFC.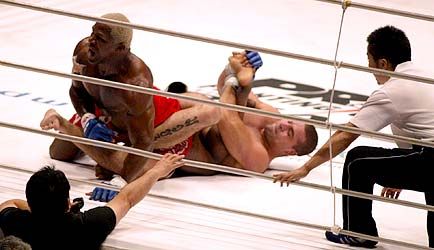 Shogun Rua submitted Kevin Randleman at PRIDE's The Real Deal last week. Photo Jeff Sherwood
The question is, where does PRIDE go from here as a promotional entity in the United States?
For all the talk about an impending PRIDE vs. UFC turf war, it could be that PRIDE is simply looking to put on occasional shows in the United States as a matter of prestige, to show the folks back home in Japan that the group is worldwide in stature. If that is the case, there is no reason to believe PRIDE can't be successful putting on several shows per year in Las Vegas, as the combination of well-heeled Japanese tourists and PRIDE's hardcore U.S. fans are enough of a base to put on a successful world-class show.
But is PRIDE looking to make a real run at UFC? If so, the group is going to have to master the cultural nuances needed to adapt to making it in the United States, while maintaining the distinctly Japanese feel that sets them apart. For one thing, PRIDE needs to revamp its marketing campaign in the United States. I' not sure how it was in the rest of the country, but the only advertisement for The Real Deal I saw was on Los Angeles public access TV ・and this was the day after the show.
PRIDE's next U.S. live event is scheduled for Feb. 24 at the Thomas and Mack Center in Vegas. Wanderlei Silva is expected to fight. He almost certainly won't be fighting Chuck Liddell. UFC president Dana White would have to be a really, really stupid businessman to hand over one of his biggest drawing cards to the opposition for their show on his home turf, especially when UFC is expanding its schedule for next year and he needs all the quality main events he can line up.
Silva called out Liddell at The Real Deal to a huge roar from the crowd. This tactic comes directly from PRIDE executive Nobuhiko Takada's playbook, as he used to do the same in his pro wrestling days. When Takada was the top star of Japan's UWFI promotion in the early 1990s, he and wrestling legend Lou Thesz would show up at other promotions' shows claiming to be the real world champion and demanding to meet the champion of the other group. They did so knowing they would either be ignored or would be kicked out of the building. The grandstand challenging got UWFI a tremendous amount of short-term publicity and PRIDE is hoping to build the same type of buzz here.
With all this said, storm clouds hit for PRIDE on Thursday, as the NSAC announced that both Vitor Belfort and Pawel Nastula tested positive for banned substances. Belfort tested positive for 4-hyroxytestosterone and Nastula for Decadurabolin. Both face hearings before the commission before sanctions are determined. If the fighters are suspended, as is usually the case, then PRIDE would have to honor the suspensions in Japan or face revocation of their promoting license in Nevada.
Just from doing a cursory check for tickets through Ticketmaster, it looks like UFC 65 at Arco Arena is going to be a winner at the box office. With three weeks left before the show, all the lower-priced seats are gone, and for the higher-priced seats, the best available are in the corners of the building. In addition to Matt Hughes' welterweight title defense against Georges St. Pierre and Tim Sylvia's heavyweight title defense against Jeff Monson, the following matches have also been announced: Heavyweight — Frank Mir vs. Brandon Vera; Brad Ames vs. Antoni Hardonk; Jake O'Brien vs. Josh Shockman; light heavyweight — Alessio Sakara vs. Wilson Gouveia; James Irvin vs. Hector Ramirez; Welterweight — Nick Diaz vs. Gleison Tibau; Lightweight — Joe Stevenson vs. Dokonjonosuke Mishima.
Source: www.FOXSports.com