Holyfield's age is irrelevant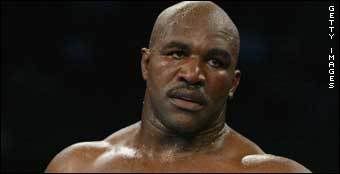 Keith Terceira
Yesterday I was privy to a conference call featuring Evander Holyfield discussing his upcoming bout with Fres Oquendo.
Holyfield (39-8-2, 26 KOs) faces Oquendo (26-3, 16 KOs) at The Alamodome in San Antonio, Texas on a FSN pay-per-view event.
As I listened to the call I got increasingly frustrated with the questioning by journalists who wasted the opportunity to speak to the four-time heavyweight champion by focusing on Holyfield's age.
Had it been a court of law, the defense would have objected on the basis that the questions had been asked and answered. Fact is, the questions have been beaten to the ground, kicked, stomped and punished to the point that no one is interested anymore. Let's all get beyond the point that Holyfield is 44.
Holyfield is not the oldest boxer attempting to reclaim the his titles. Putting George Foreman aside, let's look at another champion who hit his 40s and was successful.
Archie Moore, "The Old Mongoose," finished his career with a record of 185-23-11 with over 130 knockouts. In 1958 at the age of 42, Moore dropped 16 pounds in a few months and captured the world light heavyweight title from Yvonne Durelle by knocking Durelle out in the 11th round despite being down himself four times in early rounds of the fight.
Nine months later the two met again for the title and this time Durelle only lasted 4 rounds. Moore was only a few months shy of his 43rd birthday. In 1961 at the age of 44 Moore was restored as champion in most people's eyes when he took the decision at Madison Square Garden from Guilio Rinaldi in 15 rounds. Rinaldi had beaten Moore in a 10-round affair in Rome the year before.
In 1962 at the age of 45, 30 days before being 46, Moore faced Muhammad Ali, the recognized greatest heavyweight of all time. Moore lasted only four rounds, but then again he had already fought over 200 wars in his career and fought a legend in the making.
For Holyfield, there is no Ali in his future as he makes this return. Fact is, there are few even in the caliber of Durelle.
Holyfield has taken a beating only twice in his career. James Toney did take him to school, but his worst fight was with Riddick Bowe.
Let's consider as well that today's 40 is yesterday's 30 in the world of sports. Improvements in training, in health, the added protections in boxing and the shortened number of rounds for championship fights make Holyfield's career light when compared to Moore.
Let's also take into account Holyfield's assertions that he was injured during his lastest defeats, and his always-stellar conditioning. Unlike some former champions making "world tours," Holyfield deserves the benefit of the doubt as far as his word on his health and ability to keep this resurrection alive.
"When you're younger you can make more mistakes and still recover. When you are older you make less mistakes because you don't have the energy to waste," Holyfield said." I used to run everyday, now I run every other day. I used to spar everyday, now again, I spar every other day. Now, at this age, I have to give my body more time to rest."
Holyfield recognizes the need to adapt his training to his body needing more time to recover, something he wasn't doing a couple of years ago when he was injured. This probably increased the severity of his injuries and led to his losses.
Holyfield addressed the age question again and again.
"Age is not the factor with Oquendo with his style of fight that he fights," Holyfield said. "He is more of a counter-puncher. Because he is a counter-puncher it may not be what I would consider and action-packed fight, but I will have to make the best of it."
Holyfield was asked about the role reversal, pertaining to his 1991 bout with Foreman, the veteran and Holyfield being the young, victorious lion.
"With George, he was the bigger guy, even though I was the younger guy. In this fight we are pretty much the same size," Holyfield said. "The difference is the experience I have. I wish that people would see the resilience that I have, with the knowledge that I have."
Even Holyfield seemed to be getting frustrated with the quality of questions.
"The four fights that I lost recently were due to injury," Holyfield said. "The reason why I chose to go to a higher-quality opponent was I realized that at my age, how long can you actually do this if you are not injured? I have no injuries anymore and I provided that by being able to fight Bates and throw all these combinations and got the guy out.
"Now I realize that because I am injury-free my skills are better than all the fighters that are out there now. I know that and I want to prove that by fighting a guy like Fres and the next fight I want to fight for a championship."
This doesn't sound like a man trying to hold on to his career, but more like a one who realizes that his career has come close to the end and that the time is at hand if he wants to regain his belts.
I choose to give Holyfield his due. He has earned this by staying a fairly good role model who, despite some setbacks, has always been worthy of the title "champion."
Source: BoxingScene.com