MARVIN EASTMAN OFF OF PRIDE LAS VEGAS CARD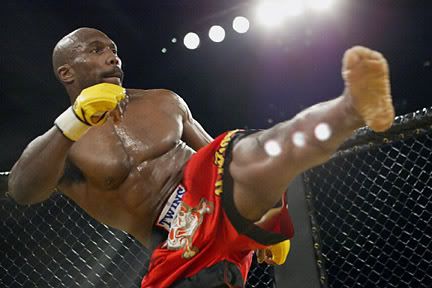 Originally scheduled to face Kazuhiro Nakamura this Saturday, Marvin "The Beastman" Eastman has confirmed on his MySpace blog, as reported on Sherdog.com, that he will not be participating at Pride's anticipated U.S. debut. According to Eastman, the reason for his absence is due to a contractual dispute with the World Fighting Alliance. Currently under contract with the WFA, the organization threatened Marvin with litigation if he were to fight at Pride 32: "The Real Deal" this Saturday.

In addition to the announcement of his absence, Eastman also revealed that he is scheduled to rematch Quinton "Rampage" Jackson on the December 9th WFA show and has two fights remaining on his contract. Eastman earned a decision over "Rampage" in his first professional fight. Quinton has openly expressed his desire to avenge his loss in the past and it looks like this fight will come to fruition.

MMAWeekly has confirmed with the Nevada State Athletic Commission that Marvin Eastman's replacement at Pride 32 will be Travis Galbraith. A veteran of TKO and King of the Cage, the Canadian will make his Pride debut against Japanese Judoka Kazuhiro Nakamura.


Announced Bouts:
-Fedor Emelianenko (#1 Heavyweight in the world)* vs. Mark Coleman
-Mauricio "Shogun" Rua (#2 Light Heavyweight)* vs. Kevin Randleman
-Josh Barnett (#3 Heavyweight)* vs. Pawel Nastula
-Dan Henderson (#5 Middleweight)* vs. Vitor Belfort
-Kazuhiro Nakamura (#10 Light Heavyweight) vs. Travis Galbraith
-Joey Villasenor vs. Robbie Lawler
-Phil Baroni vs. Yosuke Nishijima
-Sean O'Haire vs. Eric "Butterbean" Esch