Statistics
Nickname
The Predator
Height
6ft 1 in (185 cm)
Weight
210 lb (95 kg)
Born
23 November 1965
Fighting out of
Team Frye
Town of birth
Sierra Vista, Arizona
Fighting style
Submission Wrestling
Mixed martial arts record
Wins
16
By knockout
5
By submission
9
Losses
5
Draws
1
No contests
1
Don Frye (born November 23, 1965) is a professional mixed martial arts fighter, actor, and professional wrestler. Frye rose to fame fighting in early Ultimate Fighting Championship events, winning the UFC 8 and Ultimate Ultimate 96 tournaments.
Biography
Don Frye began wrestling as a freshman in 1984 for Arizona State, where he was trained by fellow future Ultimate Fighting Championship legend, then assistant wrestling coach, Dan Severn. In 1987, he won the freestyle and Greco-Roman events during an Olympic qualifier[1]. A year later, he transferred to Oklahoma State, where he encountered another future UFC star amongst his teams mates; Randy Couture[2].
UFC
In 1995, Frye helped train his old friend Dan Severn for the Ultimate Ultimate 1995, accompanying Severn's entourage to Denver. Severn returned the favour in 1996, when he acted as Frye's manager for UFC 8. Fighting three times in one night, Frye dispached all of his opponents in just over three minutes total, winning the tournament with relative ease. However, due to the controversial nature of the event, Frye was barred from both firefighting, his previous occupation in Bisbee, Arizona, and from training in the Buena High School gym he had used since his ASU days[3]. He is considered one of the original "cross trained" MMA competitors who have a background in multiple disciplines. Along with his collegiate wrestling experience, Frye holds a 2nd degree black belt in Judo and a professional boxing record.
Instantly a fan favorite in the UFC, Frye returned at UFC 9 to take a single bout TKO victory over Amaury Bitetti. At UFC 10, Frye returned to tournament format and defeated Mark Hall and Brian Johnston both by TKO. In the finals for UFC 10, Frye faced his toughest challenge yet - Mark Coleman. Coleman came out on top via TKO after eleven minutes, handing Frye his first loss in seven fights.
Frye would return to his winning ways at UFC Japan in November of 1996, taking a submission victory over Mark Hall. Just one month later, Frye entered the UFC's Ultimate Ultimate 96 tournament, held to find the best of the best from past UFC winners and runners up. Frye took wins over Gary Goodridge, and Mark Hall (for the third time), with both wins coming by submission. In the finals of UU 96, Frye faced feared striker Tank Abbott, who landed early devastating shots, opening a cut on Fryes face, and causing swelling. Frye was able to take Tank down, and secured a Rear Naked Choke, to take the title of Ultimate Ultimate 96 Champion, his second UFC Tournament Championship.
After winning the Ultimate Ultimate 96 tournament, Don Frye retired from MMA fighting. He focused on other endeavors, including acting and pro wrestling in Japan (where he enjoys continued success), primarily wrestling for New Japan Professional Wrestling.
Pride FC
In 2001, with Frye still a sucessful celebrity in Japan, Pride Fighting Championships signed The Predator to a multi fight contract. Appearing for the first time in five years, Frye was noticably bigger, and seemed much stronger. In a controversial bout at PRIDE 16, Frye faced Dutch kickboxer Gilbert Yvel, who was eventually disqualified for continuously eye gouging Frye. Three months later, at K-1's New Years Eve show Inoki Bom-Ba-Ye 2001 K-1 vs. Inoki, Frye submitted Cyril Abidi by Rear Naked Choke. Frye returned to PRIDE in February of 2002, facing Ken Shamrock at PRIDE 19. After a long, tough battle, Frye pulled out a decision victory.
Just four months after defeating Ken Shamrock, Frye returned to face Japanese pro wrestling legend Yoshihiro Takayama at PRIDE 21. In a fight that many consider to be one of PRIDE's most exciting matches, Frye and Takayama clinched in a "hockey fight" pose, each holding the head and hitting, with Takayama finally going to the body after more than a full minute of unrelenting, undefended shots. This would happen three times in the fight, until the referee stopped the bout after Frye mounted Takayama, who was visibly much worse for the wear.
Riding a new wave of popularity, Frye returned at PRIDE 23 to face Japanese Olympic Gold Medalist Hidehiko Yoshida. Taking his first loss since fighting Mark Coleman in 1996, Frye was submitted by Yoshida via armbar in the first round. While Frye did not tap out, the referee stopped the bout in fear of serious injury. Just one month later, Frye fought at the K-1/PRIDE New Years Eve event, PRIDE Shockwave, taking on K-1 Champion Jérôme Le Banner. The match was not a mixed martial arts event as K-1 rules were followed. It should be noted that Frye had mentioned in an interview prior to the fight that (besides some knee strikes) he had never thrown a kick in his life. Frye's disadvantage was obvious as he couldn't use his wrestling skills and at 1:30 of the first round, for the first time in his career, Don Frye was knocked out.
Frye took seven months off following the loss to Le Banner, and returned at PRIDE 26 to try and avenge his loss to Mark Coleman. In another long battle, Frye lost a unanimous decision to Coleman after three rounds. Another rematch was on tap for PRIDE Shockwave 2003, when Frye faced Gary Goodridge for the third time. In a stunning bout that lasted all of 0:39, Goodridge scored a vicious high kick to the head, knocking Frye out completely.
K-1
In 2004 Frye signed with Japan's K-1 organization, which held both kickboxing and mixed martial arts matches. In K-1 MMA-Romanex, Frye faced Yoshihiro Nakao, but the bout was called a no contest in the first round due to an accidental headbutt. The pair would face off at K-1's New Years Eve show K-1-Premium 2004 Dynamite to settle the score, with Frye ultimately losing a unanimous decision. After another brief retirement, Frye returned in May of 2006 to fight Chad Rowan at K-1 Hero's 5, winning by guillotine choke in the second round.
Just ten days later, Don Frye made his first appearance fighting MMA in the US since 1996, taking on Ruben Villarreal in King of the Cage: Predator. After three rounds of what many considered to be a lackluster fight, the bout was ruled a draw. 3 months later he defeated Yoshihisa Yamamoto at K-1 Hero's 6 using the Rear Naked Choke in the end of the first round.
Acting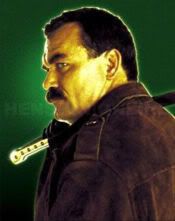 Don Frye began acting in movies in the late 1990's. His first appearance was in the 50th Anniversary Godzilla film Godzilla: Final Wars (2004) "Gojira: Fainaru uôzu", playing the role of Captain Douglas Gordon. In an interview, Frye mentions that unlike his fights where he has complete control, acting in a Godzilla film he had no control but enjoyed the experience nonetheless. The director of "Godzilla Final Wars," Ryuhei Kitamura, mentioned that he wrote the Gordon role with Frye in mind since he was a fan of Frye's fighting matches. Kitamura found Frye's tough-guy/good-heart demeanor to be the perfect role for the comic book character of Gordon. All of his dialogue in the movie was in English. It was found quite interesting due to the fact that it seemed the Gordon character can understand Japanese, yet cannot speak it very well.
2005 turned out to be a busy year for Frye as he made several appearances. In Just Another Romantic Wrestling Comedy, he played Rocco Piedra, the father of a wrestling family who dreams on marrying their child off to a famous wrestler. He also appeared in No Rules and starred in Nagurimono. In 2006, he made an appearance in Miami Vice and in Honor and even lent his voice for The Ant Bully.
Frye is also set to appear in Paper Dolls and in the up coming Rob Schneider prison comedy Big Stan, along with former MMA fighters Randy Couture and Bob Sapp.
MMA titles
Previous winner
Dan Severn
UFC 8 Tournament winner


February 16, 1996

Next winner
Mark Coleman
Previous winner
Mark Coleman
Ultimate Ultimate 1996 Tournament winner


December 7th, 1996

Next winner
Vitor Belfort
MMA record
16 Wins 5 Losses 1 Draw 1 No Contest
Date
Result
Opponent
Method
Event
Round, Time
Notes
5 August 2006
Win
Yoshihisa Yamamoto
Submission (Rear Naked Choke)
K-1's Hero's 6
Round 1, 4:52
13 May 2006
Draw
Ruben Villareal
Draw
King of the Cage: Predator
Round 3, 5:00
3 May 2006
Win
Chad Rowan
Submission (Guillotine Choke)
K-1's Hero's 5
Round 2, 3:50
31 December 2004
Loss
Yoshihiro Nakao
Decision (Unanimous)
K-1-Premium 2004 Dynamite
Round 3, 5:00
22 May 2004
No Contest
Yoshihiro Nakao
No Contest - Accidental Headbutt
K-1 MMA-ROMANEX
Round 1
31 December 2003
Loss
Gary Goodridge
KO (Kick)
PRIDE Shockwave 2003
Round 1, 0:39
8 June 2003
Loss
Mark Coleman
Decision (Unanimous)
PRIDE 26-Bad to the Bone
Round 3, 5:00
24 November 2002
Loss
Hidehiko Yoshida
Technical Submission (Armbar)
PRIDE 23-Championship Chaos 2
Round 1, 5:32
23 June 2002
Win
Yoshihiro Takayama
TKO (Punches)
PRIDE 21 - Demolition
Round 1, 6:10
24 February 2002
Win
Ken Shamrock
Decision (Split)
PRIDE 19 Bad Blood
Round 3, 5:00
31 December 2001
Win
Cyril Abidi
Submission (Rear Naked Choke)
Inoki Bom-Ba-Ye 2001-K-1 vs. Inoki
Round 2, 0:33
24 September 2001
Win
Gilbert Yvel
DQ (3 Yellow Cards due to eye gouging)
PRIDE 16 Beasts From The East
Round 1, 7:27
7 December 1996
Win
David Abbott
Submission (Rear Naked Choke)
Ultimate Ultimate 96
Round 1, 1:22
Won Ultimate Ultimate 96 Tournament
7 December 1996
Win
Mark Hall
Submission (Achilles Hold)
Ultimate Ultimate 96
Round 1, 0:20
7 December 1996
Win
Gary Goodridge
Submission (Fatigue)
Ultimate Ultimate 96
Round 1, 11:19
17 November 1996
Win
Mark Hall
Submission (Forearm Choke)
UFC Japan
Round 1, 5:29
12 July 1996
Loss
Mark Coleman
TKO (Strikes)
UFC 10 The Tournament
Round 1, 11:34
12 July 1996
Win
Brian Johnston
Submission (Strikes)
UFC 10 The Tournament
Round 1, 4:37
12 July 1996
Win
Mark Hall
TKO (Strikes)
UFC 10 The Tournament
Round 1, 9:22
17 May 1996
Win
Amaury Bitetti
TKO (Strikes)
UFC 9 Motor City Madness
Round 1, 9:30
16 February 1996
Win
Gary Goodridge
Submission (Position)
UFC 8 David vs. Goliath
Round 1, 2:14
Won UFC 8 Tournament
16 February 1996
Win
Sam Adkins
TKO (Cut)
UFC 8 David vs. Goliath
Round 1, 0:48
16 February 1996
Win
Thomas Ramirez
KO
UFC 8 David vs. Goliath
Round 1, 0:08