Clash of ideologies
Dave Doyle
Two-time Ultimate Fighting Championship heavyweight titleholder Tim Sylvia has never been shy with his opinions.
So when the man known as "The Maine-iac" heard about the leftist political views of his next opponent, Jeff Monson, a man who once wore an "Assassinate Bush" t-shirt to one of his fights, Sylvia didn't hold back.
"I've heard about some of the things he's said and I think he's a piece of s---," said Sylvia, who defends his title against Monson at UFC 65 at Arco Arena in Sacramento on Nov. 18. "He disrespects our soldiers and our country and our President. I've been out to talk to soldiers and they deserve all the support they can get. I want to go out and teach this guy a lesson."
The soft-spoken, eloquent Monson, a resident of Olympia, WA, advocates anarchy, is a member of the Industrial Workers of the World, and boasts a tattoo of a Soviet hammer and sickle on his calf.
"I believe in peace on earth and I want to see everyone learn to get along," Monson said in an interview with FOXSports.com after he defeated Anthony Perosh at UFC 61.
Sylvia, the MFS Elite Fighter and Iowa resident by way of Ellsworth, Maine, doesn't respect Monson's political views, but he does respect his opponent's fighting abilities. Monson, an American Top Team wrestling and jiu-jitsu specialist, has won 16 consecutive matches since his last loss, a decision against Forrest Griffin in 2002.
"The guy can fight," said Sylvia. "He's a better fighter than he gets credit for. I don't care for what he stands for but that doesn't mean I'm not taking him seriously as an opponent."
This matchup figures to be a classic cat-and-mouse game. Sylvia's style is no secret, as the 6-foot-8 monster plays his reach advantage for all it's worth. This is a tough enough challenge for someone like 6-foot-4 Andrei Arlovski, who Sylvia defeated to win the title, but Monson is 5-foot-9 and has bumped up from light heavyweight. As a grappler, Monson, who took Chuck Liddell the distance before losing a decision at UFC 29, will need to find a way to broke through and take Sylvia down in order to play his game. Sylvia knows this.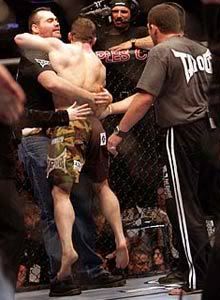 UFC heavyweight champ Tim Sylvia celebrates with welterweight champ Matt Hughes at UFC 60. Both will defend their titles at UFC 65. (Gene Kim / FOXSports)
"Let him come after me," Sylvia said. "He has to take it to the ground to try to defeat me and I don't get taken down too easily. I've been working on my grappling, but I don't plan to get taken down."
With a win over Monson, Sylvia would finish a tremendous year undefeated in four fights. Nearly left for the scrap heap two years ago after a series of setbacks in and out of the octagon, the 22-2 Sylvia worked his way back into title contention and scored what at the time was considered a major upset over Arlovski in Anaheim to win the title at UFC 59.
As for the future? Let's just say Sylvia was paying attention a couple months back when the PRIDE promotion tried to call him out for a matchup with their heavyweight champ, Fedor Emelianenko.
"I want to fight Fedor," Sylvia said. "We're the two champs, we're the two best in the world in our weight class. I want to prove I'm the best.
"When all the talk was happening with Wanderlei (Silva, about a potential match with UFC light heavyweight champ Chuck Liddell), I called Dana (White) and told him to get a match made with me and Fedor. Dana said 'slow down, let's do things one at a time.' I know the way things are and I know this is all politics. If it could happen I know I want it and I know Fedor would take the fight."
Around the MMA world
*Steroids were back in the news this week, hitting both of the world's major MMA groups. Stephan Bonnar was suspended nine months by the Nevada State Athletic Commission for testing positive for the drug Boldenone after his loss to Forrest Griffin at UFC 62 in August. The suspension is retroactive, meaning he'll be eligible for compeition again in May. UFC president Dana White has indicated he will stick by Bonnar, since Bonnar is a first-time offender who fessed up to his actions when he was caught.
The NSAC also announced that PRIDE's Kevin Randleman provided the commission with a fake urine sample after his loss to Mauricio Rua on Oct. 21. Randleman has 20 days to formally respond the charges. Randleman joins Pawel Nastula and Vitor Belfort as Real Deal fighters who ran afoul of the commission.
*The pay-per-view broadcast of last weekend's PRIDE Bushido show debuts on Sunday. Spoilers are available on the FOXSports.com MMA blog.
*Saturday marks the UFC's Ultimate Fighter 4 finale at the Hard Rock Hotel and Casino in Las Vegas. The winners in each division get a $100,000 prize, another hundred grand in sponsorship money, and a future title shot. Matt Serra takes on Chris Lytle in the welterweight finals; Patrick Cote and Travis Lutter square off in the middleweight division for the right to be a very big underdog against Anderson Silva. The rest of the show: Rich Clementi vs. Din Thomas; Edwin Dewees vs. Jorge Rivera; Jeremy Jackson vs. Pete Spratt; Scott Smith vs. Pete Sell' Gideon Ray vs. Charles McCarthy; Thales Leites vs. Martin Kampmann.
*The International Fight League's 2006 World Team Championship finals are set, as Pat Miletich's Quad City Silverbacks will square off with Matt Lindland's Portland Wolf Pack. Both teams were victorious in the semifinals front of a crowd of 7,632 on Nov. 2 in Portland, as the Silverbacks beat Carlos Newton's Toronto Dragons 4-1 and the Wolf Pack edged Bas Rutten's L.A. Anacondas, 3-2. The finals will be held at the Mohegan Sun Arena in Uncasville, Conn. on Dec. 29. That show also features a superfight between Newton and Renzo Gracie.