Colonel on Superfighter!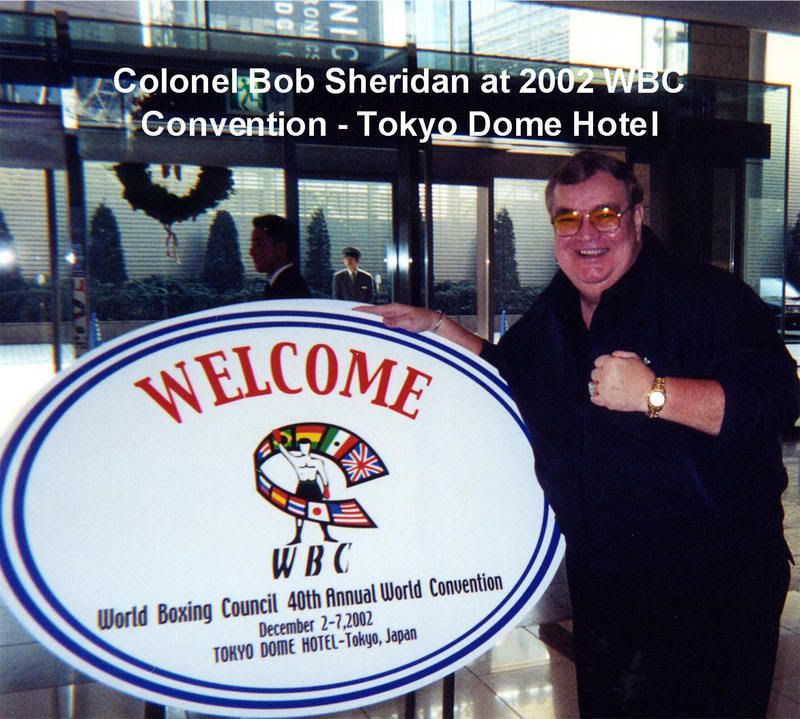 October 19, 2006
By Ray Wheatley
Hall of Famer Colonel Bob Sheridan is very excited that he will be calling the pay per view "Superfighter" tournament scheduled for December 1st at the Telstra Dome in Melbourne, Victoria, Australia.
Many of the world's best cruiserweights and heavyweight boxers will be punching it out in a one day event that will see the winner walk away with a $5 million check. Cruiserweight champion O'Neil Bell and former heavyweight title holder Chris Byrd will compete with Tye Fields, Juan Carlos Gomez, Oliver McCall, Jameel McCline and two fighters to be named. Calvin Brock and Samuel Peter are late withdrawals.
The Colonel said, "The entire Superfighter project attracted me first, because its number one charity is the Retired Boxing Foundation that is run by former fighter Alex Ramos and Jacquie Richardson. This organization attracted me because every penny they raise goes back to the retired fighters that can't help themselves. There are no administrative costs for the Retired Boxing Foundation; so I have sort of adopted it for my personal way to give something back to boxing of a personal nature.
"As far as the Superfighter event is concerned, it's a new concept of having a one night heavyweight tournament that has attracted some of the top heavyweights that have competed over the past 10 years. They are all still active and many are former world champions, so I think it can be a really interesting night for boxing fans. The format of four rounds for each fight and a new innovative scoring system will create some real action packed fights. The audience in attendance at the Telstra Dome will see the cutting edge technology which is exclusive to Superfighter. There will be real time scoring displayed on huge screens at the venue throughout all the bouts for the fans to see.
"In terms of the telecast, I'm so pleased to have been selected to work with George Foreman. I've done so many firsts in this industry and I just would not have wanted to miss being part of Superfighter. "The Contender" was a successful innovation which attracted new boxing fans and I think "Superfighter" will be even better. These fights won't be edited like Sugar Ray Leonard's show to hype action because the scoring and 4 three minute rounds will insure action fights in the heavyweight division. I think this is good for the sport of boxing. The fighters stand to make some serious money and the worldwide audience will be entertained to the max. If it all works out as planned, I'm sure you'll see Superfighter coming to additional weight divisions and that's great for boxing."