Guzman appears on Univision
Champ prepares for Dec 16th homecoming in Santo Domingo
WBO jr lightweight boxing champion Joan Guzman (26-0, 17 KOs) was a featured guest Sunday morning on the Univision sports program "Republica Deportiva." Guzman discussed a variety of topics with co-hosts Fernando Fiore and Rosano Franco. Guzman gave a special shoutout to his family and friends in the Guachapita barrio of Santo Domingo; the Boston and Paterson, N.J. area plus the city of Brooklyn where he now resides. The proud father also blew a heartwarming kiss to his seven year old daughter Maria.
The charismatic Guzman, who did a bit of salsa dancing with co-host Franco on the program, talked about how he is trying to put Dominican boxing "on the map." Guzman is training to make his first defense of the WBO title on December 16th (against an opponent to be named) in his birthplace of Santo Domingo. The homecoming event has the backing of Dominican President, the Honorable Leonel Fernandez and the Sports Minister Felipe Payano.
Among his possible future foes in 2007, Guzman was asked about the great Mexican warrior, Marco Antonio Barrera. "He is a great champion, a great fighter," Guzman said. "I am co-promoted by his promoter, Oscar de la Hoya and Golden Boy Promotions." Guzman said that since he and Sycuan Ringside Promotions joined forces with Golden Boy, he has been thrust onto the world boxing stage with two HBO appearances. "I credit Oscar and I thank him for these opportunities. Oscar is a great fighter so he knows what boxers need."
Mitchell wins C'wealth belt!
Unbeaten WBO #4 super featherweight Kevin Mitchell (22-0, 15 KOs) won the Commonwealth 130lb title with a hard-fought twelve round unanimois decision over George Ashie (11-3) at London's York Hall. Scores were 117-113, 116-113 and 116-112. In the co-feature, lightweight Angel Ramirez (16-4-2, 7 KOs) had Graham Earl (25-1, 12 KOs) cut and staggered him several times, however judges awarded Earl a controversial 116-112, 116-112, 115-113 decision along with the vacant WBU title.
La Ara wins in tuneup!
Former 108lb champion Roberto "La Ara" Vasquez (23-1, 17 KOs) was forced to go the ten round distance with journeyman Horlan Hamilton (11-7) on Saturday night in a tuneup bout at Panama City, Panama. Vasquez won by scores of 100-90, 100-90, 100-91 but injured his left hand in the process. The injury is not expected to hamper Vasquez' December 2 interim WBA flyweight title fight against Takefumi Sakata in Paris, France.
Calloway KOs Polley!
Heavyweight Rob Calloway knocked out Byron Polley 1:19 into the second round of their grudge match at the Civic Arena in St. Joseph, Missouri. Calloway and Polley almost exchanged blows at the official press conference and weigh-ins, with Calloway promising to retire if Polley goes the distance. "The All American Prizefighter" Calloway, who has a closet full of minor belts, picked up another one as he claimed the WBE heavyweight championship.
Oliver Captures USBA Belt!!!
Scott Ploof at Ringside
Mike "Machine Gun" Oliver (17-0, 7KOs) had both guns blazing on Saturday night at the Mohegan Sun Resort and Casino in Uncasville, CT, as he scored a twelve-round unanimous decision over Adam Carrera (18-2, 8 KOs) to capture the vacant USBA Junior Featherweight title. Scores of the bout were 116-112, 120-108 and 118-110 in a fight that was almost near perfection for the young Oliver.
Dimitrenko: Report and photos!
Not even the devil could stop heavyweight Alexander Dimitrenko on his way to a world title fight. The Argentinean Gonzalo Omar Basile, known in his country as the "Devil at Heavyweight," was destroyed in the first round in front of 3,500 spectators on Saturday night at the Porsche Arena in Stuttgart. The Ukranian, who lives in Hamburg, remains unbeaten with a perfect record: 23 wins in 23 fights with 14 KO's. He defended his WBO Intercontinental title for the third time and 2007 should be the year he takes aims at a world title. (Photo: Andre Boge)
Cintron crushes Suarez!
Karl Freitag, photos by Javiel Centeno

Welterweight Kermit Cintron (27-1, 25 KOs) scored an impressive fifth round TKO over Mark Suarez (25-3, 13 KOs) to claim the vacant IBF 147-pound championship Saturday night at the Palm County Convention Center in Palm Beach, Florida . . .
Kermit Speaks!
Karl Freitag
After his devastating win over Mark Suarez on Saturday night, newly crowned IBF welterweight champion Kermit Cintron feels vindicated. "I told everybody that it was a fluke against Margarito," stated Kermit in regard to his only loss 18 months ago. "This is something that I wanted for the longest time and I finally got it. Being a world champion feels so good and I know that there's more and better things to come....We'll see what Emanuel has planned for me next. I definitely want to defend my title in Puerto Rico, I want to fight there and I want to fight in Reading (PA), my hometown, as well." Cintron attributes much of his improvement since the Margarito fight to his new trainer/manager Emanuel Steward. "It shows. It shows how much I improved since the Margarito fight. I'm more focused, I'm training harder, I'm having a lot of fun in training, I wasn't getting that before and now I'm getting it. And that's what it's all about, I just need to have fun in the ring."
Oliver wins USBA title!

Scott Ploof at ringside
Mike "Machine Gun" Oliver (17-0, 7KO's) had both guns blazing on Saturday night at the Mohegan Sun Resort and Casino in Uncasville, CT as he scored a twelve round unanimous decision over Adam Carrera (18-2, 8KO's) to capture the vacant USBA junior featherweight title. Scores of the bout were 116-112, 120-108 and 118-110 in a fight that was almost near perfection for the young Oliver. Fightnews.com also scored the fight 118-110.
Cintron stops Suarez in five!

Karl Freitag at ringside / Photos: Javiel Centeno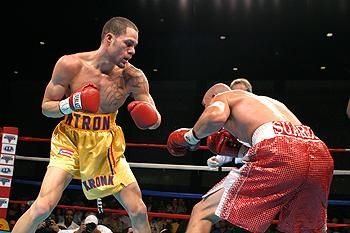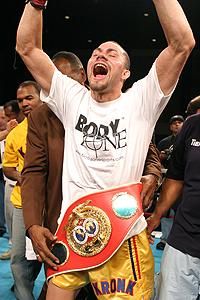 Kermit Cintron (27-1, 25 KOs) scored a fifth round TKO over Mark Suarez (25-3, 13 KOs) to claim the vacant IBF welterweight championship on Saturday night at the Palm County Convention Center in Palm Beach, Florida. In a vicious fight, both fighters had no problems landing early. Cintron landed the cleaner shots, but Suarez' pure savagery created some good connects also. Cintron, schooled by super trainer Emanuel Steward, seemed to be taking over in round three and had a big round four, landing at least a dozen huge shots. More heavy lumber from Cintron in round five and Suarez took a knee. A follow up barrage by Cintron prompted referee Frank Santore Jr. to stop the fight at 2:53.
---
Former world champion Mauricio Pastrana (33-7-2) simply vaporized Osvaldo Cedeno (13-8), dropping him twice before the bout was halted at 2:29 of round one. The bout was fought in the bantamweight division.
---
Heavyweight Ramon Garbey (18-4) outworked James Brock (13-37-3) over six rounds. Scores were 60-54 on all cards.
---
Middleweight Aaron Pryor Jr scored a sixth round TKO over Timothy Hall. The bout was halted by referee Frank Gentile after a barrage by Pryor at 1:55.
---
Super welter Maximinio Cuevas (9-5) stopped Carlos Aballe (15-4) at 2:20 of round six.
Dimitrenko destroys Basile!

Heavyweight contender Alexander Dimitrenko (23-0, 14 KOs) made short work of Gonzalo Omar Basile (25-2) destroying the heavily tattooed Basile in just 54 seconds. The WBO Intercontinental champion Dimitrenko simply bumrushed Basile and pounded him until referee Daniel Talon stopped the slaughter.

---
In other action, super middleweight Jürgen Brähmer (28-1, 23 KOs) returned to the win column with an eighth round KO over Francisco Antonio Mora (51-11).
---
In a WBA cruiserweight eliminator, Firat Arslan scored a 5th round TKO over Grigory Drozd. Referee Terry O'Conner stopped the bout in the 5th round with 32 seconds left. There were no knock downs.
#1 Alcine wins by DQ!
Dave Spencer
WBA #1 jr middleweight Joachim Alcine won by tenth round disqualification against Jose Rosa Gomez Saturday afternoon at the Lac Leamy Casino in Gatineau, Quebec, Canada. Rosa Gomez was deducted two points in round nine and another point in round ten for low blows. When he strayed low again, referee Marlon Wright pulled the plug. Also, in an NABF jr welter clash, Herman Ngoudjo outpointed Donald Camarena over twelve, 117-111, 117-111, 115-113; and Canadian welter king Victor Lupo decisioned Amilcar Melian over eight.
Schulz-Minto a hot ticket!
Daniel Hiller
There is big interest in the return to the boxing ring of heavyweight Axel Schulz. For his fight against Brian Minto on November 25th at the Gerry Weber Stadion in Halle/Westfalen, Germany, organizers say that as of Friday 10,800 of 12,000 tickets have been sold.

Quote of the Day: "Simply revolting what he has on his body" -- Heavyweight contender Alexander Dimitrenko on the head-to-toe tattoos of opponent Gonzalo Omar Basile
"PRETTY RISKY" weigh-ins!
WBC mandated weigh-in for Mayweather & Baldomir
"It's just a week before 'PRETTY RISKY' and it's been worth the 'weight,'" cracked promoter Dan Goossen after confirming today that WBC champion Carlos "Tata" Baldomir came in under the WBC-mandated seven-days-out weight limit of 154 pounds for his scheduled 12-round, WBC Welterweight title bout against Pound-for-Pound King, "Pretty Boy" Floyd Mayweather a week from tomorrow at the Mandalay Bay Resort & Casino in Las Vegas, Nevada. Mayweather, a fit 150 pounds for the WBC 30-day required weigh-in and a mere three pounds over the welterweight limit, shifted all the focus on Baldomir's weight, especially after Baldomir guaranteed he would be under the maximum allowed weight. The 35-year old Baldomir, whose normal walking around weight is 180 pounds, tipped the scales at 153 ¼ pounds when he weighed in at 3:00 pm PDT Friday. Mayweather, age 29, has been at the welterweight title limit of 147 pounds for over a week. The bigger champion from Argentina will need to drop 6 ¼ pounds by next Friday's weigh-in to make the welterweight limit for his title defense.

Coushatta card postponed!
Byron Spurlock
The Coushatta Resort has postponed tonight's fight card in Kinder, LA due to flooding in the area. "Knockouts at Coushatta XIII" has now been rescheduled for next Saturday November 4th. Jose Diaz (12-0) was originally scheduled to fight for the WBC Youth title, however because his older brother Juan Diaz (30-0) will be defending his WBA lightweight title on November 4 in Phoenix, AZ, there is a conflict on the rescheduled date. As a result, Wille Savannah (manager of Jose and Juan) has decided not to split the camps up. As of now, there is no news on what will happen with the WBC Youth title match as Team Diaz has notified The Coushatta that Jose Diaz will not be participating on the fight card November 4th.

"The recent heavy rains have caused local flooding in some areas. Although Knockouts at Coushatta boxing event has been rescheduled, the casino continues its regular operations" stated Nora Popillion, Special Events Manager for Coushatta Casino Resort.
Campbell Decisions Mullarkey!
Rick Scharmberg and Kurt Wolfheimer at ringside
Jamie Campbell, of Ridley Park, PA, took a controversial majority decision over Danny"Two Guns" Mullarkey, of Ridley, PA, in the heavyweight main event, last night at the Tri State Sports Complex in Aston, PA. In the co-feature, Glen Turner, of Philadelphia, PA, took a majority decision over Clarence Moore, of Charleston, WV, in a six-round cruiserweight bout. The card was promoted by Al Thompson Promotions. Although they never met in the ring before, the Campbell-Mullarkey bout was billed as a grudge match because of the war of words leading up to it. They packed the house, and the vocal crowd was split 50-50 in their support of each fighter.
Smitty's Corner
James E. Smith (a.k.a. Smitty)
James E. Smith (a.k.a. Smitty) has been a boxing commentator for various television companies for over a decade. He has done work for CSI Sports, Showtime, HBO/TVKO, Fox Sports, Event Sports, CKP Sports, Don King/Kingvision, TV 3 New Zealand, and many others. He is currently owner, co-producer, and host of "In This Corner," America's only syndicated half hour televised boxing show.
The end for Thobela!
Ron Jackson
Dingaan Thobela's boxing career came to an ignominious end when he was completely outclassed by the South African light heavyweight champion Soon Botes, before failing to come out for the tenth round in a scheduled 12 round non title fight at the Wembley Indoor Arena in Johannesburg on Friday night. Thobela (81.70kg) a former three time world champion who came into the ring looking like an advert for the Michelin tire man, did not go out in a blaze of glory, but showed courage and glimpses of his former skills. At the end of the ninth referee Len Hunt advised Thobela's corner that if they did not stop it he was going to call the fight off, and at the bell for the tenth he duly signalled the end of the fight.

Sports Network inks Guerault!
Sports Network has announced the signing of bantamweight contender David Guerault (33-3, 16 KOs). The 33-year-old southpaw is the current EU Bantamweight champion is a former stablemate and close friend of WBA light welterweight champ Souleymane M'baye, who signed with Sports Network last year. Guerault, who is managed by Bernard Roos, challenged for the WBA bantamweight crown in October 2003, losing on points to Johnny Bredahl. "I'm delighted to have added David to my stable as we look to make an impact with our French stars over the next few months," said promoter Frank Warren. "David is a very talented boxer, and I'm confident I can deliver for him in the same way that I have delivered for Souleymane."
Cintron-Suarez collide tonight!
Graham Houston
Kermit Cintron against Mark Suarez is one of the year's potentially most dramatic and exciting fights, yet it is not being televised. People ask why boxing is struggling. This is a classic example. Too many outstanding matches go largely unseen while lesser fights, ones that a fan perhaps wouldn't mind missing, regularly crop up on PPV or premium cable. That's another issue for another time. Today we focus on Cintron vs Suarez, which is for the vacant IBF welterweight title. This is a fight that normally I would be eagerly anticipating. Instead it will probably be the best fight that I don't see this year. There is intrigue and there are intangibles.
Weights from Phoenix!
Riley Henry
Ayala Promotions presents "DESERT SHOWDOWN" tonight at the Celebrity Theatre in Phoenix, Arizona. The main event will feature local heavyweight George Garcia (12-0, 4 KOs) vs. Charles Davis (17-9-1, 6 KOs) in an eight round contest.
George Garcia 260 vs Charles Davis 207.5
Luis Cervantes 134.5 vs Anthony Vasquez 132
Gabriel Martinez 151 vs Daniel Stanisavijevic 151
Eric Vega 212 vs Cornell Davis 242
Adrian Aleman 115 vs Joey Silva 115
Jaime Villa 122.5 vs Sergio Heredia 122
Edward Brooks 138 vs Eddie Vega 139

Weights from Mohegan Sun!
Mike Oliver 121.75 vs Adam Carrera 120.75
(USBA junior featherweight title)
Anthony Russell 176.25 vs Rodney Toney 173.25
Dat Nguyen 127.75 vs Edwin Rosado 131.75
Chris McInerney 200 vs Rick Dufty 202.25
Tony Grano 214.5 vs Larry White 261.5
Tony Lamonica 138 vs Jose Crespo 132
Angel Camacho 164 vs Mike Walthier 165.5
Joseph McCreedy 172.75 vs Edward Hemphill 182
Enrigue Palau 155 vs John Gottschling TBA

Vasquez returns tonight!
Hector Villarreal
Former WBA light flyweight champion Roberto Vasquez (22-1) is ready for tonight's tune-up fight in his native Panama City, Panama, against Nicaraguan Horlan Hamilton (11-6).Both fighters weighed in at 115 pounds for the scheduled eight-rounder. Vasquez' manager Carlos Gonzalez will travel to France moments after the fight to negotiate a promotional contract which includes replacing FrenchmanBrahim Asloum for the WBA 112 interim fight against Japan's Takefumi Sakata on December 2nd in Paris. Other weights:
Alberto Mosquera (2-0) 135 vs Eduardo Gonzalez (0-2) 135
Alvaro Vergara (1-0) 118 vs Cesar Gaitan (Debut) 118
The boxing event at the Lions Club Gym also includes six amateur fights.

Julio survives Rivera!
The fight was billed as "The Hard Way Back to the Top" and it was just that as welterweight contender Joel Julio (28-1, 24 KOs) survived a twelfth round knockdown to barely win a split decision over former world title challenger Cosme Rivera (30-10-2, 21 KOs) on Friday night at Miccosukee Resort and Gaming in Miami, Florida. Rivera made a very tough and determined effort and the first half of the bout was very close. Julio had a big round eight and Rivera was further hampered by a cut over his right eye caused by an unintentional headbutt in round nine. Rivera, however turned the tide and was much better down the stretch, flooring Julio in the final seconds. Scores were 115-112, 114-113 Julio, 115-112 Rivera. Julio now ranked #5 WBA, #10 WBC and #11 WBO was returning after suffering his first career loss (against Carlos Quintana in 100-degree heat). He claims Rivera's WBO Latin and WBA FEDECENTRO belts.
In the co-feature, Cecilio "Boga" Santos (21-7-2, 12 KOs) won the IBA bantamweight title with a lopsided twelve round unanimous decision over Alex "Ali" Baba (23-11-1). In round eight, Santos was cut on the left side of his face, but he responded by dropping Baba at the end of the round and going on to win easily 119-108, 117-110, 119-108.
Villa dismantles Bentz!
Super Bantamweight Tomas "El Norteno" Villa (16-5-3, 10 KOs) scored an impressive second round TKO over Nicky Bentz (36-7-2, 29 KOs) Friday night at the Feather Falls Casino in Oroville, Calif. Villa never let Bentz in the fight, finally dropping him at the end of round two. Bentz remained on his stool at the beginning of round three.
Earlier, welterweight Freddy "Riel" Hernandez (20-1, 16 KOs) survived a vicious tenth round assualt by Carson Jones (12-4-1, 7 KOs) to escape with a razor thin split decision by scores 95-94, 95-94, 94-95
Cotto gives up WBO 140lb title!
Arnaoutis-Torres to fight for vacant belt
The WBO 140 pound title has officially been vacated by Miguel Cotto who is moving to the 147 pound division. Cotto will box Carlos Quintana for the vacant WBA welterweight crown in Atlantic City, N.J. on Dec. 2. This opens the door for 'Mighty Mike' Arnaoutis, rated #1, and Ricardo Torres, rated #2 -- to battle for the vacant WBO jr. welterweight championship on the Pacquiao vs. Morales III 'Grand Finale' championship boxing event at the Thomas and Mack Center on Saturday, Nov. 18. Aranaoutis, 17-0-1 with nine knockouts, is from Athens, Greece. He now lives and trains in Atlantic City, N.J. Torres, who was in that wild knockout war with Miguel Cotto, is 29-1, 27 KOs. He is from Barranquilla, Colombia. "I am very excited about this world title fight. My matchmakers tell me Arnaoutis and Torres will be a real scorcher of a match," said Bob Arum of Top Rank.
Davis, Nobles KO foes!
Trey Horres at ringside
There is a reason they are the favorites. And in each of the feature bouts from Jim Kelley's Promotions Live Pro Boxing at The Plex last night, the favorites showcased their knockout skills against their opponents. In the evening's main event, heavyweight Robert "The Saint" Davis (32-7) measured Curtis Taylor for the first two rounds and then scored a TKO in the third as Taylor was unable to get back to his feet after being knocked down three times. Heavyweight contender Gerald Nobles (25-1) delivered a hard right uppercut to send his opponent Wallace McDaniels to the canvas at the 2:58 mark of the first round. Middleweight Jaime Sandoval of Chicago, IL scored a TKO over Donnell Logan in the third round. Sandoval, 12-1, struggled in the first round after taking several deliberate punches from Logan that caused immediate swelling around his right eye. However, in the second and third rounds, Sandoval's speed and accuracy propelled him to victory.

Brown, Warriors part ways!
Doug Rowe
Canadian cruiserweight Dale Brown has obtained his release from Warriors Boxing Promotions. Brown is best known for losing a controversial decision to O'Neil Bell for the IBFworld championship in May of 2005. Brown campaigned for a rematch against Bell, but the fight was never able to be put together. Next up for the 35-5-1 Brown is a soon to be announced "high profile" fight in Edmonton in January.
Clark to return Nov 17!
The Contender's Michael Clark (35-4, 16 KOs) returns in a six rounder on November 17 at the Mountaineer Race Track & Gaming Resort in Chester, WV. It will be Clark's first fight since being eliminated from the reality show that is produced by Sylvester Stallone and hosted by Sugar Ray Leonard. He will battle Johnnie "Live Wire" Walker (18-21, 12 KOs).
In the main event, Monty Meza Clay (13-4-1) will defend his West Virginia state super featherweight title against Fred Neal (18-4-3). Also, featherweight Verquan "The Show" Kimbrough (15-1-1, 7 KOs) will meet James Baker (13-7-3, 4 KOs). In heavyweight action, it's Dan Harvison (14-0, 9 KOs) vs E.T. Whitaker (32-23-2), Mike Carr (15-1-2, 8 KOs) vs. Eric Starr and "Dangerous" Jim Northey vs TBA. A sellout is expected with limited seating in the Grande Ballroom.
Weights from Stuttgart!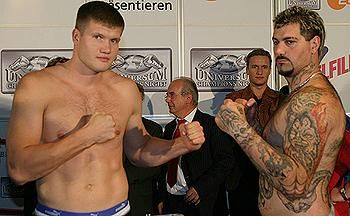 Alexander Dimitrenko 249.1 vs. Gonzalo Omar Basile 241.4
(WBO Inter-Continental heavyweight championship)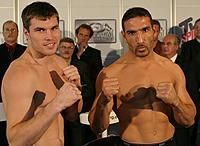 Grigory Drozd 194.4 vs. Firat Arslan 196.7
(WBA cruiserweight eliminator)


Taras Bidenko 227.1 vs. Andreas Sidon 227.1
(WBA Intercontinental heavyweight championship)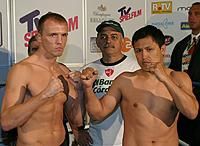 Jürgen Brähmer 168 vs. Francisco Antonio Mora 170.9
Richel Hersisia 222.7 vs. Adenilson Rodrigues 243.6
Dieter Roth 219.4 vs. Zoltan Petranyi 209.4
Aleksander Alekseev 200 vs. Luis Oscar Ricail 201.7
Venue: Porsche Arena, Stuttgart, Germany
Promoter: Universum Box-Promotion
TV: ZDF Universum Champions Night
Photos: Redaktionsbüro Sauer, Gerlingen
Battle at the Ballroom!
story and photos by Rocco Morales
Thursday night marked the eleventh consecutive sell-out of Roy Englebrecht Promotions Battle in the Ballroom at the Irvine Marriott. Orange County's biggest fight fans and corporate sponsors were on hand and the fights were put together by Fight Promoter University's graduating class.In the main event of the evening, a super lightweight contest, Carlos Javier Parra (2-4) faced off against Paul Velarde (1-1). Parra opened the fight with some impressive power punching that seemed to get the attention of Velarde, who then chose to box from the outside. Velarde was able to make a contest of it when boxing from long distance, while Parra continued to try to get inside to land his power shots. In only the second round, Parra suffered a bad cut to the side of his eye as a result of an unintentional head butt. Blood would flow for the rest of the fight, but Parra was still determined to win and pressed the action of the fight. After four rounds, the judges scored the fight a majority draw. Nevertheless, it was a very entertaining fight
Torito vs. Machine Saturday Night!
Peter M. Heintzelman
Saturday night sets the scene for the clash of Hartford, CT's Mike "Machine" Oliver and Cathedral City, CA's Adam "El Torito" Carrera duking it out for the vacant USBA Super Bantamweight Title, which headlines a ten fight card evening at Uncasville, Connecticut's Mohegan Sun Casino. The 26 year old southpaw Oliver has gone undefeated in his 16 professional bouts, most recently winning a unanimous decision at the Connecticut Convention Center in Hartford against Oscar De La Cruz. Carrera, 24 years of age, is on a hot streak as well, coming off an eight-fight win streak, and boasting an 18-1-0, 8 KO record of his own. All of Carrera's fights so far, have landed in California or in Las Vegas, and he enters new territory, traveling to the Connecticut area, to fight a Connecticut native son in Oliver. "This is going to be a tremendous fight!" touts Oliver's promoter Rich Cappiello. "You have the #3 and #4 ranked fighters in the USBA taking each other on, and the #1 and #2 spots are vacant, as is the title. So, you basically have the two best junior featherweights in the country fighting for the USBA title. And maybe even more importantly, is the likelihood that the winner will land a top-ten ranking in the world, and possibly gain a world title shot." FightNews had a chance to catch up with Oliver for a brief Q&A about his title bout scheduled for this Saturday.
Shot of the Day!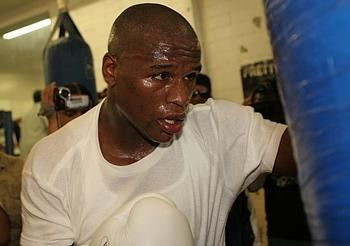 Photo: Big Joe Miranda
Floyd Mayweather Jr. works the heavy bag on Thursday at Joe Goossen's Gym in Van Nuys, California.
Suarez: I'll end Cintron's career!
IBF #1 welterweight Mark Suarez had Thursday's prefight press conference all to himself as his opponent, IBF #2 Kermit Cintron, was pulled away to take a routine state-required eye exam. Suarez (25-2, 13 KOs) seemed to enjoy having the entire spotlight -- and if he can defeat Cintron for the IBF world welterweight title on Saturday night at the Palm Beach County Convention Center, he'll have to get used to being the center of attention. Suarez showed little concern about what the big-punching Cintron (26-1, 24 KOs) will bring into the ring. "He's a typical fighter," stated Suarez. "I got my game plan set. I'm not worried about anything. If it comes it comes, but I'm going to punish him a little bit. He should have been done after the Margarito fight. I'll end his career."
Jones vs Siaca?
Wolfgang Schiffbauer
Former WBA super middleweight champion Manny Siaca says he's fighting former four-division champion Roy Jones Jr. Siaca told El Nuevo Dia that he's facing Jones on December 9 at the Liacouras Center in Philadelphia, PA. If and when the bout is finalized, it will be a twelve rounder for the NABO title. Siaca comes off a loss to Silvio Branco in a WBA title bout on July 27, while Jones ended a three-fight losing streak two days later with a unanimous decision victory over Prince Badi Ajamu.
Fox Sports Radio Holyfield tie-in!
Fox Sports Radio and JT "The Brick" are putting the "prize" back in prizefights. Boxing fans who tune in to the popular nighttime sports talk radio show, Fox GameTime ReAct with JT "The Brick," may win a variety of prizes associated with the November 10 heavyweight bout in San Antonio, Texas, between four-time world champion and ring legend Evander Holyfield and heavyweight contender Fres Oquendo. Fox Sports Radio is using the theme "Strive For Five" as a tie-in to the 44-year-old Holyfield's oft-stated goal to make history as the first person to win the world heavyweight title five times. "This is another example of how the Fox Sports people are the most creative in the business," promoter Murad Muhammad said.
Mitchell looking for quick KO!
Wary of opponent George Ashie's penchant for low blows, unbeaten Kevin Mitchell has insured his privates for one million pounds ahead of his Commonwealth super featherweight title clash against Ashie tomorrow night at Bethnal Green's York Hall. "I put on a video of his recent clash with Scotsman Martin Watson up in Edinburgh and it made my eyes water just watching it, there were so many low blows," said the 21-year-old "Dagenham Destroyer," who plans to have a large family. "I know I've got to get to him quick to prevent any funny business, and I'll be looking to knock him out right from the start."

Weights from Miami!
Joel Julio 147 vs. Cosme Rivera 146.5
(WBO Latin/WBA Fedcentro titles)
Cecilio Santos 118 vs. Alex "Ali" Baba 117.5
(IBA bantamweight title)
Jailer Berrio 140.5 vs. Lenin Arroyo 139.75
Oriol Martinez 158.5 vs. Henry Cruz 162.5
Carlos "Tuti" Perez 129.25 vs. Carlos Cladio 129
Vincent Miranda 186.75 vs. Hilario Guzman 197
Devarise Crayton 139.25 vs. Amuary Torres 140

Weights from St Joseph, Mo.!
In front of 100+ fans, a fight between Rob "All-American Prizefighter" Calloway and Byron Polley almost came a day early when words got heated and fighters exchanged blows at the official press conference and weigh-ins. Polley promised a knockout saying "It is my time now! Get your rocking chair old man." Calloway said that he will retire from boxing if Polley can go the distance with him. "If you can take the beating that I am going to give you for 12 rounds, I'm done!" The attendance for the bout being billed at "The Talk is Over" is expected to be in excess of 5,000.
Rob Calloway 210 vs Byron Polley 229
(WBE heavyweight title)
Brian Bernard 168 vs Reuben Rodriquez 167
Clinton Boldridge 230 vs Jose Castaneda
Keenan Collins 152 vs Jessie Davis 152
Shaun Hinkle 162 vs Marquette Jones 161.5
Steve Johnson 125 vs Nick Walker 129.5
Zsolt Erdei update!

WBO light heavyweight world champion Zsolt Erdei became a father for the first time on Tuesday. He was over the moon when he announced the birth of his son Viktor. The little "Firebird" was born at 6:29 pm, 54 cm and weighed 3750 gram in Neuötting, the hometown of Zsolt's wife Arabella. The birth went without any complications and Erdei was always at the side of his wife and newborn son: "I'm so proud – my son is so cute! I want to cuddle him all the time because of joy and happiness!" Universum Box-Promotion and the whole team congratulate the parents Arabella and Zsolt Erdei and wish them all the best.