Holm headlines Dec. 1 in NM
Albuquerque's Holly Holm (15-1-2, 5 KOs) will fight for her third belt on Friday, Dec. 1 when she headlines "Triple Threat" at Isleta Casino. The Fresquez Productions card features Holm moving up to 154 to fight for the vacant IFBA junior middleweight belt against Seattle, WA's Tricia Turton (8-1, 3 KOs). Currently, Holm holds the IBA Women's 140-pound belt and WBC world welter title. In the co-main, Albuquerque's "Hurricane" Hector Munoz (16-1, 10 KOs) will take on El Paso's Carlos Madrid (8-2, 2 KOs) for something called the WBC "US National" jr. welter belt. Six bouts are slated for the undercardd that begins at 6 PM: In an eight-round heavyweight bout, Taurus Sykes (24-3-1, 6 KOs) will stage another comeback, against Denver's Patrick Smith (5-7-2, 4 KOs); El Paso's Alex Becerra (18-4, 8 KOs) rematches Miami's Felix Flores (13-7-1, 11 KOs) in an eight-round bantam bout; Joe Gomez (9-1, 3 KOs) of Farmington takes on El Paso's Bobby Joe Valdez (9-3-1, 4 KOs) in a six-round welter bout; Cesar Lopez (19-3, 4 KOs) of El Paso goes eight at flyweight vs. Luis Doria (20-14-1, 13 KOs) of Miami, Fla.; Albuquerque's Jodi Esquibel (3-1, 1 KO) will fight a TBA at super flyweight, four rounds; and, in a sixer at super fly, El Paso's Evaristo Primero (14-9-1, 7 KOs) will take on Dominican Miguel Cabrera (15-8, 12 KOs).
Spadafora opponent named!
Michael Acri Boxing Promotions announced today that Jesus Francisco "Panchito" Zepeda (16-3, 9 KOs), a southpaw from Shelbyville, IN, by way of Cocula, Mexico, will rumble with undefeated former IBF lightweight champion Paul Spadafora (38-0-1, 15 KOs) in a 10-round junior welterweight bout November 22 at The Avalon Hotel in Erie, PA. "What a great Thanksgiving this will be," said Zepeda from his training camp. "I'm going to turn Spadafora's ring return into his ring retirement. Viva Zepeda!" The undercard will be announced in the near future.
Weights from Youngstown!
Kelly Pavlik 162.5 vs Lenord Pierre 161
Ahmed Kaddour 149 vs Jesus Valverde 147.5
Aaron Williams 194 vs Mike Word 192
Witter Looking Ahead!
by Boxing Bob Newman
Newly crowned WBC Super lightweight champion Junior Witter was in Dubrovnik/Cavtat, Croatia for a couple of days to attend the 44th annual WBC convention, pick up his belt and discuss options for his first defense. Before jetting back to London this afternoon, Witter took time to talk with FightNews about how it feels to finally win the world title at 32 years of age, his only career loss to Zab Judah, and a showdown with rival Ricky Hatton.
Q&A Ricardo "Chapo" Vargas!
story and photo by Lee Bates
When Ricardo "Chapo" Vargas (39-12-3, 13 KOs) steps in the ring this Saturday against IBF Junior Bantamweight Champion Luis Perez (24-1, 15 KOs), it will be his fourth chance at a world title. Vargas knows that many fighters don't even get one chance at the gold and plans on taking full advantage of his good fortune. He spoke with FightNews just days away from his latest world title try and talked about how he feels he is naturally the bigger man, of how he has been in with much bigger punchers than Perez, and how he does not plan on letting this opportunity slip by.
Mock-Mezaache headlines!
Team Palle returns Friday at Skive Hallerne in Skive, Denmark, with their first boxing card following last month's Kessler-Beyer clash. In the main event, super middleweight Lolenga Mock (25-10-1, 8 KOs) faces Franck Mezaache (16-6-1, 6 KOs) in a twelve rounder for the EU title. Also, in a pair of six round battles, WBA #4, IBF #3 featherweight Spend Abazi (35-1, 10 KOs) goes against Fernando Guevara (8-8, 6 KOs) and unbeaten jr middle Reda Zam-Zam (20-0, 8 KOs) takes on Alvaro Moreno Gamboa (13-25-3, 9 KOs).
Enciso-Garcia for UBC belt!
By Kevin Bello
Peruvian challenger Raul "Courage" Enciso will face Nicaraguan Juan Garcia for the vacant UBC Intercontinental super lightweight title on Saturday at the Municipal Coliseum of San Juan de Lurigancho, Peru. Enciso (16-6-2, 7 KOs) is a current WBA Fedebol champion who has won his two last fights against Colombian opponents Jesus "Ojon" Perez and Ever Perez. This is the first international title fight to be contested in San Juan de Lurigancho.
WBC Convention Update!
By Boxing Bob Newman
Day three of the 44th annual WBC convention in Cavtat/Dubrovnik, Croatia, is in the books. While the morning agenda consisted primarily of fighter representatives, agents, managers, and promoters lobbying for their respective fighters' positions in the ratings, the real business got down in the afternoon session concerning mandatory contenders. While several final eliminators were approved in various weight classes in accordance with WBC rules, some exceptions were made. Decisions in weight categories from strawweight to heavyweight were rendered...
'Schulle' aims to retake title!
The highlight of the SES Boxing Gala on November 11th in Oranienburg will be super welterweight Marco Schulze (20-3-1, 11 KOs) face to face with Ramadhan Miyeyusho (20-8-1, 5 KOs), the number one 154-pounder from Tanzania. "Schulle" the local hero will be attempting to win the IBF Intercontinental championship for the third time against a younger, but more experienced fighter.
"Night of Champions" KO's Vowed
Boxing at Star Plaza in Merrillville, Indiana
Merciless" Mary McGee (7-0, 4 KO's) and WIBA America Women's Super Lightweight Champion Rita "La Guera" Figueroa (9-0, 3 KO's) are locked in a war of words as they prepare for their November 17 Octavius James/One In A Million Inc. in association with 8 Count Productions "Night of Champions" at the Radisson Hotel at Star Plaza in Merrillville, Indiana. "I've trained and fought too hard to let her stand in my way, and I will knock her out," McGee said. "I know Mary's been talking a lot of smack lately about knocking me out, but far better people have tried and failed," Figueroa countered. "Let's see what she has in the ring." The night will also feature reigning and defending Indiana State Middleweight Champion Jimmy "The Fighting' Schoolteacher" Holmes (14-0, 7 KO's), who will face Brooke "Schoolboy" Wellby (32-16, 10 KO's) of Canada in the co-main event. Also appearing are undefeated middleweight Michael "The Midnight Stalker" Walker (14-0, 8 KO's); heavyweight Michael "Quiet Assassin" Parker (4-0, 4 KO's); super flyweight Mike Maley (1-3, 1 KO) vs. Jose Guzman (1-0) and lightweight Pedro Flores (1-0).
Mercer Wants to Superfight!
by Kurt Wolfheimer
Former world heavyweight champion "Merciless" Ray Mercer is back to remake a name for himself in the heavyweight division and has put in a request to enter the highly acclaimed Superfighter elimination tournament set for December 1, 2006, in Melbourne, Australia. "I have been in camp for a month and I am in very good shape. I am prepared for the chance at the Superfighter Tournament" said Mercer (34-6-1, 25 KOs) of Union, New Jersey. "We have been in touch with the Superfighter people and are awaiting a reply."
Q&A Juan Diaz!
by Byron Spurlock
FightNews was able to catch up to WBA Lightweight Champion Juan Diaz, as he prepares to defend his title against Fernando Angulo on Saturday November 4, on Showtime in Phoenix, AZ. Juan shared who he'd like to fight in the lightweight division and what he is planning for 2007.
"Boxing Is Back!" in Minnesota
Undercard Announced and Tickets on Sale!
The undercard for the Minnesota all-star caliber November 17th event "Boxing Is Back!" at the Target Center in Minneapolis has been announced. As previously posted by FightNews, the Contender Season One star Bonsante (27-8, 15 KOs) of Shakopee (MN) takes Troy "TNT" Lowry (27-6, 16 KOs) of St. Paul (MN) in the super middleweight main event. In the ten-round super middleweight co-main event, Matt "The Predator" Vanda (34-2, 21 KOs) of St. Paul (MN) faces upset minded Quandry "Candy" Robertson (14-9, 4 KOs) of Portland (OR).
The chief supporting match on the undercard pits Minnesota light heavyweight champion Zack "Jungle Boy" Walters (15-1, 11 KOs) of Long Prairie (MN) against Columbian knockout artist Hugo Pineda (37-3-1, 27 KOs) in an eight-round bout. Middleweight Andy Kolle (10-1, 8 KOs) of Fergus Falls (MN) battles Haitian hit man Julio Jean (7-9, 3 KOs) in a six-rounder. In four-round matches, St. Louis Park (MN) featherweight Wilton Hilario (4-0, 4 KOs) puts his perfect record on the line in his stiffest test versus Edgar Vargas (9-3, 1 KO); Minneapolis super middleweight Phillip Williams (1-0, 1 KO) versus Jake Hecht (0-1); plus Minneapolis middleweight John Schmidt (1-0, 1 KO) meets an opponent to be determined.
Tony Grygelko, promoter of Seconds Out Promotions, himself a former Minnesota pro boxer, plans to stage a series of events showcasing the best boxers of the State. "We've announced the second installment of the series for January at the Target Center," Grygelko said. "This series will determine the last Minnesota boxer standing."
Shot of the Day!
Photo: Francisco Nava/Box Latino


Hall of Famer Humberto "Chiquita" Gonzalez and Mexican great Jose "Pipino" Cuevas visited Erik "El Terrible" Morales at his training camp yesterday to talk boxing wish him good luck in his upcoming bout on November 18 in Las Vegas against Manny Pacquiao.
Tough test for Hlatshwayo!
By Ron Jackson
South Africa's Isaac Hlatshwayo faces the toughest test of his career when he meets Kendal Holt for the vacant NABO super lightweight title at Bally's Casino Ballroom in Atlantic City, on Friday night. Holt (20-1, 12 KOs) from Paterson, New Jersey has won five in a row since his only setback in June 2004 when Thomas Davis stopped him in the first round. The 25-year-old has been inactive due to an injury to his right hand and has not fought since September of last year, so there could be a bit of ring rust to knock off when he faces Hlatshwayo (25-0-1nc, 9 KOs) who has remained unbeaten for more than six years. Hlatshwayo, 29, has some excellent wins over Philip Ndou, Cassius Baloyi and Nate Campbell. Neither fighter is known for his knockout power and it will come down to a battle of boxing skills.
Sturm, Castillejo moved to Dec 2!
Krasniqi injured; Dimitrenko back Nov 18...

The return of two-time middleweight champion Felix Sturm (25-2, 11 KOs) against Gavin Topp (20-2-2, 4 KOs) will now headline the December 2 Universum Champions Night card at the Estrel Convention Center in Berlin. The card will also feature the first defense of Sturm's recent conqueror WBA middleweight world champion Javier Castillejo (61-6, 41 KOs), who takes on mandatory challenger Mariano Natalio Carrera (29-4, 20 KOs). Both bouts were originally scheduled for the November 18 Universum Champions Night at the Burg Wächter-Castello in Düsseldorf, however the date change was necessitated when WBO #2 heavyweight Luan Krasniqi suffered a knee injury and was forced to pull out of the December 2 card. Krasniqi's injury was diagnosed as a strain in his cruciate ligament and a rupture of the capsule in his left knee joint. He won't be able to train for the next 3 weeks.
The November 18 Universum Champions Night card features the big WBA heavyweight eliminator between unbeaten WBA Intercontinental champion Ruslan Chagaev (21-0-1, 17 KOs) and former world champion John Ruiz (41-6-1, 28 KOs) with the winner to face Nikolai Valuev. Just added to that card is heavyweight contender Alexander "Sascha" Dimitrenko (23-0, 14 KOs) who just fought Saturday, but is still in great shape after an easy 54-second blowout against Omar Basile.
Pavlik headlines Thursday!
Undefeated middleweight Kelly Pavlik headlines Top Rank's VERSUS Fight Night on Thursday night at 7 p.m. ET. Pavlik will take on Lenord Pierre in the 12-round main event in Pavlik's hometown of Youngstown, Ohio. Pavlik headlined the first-ever Fight Night card in July when he stopped veteran Bronco McKart on a sixth-round TKO. The bout, originating from the Chevrolet Centre in Youngstown, will be for the WBO, NABO and IBA super middleweight titles. Pavlik is the current NABF champion. The undercard will feature an eight-round super welterweight rematch between The Contender's Ahmed "Hollywood" Kaddour (19-2-1, 9 KOs) and Jesus Valverde (21-12-1, 16 KOs) of Mazaltan, Sinora, Mexico. The pair fought to an eight-round draw at the Orleans Hotel & Casino on September 14.
Briggs, Liakhovich heats up!
Defending WBO heavyweight champion Sergei Liakhovich and challenger Shannon Briggs, the WBO #3-ranked heavyweight, worked out for the media Tuesday at Central Boxing Club in Phoenix in preparation for the world heavyweight championship fight on Saturday night at Chase Field. "I have scored 29 first-round knockouts and I plan to have 30 after I get done with Liakhovich on Saturday," stated Briggs. "If his strategy is going to be to come at me and throw a lot of punches, it is going to be a short night for him," responded Liakhovich when informed of Briggs' comments.
UFC en Espanol!
Breaking new ground in U.S. Hispanic programming, Fox Sports en Español, the leading Spanish-language sports cable network and the second most-watched Spanish-language cable network overall, and the Ultimate Fighting Championship®, today announced a historic agreement to bring the world's leading brand of professional mixed martial arts sports events to Spanish-language television for the first time ever.. . .
#3 Yodsanan KOs #12 Sataporn!
By Damrong Simakajornboon
WBA#3/WBC#10 Yodsanan Sor Nanthachai (49-3-1,38 KOs) impressively stopped WBC#12 Sataporn Singwancha (16-3,9 KOs) in a ten round non-title bout on Tuesday at Ban-kwao in Chaiyaphum Province, Thailand. The source reported that Sataporn who is also the ABCO title holder, started well when he frustrated the former WBA king's aggression with his faster and more accurate punches, dominating in the first two rounds. In round three, Yodsanan quickened his assault and effectively weakened his foe with tough bodyshots. The exciting bout ended in round four when Yodsanan dropped the ABCO champion with a big right hook to Sataporn's head during their hot exchanging toe-to-toe. Then, he displayed a one-sided attack that forced the referee to stop the bout in this round.
In other action, Filipino Dennis Laurente (25-3-5,12 KOs) won a split decision over the now former PABA lightweight champion Somchay Nakbalee (9-1-1,3KOs) to capture the PABA belt. The local news reported that Thai fighter dominated in the first four rounds but after that the Filipino looked better with his effective aggression. Although Laurente was deducted a point for repeated headbutts in round six, he finally he won a split but clear decision 116-113, 114-113, 113-114 on the scorecards. Also, Choknamchai Tor Silachai won a six round unanimous decision over former WBO Asia-Pacific 118lb title holder Kularbdaeng Kiatkririn. Panlert Tor Saengtiennoi stopped Saithong Sriprajan in round two. And female fighter Waenthong Sakrungreong outpointed Jomyuthying Kiatnorwor in a four round bout. This event was promoted by female promoter Pariyakorn Ratanasuban of Onesongchai Boxing Promotion.
"The Liberty Brawl" Jones-Siaca!
Tickets on sale Saturday, November 4th
It was officially announced today that four-division world champion Roy Jones Jr. (50-4, 38 KOs) will defend his WBO NABO light heavyweight title against former world champion Manny Siaca Jr. (20-6, 18 KOs), at the Liacouras Center on the campus of Temple University on December 9. Global Spectrum, the public assembly facility management subsidiary of Comcast-Spectacor, in association with Square Ring, is producing and promoting the event titled "The Liberty Brawl!"
'New' Ruiz training with Siaca Sr.!
Two-time world heavyweight champion John "The Quietman" Ruiz (41-6-1, 28 KOs) is training in Las Vegas with his new head trainer, Manny Siaca, Sr., for his November 18 mandated WBA elimination fight against No. 2 rated challenger Ruslan "White Tyson" Chagaev (21-0-1, 17 KOs) in Dusseldorf, Germany. The Ruiz-Chagaev winner will be the mandatory challenger for WBA heavyweight champion Nikolai Valuev. The WBA #1 rated Ruiz promises fans will see a new and improved version against Chagaev. "I'm learning new things from Manny," Ruiz said. "I'm gradually moving into a new mode. I had leveled off. It hasn't been since my stepfather trained me that I learned new boxing techniques and skills. I feel really good knowing that when I step in the ring I am bringing a different set of skills and a better mindset. Now I'm working with Manny to get away from being the old me. I'm not going to be lying back, waiting for the other guy, and just swinging away. We're working on a new training method where I am now throwing punches and moving, not holding and waiting. But what's really important, is that instead of talking about being the new me, I'm going to show everybody on November 18."

Buzz: Toney, Jones Jr., Berbick
Heavyweight James Toney has reportedly been sued by a man who claims he fronted Toney $125,000, but was never repaid when Toney backed out of a co-management deal.
Jones vs HBO:
Roy Jones Jr., HBO's longtime boxing centerpiece, is going head to head with his former paymasters. Jones' December 9 PPV clash with Manny Siaca will go up against Jermain Taylor's middleweight title clash against Kassim Ouma on HBO the same night.
Jamaican police have arrested a 20-year-old man and recovered a 2" metal pipe believed to be used in the murder of former heavyweight champion Trevor Berbick. Berbick apparently had been involved in a long-running land dispute with the suspect's mother, whom he reportedly was charged with assault for allegedly punching earlier this year.
DC 'Fight Night' on Thursday!
By Gary "Digital" Williams
An eight-round encounter between two junior middleweight prospects is the featured encounter of the 17th annual Fight Night charity boxing event at the Washington Hilton and Towers on Thursday. Billy Lyell of Youngstown, OH will battle Miami, FL's Jerome "Boomer" Ellis in the "Fight for Children" championship bout. Lyell (13-2, two KO's) recently saw his six-bout winning streak snapped when he lost by fourth-round TKO to Charles Whitaker for the WBC Carribean Boxing Federation Junior Middleweight title on Sept. 30 in the Cayman Islands. Ellis has won his last three, including his last outing, a sixth-round, come-from-behind TKO over Neil Sinclair in front of a nationally televised ESPN2 audience on July 5 in Colorado Springs, CO. In the co-feature bout, undefeated 2004 Olympian Devin Vargas of Toledo, OH will take on David Saulsbury of Charlotte, NC in a four-round contest.
Vera headlines at Coushatta!
By Damien St. Pierre
"Knockouts at Coushatta XIII" is rescheduled for Saturday at the Coushatta Casino and Resort. The main event will feature undefeated prospect Brian Vera (11-0) fighting for the IBA super middleweight title. Because of inclement weather, it was necessary to postpone "Knockouts at Coushatta XIII". The bouts are now rescheduled for Saturday (Nov 4) with doors opening at 6:00pm and the action starting at 7:00pm. All tickets purchased for THE ORIGINAL October 28 date will be honored.
Ayala-Cuevas on November 24!
Cappiello Promotions president Rich Cappiello has announced that undefeated New Haven, CT super middleweight Elvin Ayala (16-0, 7 KOs) and Chicago's Freddy Cuevas (25-9-1, 17 KOs) will headline a November 24 Telefutura boxing card at The Roxy in Boston.
Tamara set for Segura!
By Jose Reyes
Carlos "El Olympico" Tamara (12-1 9 KOs) will be fighting Giovanni Segura (15-0-1 12 KOs) for the NABF flyweight interim title this Friday night at the Palo Duro Golf Club in Nogales, Arizona. The bout will be televised via Telefutura "Solo Boxeo" broadcast. Tamara who hails from Columbia and represented his country in 2004 at the Athens Olympic Games as a light flyweight is looking to make his mark now in the professional ranks. Carlos assures Fightnews that he will win decisively and impressively versus Mexico's Segura. The bout is sure to be a slugfest between two Latino warriors whose combined 27 wins have produced 21 KOs. Read on to learn about what Tamara has in store come fight night.
Povetkin, Valuev Moscow presser!
Povetkin-Puritty on; Tyson-Karmazin maybe
By Alexey Sukachev / Alexandra Novikova
A huge presser was held yesterday at ITAR-TASS Press Centre, Moscow, Russia, for the December 10 event at Olympiysky Sports Arena featuring the Oleg Maskaev-Peter Okhello WBC heavyweight title clash plus several of the best Russian prizefighters in action. It was officially announced that the Alexander Povetkin vs. Ross Puritty collision is a go for now, while Roman Karmazin and 'Iron' Mike Tyson bouts could also possibly land on the show. Maskaev and Okhello were not present, however Olympic (Athens, 2004) super heavyweight gold medalist Povetkin (9-0, 7 KOs), WBA heavyweight champion Nikolay Valuev (45-0, 33 KOs), promoter of the show Vladimir Hrunov, producer of the show Yuri Fedorov, Valuev's manager Boris Dimitrov, former amateur legend Victor Petrovich Ageev (the president of the Russian Professional Boxing Federation) and former amateur star Yuri Alexandrov (the vice-president of the RPBF) were all on hand to answer questions.
Marquez-Jaca to try it again!
Two-time World Champion Juan Manuel Marquez (45-3-1) will again try to defend his WBO interim featherweight title against Filipino Jimrex Jaca (26-2-1) on November 25th at the Dodge Arena in Hidalgo, TX. Marquez and Jaca were slated to fight on an October 21 pay-per-view card, but visa troubles forced Jaca to pull out just days before the bout. This time the fight is slated for HBO's late night series "Boxing After Dark" and no problems are anticipated as Jaca received his visa on October 11th and the only reason he couldn't travel to the U.S. last time was he was unable to receive the necessary government stamp due to a backup at the US embassy in Manila. That red tape is now resolved.
"No question that Juan Manuel Marquez is one of the best lower weight division fighters in the world," said promoter Oscar De La Hoya of Marquez. "He is very sound technically, but also a very rugged fighter. If anyone knows this, it's Manny Pacquiao. Remember, Marquez was knocked down three times in the first round of their fight, got up each time and then proceeded to pick Pacquiao apart for the remainder of their fight." De La Hoya warns that Marquez can't take Jaca lightly. "I wouldn't advise any fighter to take any fighter lightly, especially Jimrex Jaca. He's a strong, talented fighter with incredible will and determination."
Slated for the semi-main event is Demetrius Hopkins (24-0-1), currently the #5 super lightweight contender and USBA champion. Hopkins will face a yet to be named opponent in a 10-round contest. De La Hoya will be ringside along with Golden Boy Promotions partner, Bernard Hopkins. In addition, noted world champions Lennox Lewis, Jesse James Leija, Raul Marquez and Jesus Chavez will be in attendance.
Collazo, Perez in off-TV fights!
Promoter Don King is known for packing his fight cards with supporting attractions that would be main events for many other boxing promoters, and Saturday's non-televised undercard at Chase Field in Phoenix will be no exception. Among the highlights are the return of former WBA welterweight champion Luis Collazo against Artur 'Scar' Atadzhanov and an IBF jr. bantamweight championship fight between IBF 115-Pound king Luis 'El Demoleodor' Perez and Ricardo 'Chapo' Vargas.
Shot of the Day!
Photo: Boxing Bob Newman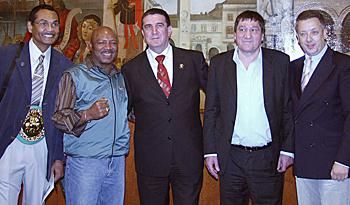 From L-R are inaugural WBC cruiserweight champion Marvin Camel, former undisputed middleweight champion "Marvelous" Marvin Hagler, L. Graziani/President of the Croatian Boxing Federation, former WBC light heavy champion Mate Parlov, WBC Convention organizer Harry Gorian.
WBC OKs open scoring!
By Boxing Bob Newman
The WBC has ratified and approved a move to make the scores of WBC title fights made public after the fourth and eighth rounds. As president Sulaiman described the motivation behind the decision: "Other subjective sports have open scoring where the public knows the score as the competition is actively taking place. So why not boxing?" The inaugural implementation of the open scoring will take effect on November 13th at the WBC title twin bill in Tokyo, Japan. WBC Bantam champ Hozumi Hasegawa defends against Genaro Garcia while WBC Straw champ Eagle Kyowa defends against Lorenzo Trejo.
Valuev wins court case!
WBA heavyweight champion Nikolai Valuev has won a long smoldering promotonal dispute with former promoter Joseph O'Donnell. O'Donnell had promoted a then little-known Valuev in a 2001 fight in Atlantic City and after Valuev went back to Russia, O'Donnell received a default judgment for further promotional rights. Meanwhile, Valuev fought in Europe and in 2003 he joined Sauerland Event, eventually becoming the tallest and heaviest boxing world champion of all time. Sauerland hired boxing lawyer Pat English who successfully had O'Donnell's default judgment thrown out in 2004 and last week received a ruling from New Jersey Federal District Judge Jerome Simandle that the contract between O'Donnell and Valuev did not have any legal basis because it called for management and promotion of the fighter, which is against the law in the United States
Shot of the Day!
Photo: Jan Sanders/Goossen Tutor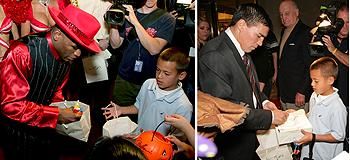 Carlos Baldomir and Floyd Mayweather made their grand arrivals at Mandalay Bay Monday night, handing out Halloween candy.

Lange opponent official!
By Gary "Digital" Williams
The main event is now set for the Major League Boxing card at the George Mason University Patriot Center in Fairfax, VA on Saturday, December 9. Great Falls, VA's Jimmy Lange will battle Fontaine Cabell of Alamonte Springs, FL in a 10-round junior middleweight encounter. Lange (27-3-1, 19 KO's) is coming off his 10th round TKO over Thomas Wilt on the last Patriot Center card on October 7. Cabell (22-6-1, 17 KO's) has fought sporadically over the last three-and-a-half years and will be looking to break a three-bout losing streak in which he has been stopped by technical knockout in all three bouts, including his last outing, an eight-round technical knockout against Maximino Cuevas on April 19 in Palm Beach, FL. This bout will be Cabell's second trip to the Washington, DC area. He lost by first-round TKO to "Contender: Season One" participant Ahmed Kaddour on the Laila Ali card on July 17, 2004 at Prince George's Stadium in Bowie. The December 9 show is also scheduled to feature former three-time world champion Mark "Too Sharp" Johnson and the return of former WBO cruiserweight champion Boone Pultz.
Panagiotis victorious!
Ted Panagiotis, who normally works outside the ring as a matchmaker for CES, made his amateur boxing debut on Saturday night in a three-rounder at the historic Columbus Theatre in Providence, RI, as over 800 fans turned out for the Tiny Ricci Memorial show. The 29-year-old Panagiotis boxed well and used his speed to outpoint Allan Miller over three rounds. "It is a lot harder than it looks," he said. "I dropped 20 pounds to get ready for this fight and I really think I could lose another 10 or so to get down to welterweight." Panagiotis hopes to continue his career, but he has a long way to go to match the ring exploits of his wife: two-time world champion Jaime "The Hurricane" Clampitt.

Linares Bros. invade America!
All Star Boxing, Inc. and Promoter Felix "Tuto" Zabala, Jr. is proud to announce that Jorge and Carlos Linares will make their United States debut on December 8 at the Kissimmee Civic Center in Kissimmee, Florida. Jorge Linares of Venezuela is one of the best prospects in boxing today, is currently ranked #3 WBA & WBC, #7 IBF and #8 WBO in the featherweight division, he has a undefeated record of 22 wins, with 13 KO's. He currently resides and trains in Tokyo, Japan under the tutelage of Promoter Akihiko Honda at their Teiken Gym. Linares has fought 17 of his fights in Japan where he has become an idol amongst boxing fans. His younger brother Carlos Linares is an outstanding amateur and will be making his professional debut at Welterweight on the same show. The younger Linares will also be staying with his brother in the United States to help him get ready for this bout. The opponents for both Linares will be announce soon.
Ibragimov awaits winner!
NUMBER ONE CONTENDER READY
At the 19th annual WBO convention, held on the cruise ship Enchantment of the Seas, the sanctioning body's Championship Committee reconfirmed to Seminole Warriors Boxing's Lourdes Carrero and our promotional partners Eric Gomez from Golden Boy Promotions and Sampson Lewkowicz that unbeaten heavyweight sensation Sultan Ibragimov, as the WBO's mandatory challenger, will get a shot at the winner of Saturday's bout between champion Sergei Liakhovich and challenger Shannon Briggs within 90 days. Once the bout between Liakhovich and Briggs is over, both parties will have until the middle of November to reach a deal with a site and date for the fight. If a deal cannot be reached, a purse bid will take place at the WBO offices in Puerto Rico on November 16, 2006. Said Ibragimov, "I am eagerly awaiting the result of Saturday night's fight, but no matter who wins, I am prepared to challenge the winner and become the new WBO heavyweight champion of the world."
Yorgey Headlines at Wachovia!
by Kurt Wolfheimer
Rising junior middleweight Harry Joe Yorgey is set to take over the Wachovia Spectrum in the heart of South Philadelphia, Pennsylvania, in the main event of the explosive card presented by Broad Street Boxing Promotions on Thursday, November 9. Yorgey (16-0, 8 KOs) of nearby Bridgeport, Pennsylvania, is a Philly favorite who continues to get rave reviews from the fans wherever he fights. He will step into the spotlight in the biggest fight of his young career against current IBU Welterweight Champion Homer "The Nature Boy" Gibbons (43-15, 31 KOs) for the IBU Junior Middleweight title at Wachovia Spectrum. "I grew up in Philadelphia boxing. This is almost like boxing in my hometown," said Yorgey. "When I step into the ring and see all those people supporting me, I will channel that energy into my fight and bring the title back to Bridgeport."
Garcia Outpoints Davis!!!
By Riley Henry at Ringside
Phoenix based promoter Steve Ayala presented an entertaining and evenly matched seven-fight card (billed "Desert Showdown" ) for boxing fans in the valley of the sun on Saturday.

In the main event, heavyweight George Garcia 13-0 (4 KOs) dropped Charles Davis 17-10-1 (6 KOs) in round one with a wide but brutal left hook, but had to settle for a unanimous eight-round decision victory.

After getting up from the early knockdown, Davis eased his way back into the fight, but Garcia pressed forward and was much more effective. In the end, he kept his undefeated record intact with a unanimous decision by scores of 79-72 across the board.

Undercard Results

The card started off with heavyweights Eric Vega 2-0-1 (1 KOs) and Cornell Davis 3-6-1 (0 KOs) battling competitively over four rounds to end up in a draw by scores of 38-38 twice and 39-37 for Vega. Vega started strong only to have Davis battle back to register a draw.

Super lightweight Edward Brooks 2-0 (1 KO) outworked his opponent Eddie Vega 3-4 (3 KOs) through four rounds for a unanimous decision by the scores of 39-37 twice and 40-36. Referee Ray Scott warned Vega repeatedly for several different fouls, however no points were deducted.

In a heated battle between super bantamweights Jaime Villa 3-1 (1 KO) outgunned the very game Sergio Heredia (1-3) to win a unanimous decision by scores of 40-36 and 39-37 twice.

Denver, Colorado's Joey Silva 4-0 (2 KOs) won a majority decision over the more experienced Adrian Aleman 3-4-3 (2 KOs) over four very exciting rounds in a super flyweight match-up. Aleman never stopped applying pressure, but it was the skilled Silva landing effective counter punches at almost every opportunity. Aleman never let up and kept every round competitive. Scores were 38-38 and 39-37 twice.

Welterweight Daniel Stanisavljevic 7-9-2 (3 KOs) lost a six-round unanimous decision to Gabriel Martinez 10-0 (5 KOs) much to the dismay of the audience, however Martinez was more effective with his punches and landed repeatedly at will. Daniel pressed forward winging hard punches and occasionally landing clean. Martinez fought effectively going backward for the duration of the bout. Daniel mocked Martinez by running in place then motioning for Martinez to stand and fight. Scores were 59-55 and 58-56 twice.

Lightweights Anthony Vasquez 6-3-2 (0 KOs) and Luis Cervantes 4-0-1 (1 KO) traded shots for six entertaining rounds with both fighters having their moments in a give and take war that ultimately ended in a draw by way of all three judges scoring the bout 57-57.

Midway through the evening's scheduled bouts Ayala Promotions president Steve Ayala took the microphone and invited recent Hall of Fame inductee Michael Carbajal into the ring to present an autographed pair of boxing gloves and a large picture of the former champion, which were up for bid. The proceeds of the auction were to benefit organizations fighting homelessness in Phoenix. Emceeing the auction was none other than NBA star Cedric Ceballos who sounded like a professional auctioneer and managed to garner a $2600 winning bid for the Carbajal memorabilia. Also Steve Ayala presented Arizona Amateur Boxing a check for $500.

Matchmaker for the card was Roger Woods. Notable faces in attendance were Michael Carbajal, David Tua, Cedric Ceballos, also local pro's Juan Garcia and Rafael Valenzuela.
Sheika Hunting Super Middles!
by Jason "J-Gon" Gonzalez
Super middleweight Omar Sheika (26-8, 17 KOs) has been inactive since dropping a unanimous decision to former WBC Super Middleweight Champion Marcus Beyer. Since dropping the questionable decision in September of last year, Sheika has kept himself in tip-top shape, walking around at just one weight class higher than where he normally fights (175 pounds). A three-time world title challenger with victories over Glen Johnson and Simon Brown, Sheika is disappointed that his phone hasn't rung with any potential dates. Feeling that when opportunities don't present themselves, you have to go and find them, Sheika is taking matters into his own hands. "We want Lacy for December 2", said the frustrated native of Paterson, NJ. "We called him out before. He is scared and I don't know why. I lost my last two in a row (Jeff Lacy, Marcus Beyer) he lost his last fight. I figured because he has a victory over me, he would be willing to fight me again, but not the case. I guess after Calzaghe beat the heck out of him, he lost his confidence. HBO will buy the fight. A lot of people thought I beat him. And I thought I won the fight. Lacy is running scared."
Haye: Expect a knockout!
European cruiserweight champion David Haye is preparing hard for his November 17 WBC final eliminator against Giacobbe Fragomeni at the famous York Hall in Bethnal Green, London. Haye, who normally trains in Miami, has stayed in London and has done his training at the 3rd Space Gym where his number one spar partner has been former IBF cruiserweight champion Kelvin Davis. "I'm looking forward to putting the record straight against Fragomeni, stated Haye in regard to the fact that Fragomeni holds an amateur win against him. "I've never forgotten that night I was ripped off. This time I won't leave it to the judges. Expect a knockout win from me."

WBC Convention opens!
The World Boxing Council's 44th annual convention opened this morning at the Hotel Croatia in Dubrovnik-Cavtat, a spectacular sun-drenched beachside resort on the shores of the Adriatic Sea. The convention was officially opened by Stjepan Mesic, the President of the Republic of Croatia. WBC President Jose Sulaiman presented Mesic with a WBC championship belt and stated in his opening address, "Boxing today is under the influence of the television networks of the world in a way that if there is no television, there is no title fight. There are some rumors circling around that there are some corporations that are trying to monopolize boxing and turning strongly against boxing sanctioning bodies....The television companies do not understand that boxing is a sport of champions. Boxers fight for the money, but money does not come without a world championship. The dream of all young boxers is to someday to become champion of the world. That is the reason the World Boxing Council will always be needed, because we are the factory of the top of the cream, which television wants, and ours have been the best champions, from Muhammad Ali to Mike Tyson, to Lennox Lewis to Ray Leonard, Marvin Hagler and Vitali Klistchko, among the so many great champions of the world who have won the green and gold WBC belt."
Floyd vows brutal beating!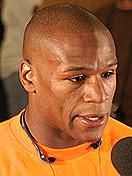 "He going to get a brutal beating, absolutely," promises Floyd Mayweather when he faces WBC welterweight champion Carlos Baldomir in an HBO-PPV clash on Saturday in Las Vegas. "That's what the fans want to see and that's what I want to give the fans....[Baldomir] is looking to get a knockout on me and he wants to be on the cover on all the newspapers the next day. But like I told him, 'you're going to get a chance to be on the cover of the newspaper the next day.' You won't be able to see his face because he's going to be face down, but you are going to be able to see him."

As for Baldomir's prediction of a KO, Floyd stated, "He's entitled to say what he wants to say, but he'd better not make no mistakes....he ain't got no punch at all. All he can do is box and in 15 minutes both eyes will be closed, then he's putting that white flag up in the air or you see the referee count to ten. Fighters are going to say what they're going to say. I talk with my hands."

"Do I believe I am, I am going to knock him out?" Floyd asks rhetorically. "I don't believe - I AM going to knock him out!....I'm going to be at my best. I'm always at my best. I'm in tremendous shape for this fight." (Photo: Big Joe Miranda)

3K Battery stops Escriber!
By Ray Wheatley
IBF #9 Fashung 3K Battery (54-8-1) scored a fifth round knockout over Edward Escriber (28-20) of the Philippines retaining his IBF junior featherweight title in Bangkok, Thailand on Thursday. Escriber connected with power shots in round one on the champion to win the round. Southpaw 3K Battery stepped up a gear and in round five dispatched the visitor when he dropped him with a left hand bomb for the ten count.


In the main supporting bout, featherweight Chaiyong Sakkreerin (11-2-2) boxed a crowd pleasing ten round draw with Richard Raelo (5-0-1) of the Philippines. Sakkreerin won the early rounds as he scored with effective body shots that had the visior wincing. Raelo came back in the latter rounds with accurate long range combinations. There is talk that these two will be matched in a return bout. Junior bantamweight Mike Tawatchai dropped Dej Sithsaithong for the full ten count in round four. In a bantamweight bout, Patomchoke Patompothong scored a third round knockout over Muangchai Sunkeelapakao. Promoter was Jimmy Chaichotchuang. This promotion was televised on Channel seven throughout Thailand.

Briggs: I can make Sergei quit!
Power-Punching Contender to Get His Shot at WBO Heavyweight Champion Saturday Night at 9 p.m. ET/PT on SHOWTIME
It only seems like hard-hitting Shannon "The Cannon'' Briggs – bleached-gold dreadlocks and all - has been around forever. "It's funny," he said, "because when everyone thinks of me, they think I am old because I fought George Foreman and Lennox Lewis, and other guys. But those fights were when I was very young. When I tell people my age, they're like, 'Naw, you can't be.'" For the record, the 6'4 Briggs is just 34 and has won 11 consecutive fights, all by knockout. A dangerous threat to any boxer in the heavyweight division, he is the WBO #3 and WBA #8 contender. In addition, 27 of Briggs' 41 career knockout victories have occurred in the first round.

Another new foe for Tua!
Due to an injury to Ross Puritty, Gotham Boxing has signed heavyweight Abraham "The African Assassin" Okine (14-2, 8 KOs) as the replacement face David Tua (45-3-1, 39 KOs) in the main event this week at the Roseland Ballroom in New York City on Friday night, November 3 on the "Marathon Extravaganza" fight card presented by Gotham Boxing and DRL Promotions, it was announced today. Puritty sustained a severe cut on his forehead last week in final preparations, so was unable to participate in the contest. The undercard features prospects from both New York City and Puerto Rico. Undefeated invaders from the island are Jose Nieves (15-0-2, 8 KOs), and Hector Sanchez (7-0, 2 KOs). The "Big Apple" cast includes "Mean" Joe Green (14-0, 8 KOs), Peter "Kid Chocolate" Quillin (7-0, 6 KOs), Jorge Teron (12-0-1, 8 KOs), Cindy Serrano (13-0-1, 7 KOs), Joel Castillo (1-0-0, 1 KO), John Schneider (1-0, 1 KO) and Darrel Madison (Pro Debut).

Oquendo trainer lauds Holyfield!
Roach says his man will win, but Evander should have own wing in Hall of Fame
Top trainer Freddie Roach says he would be the last guy to tell four-time heavyweight champion Evander "Real Deal" Holyfield to hang up his gloves. At age 44, Holyfield faces a tough scheduled 12-round heavyweight bout against Roach-trained "Fast" Fres Oquendo on Friday, November 10 at the Alamodome in San Antonio. (Contact your local cable operator or satellite TV provider for details). The fight is promoted by Murad Muhammad/M&M Sports and Holyfield's own company, Real Deal Events. Roach, who makes no bones about he and Oquendo coming to the Alamo City to derail Holyfield's comeback and stymie his drive for a historic fifth heavyweight crown, said Holyfield's resume speaks for itself. "I would be presumptuous to tell a great fighter like Evander what to do," Roach said. "He's more than earned the right to steer his own ship, call his own shots. Every fighter takes a calculated risk in every fight so I am sure Holyfield knows the pluses and minuses."

Lee gets tough test!
Highly touted middleweight prospect Andy Lee (5-0) of Ireland will face New Jersey's Dennis Sharpe (17-2-3) at Madison Square Garden, NY on November 11th as part of the undercard of Klitschko-Brock. Lee, 22, is trained and managed by Emanuel Steward who signed the Irish Olympian and turned him pro earlier this year. "This is by far my toughest test as a pro," said Lee, who is sharing training camp in the Pocono Mountains with Wladimir Klitschko "I'm looking forward to fighting in Madison Square Garden and am prepared for a great fight."


Another first for King!
It will be suntan lotion in the afternoon and stars at night with the retractable roof open at Chase Field on Saturday when Don King presents the first world heavyweight championship ever held in Arizona. Sergei "White Wolf" Liakhovich (23-1, 14 KOs), originally from Belarus and now a seven-year resident of Scottsdale, will defend his World Boxing Organization crown for the first time against Brooklyn, N.Y., native Shannon "The Cannon" Briggs (47-4-1, 41 KOs), the No. 3-ranked WBO contender. King wanted the fans to be as close to the action as possible, so he only put 20,012 of the 49,800 available seats on sale—the ones closest to the infield, up and around home plate—with the ring placed over the pitcher's mound. Ringside seats will be placed on the grass around the ring. Should there be any threat of rain showers, the roof can easily be closed.

Russian Boxing Update!
by Alexey Sukachev/Igor Shvartsburg
Dmitry Pirog (6-0, 5 KOs), 26, of Krasnodar, Russia, added another blistering performance to his resume this Wednesday in Casino Crystal, Moscow, Russia. Pirog successfully defended his Russian middleweight title by stopping Georgian journeyman Zviadi Purtskhvanidze (13-6-2, 3 KOs), in five rounds. Purtskhvanidze noticeably faded while Pirog grew stronger with every passing round. The bout was stopped by challenger's camp after the fifth round. This victory was the second consecutive important victory for Pirog following his April win over perennial contender Sergey Tatevosyan. In the co-featured bout of the evening, unbeaten cruiserweight Mikhail Nasyrov (16-0, 11 KOs) easily retained his WBC CISSB title via TKO 2 over Belarusian heavyweight Igor Shukalo (14-10, 7 KOs). Nasyrov, 24, from Chelyabinsk, Russia rocked his opponent several times in round one and finished the contest with a hard combination that sent Shukalo to the canvas. Shukalo was able to beat the count, but was waved off by the referee after failing to answer any questions.

Penalosa eyes title shot!
By Dennis Principe
If plans don't go amiss, former world super flyweight champion Gerry Penalosa may become one of Asia's most notable fighters in the history of boxing. In an interview, the 34-year-old Peñalosa laid out his grand plan for 2007, and that is to become Asia's first three-division world champion. According to Peñalosa, he was already informed by his American promoter Golden Boy Promotions to prepare for a world title fight sometime in February of next year versus reigning WBO bantamweight champion Jhonny Gonzalez of Mexico. "Before I left the US, Golden Boy Promotions told me about a fight with Gonzalez February of next year. That is why I plan to immediately start preparing for that fight," revealed the southpaw Peñalosa.

Harrison still in jail!
Despite hopes of his release over the weekend, WBO featherweight champion Scott Harrison remains locked up in the Alhaurin de la Torre prison in Southern Spain. Unless Harrison is released soon, promoter Frank Warren has threatened to cancel Harrison's scheduled December 9 title defense against Nicky Cook in London, which would result in Harrison being stripped of his WBO title and being replaced by interim champ Juan Manuel Marquez. Harrison has had criminal charges, despression and alchohol-related problems keeping him out of the ring over the last 12 months. Since October 6 he has been behind bars in Spain on allegations of assaulting police officers and violent car theft. His handlers remain hopeful that he will be released this week.


Ohio's Ghost Returns to Versus!
by Matt Gorey
Middleweight contender Kelly "The Ghost" Pavlik (28-0, 25 KOs) hails from the same blue-collar city that birthed former world champions Ray "Boom Boom" Mancini and Harry Arroyo. With devastating power in both hands and solid boxing ability, many boxing connoisseurs believe Pavlik has the tools necessary to become the greatest fighter Youngstown, Ohio, has ever seen. The only thing he has yet to acquire is a world title shot. The 6' 3'' rising star is coming off the biggest win of his career with an impressive sixth-round demolition of rugged Bronco McKart. Pavlik easily overpowered McKart, knocked him down twice and became the first man ever to stop the crafty veteran. "It was definitely an accomplishment," he said on handing McKart the first stoppage loss of his long career. "We definitely didn't go in looking for a knockout. Although I'm known as a power-puncher, I don't go into any fight looking for a knockout."

Roach comments on weigh-ins!
Freddie Roach, trainer of Manny Pacquiao, couldn't resist commenting on the WBC-sanctioned 30-day weigh-in Pacquiao and his opponent Erik Morales successfully completed recently. In front of a massive public audience in Mexico City, Morales tipped the scale at 142 lbs. Pacquiao weighed in at 138.75 lbs at Roach's Wild Card Gym in front of the Pacquiao camp and a WBC-appointed supervisor. "I have never seen so many people surround one man to make sure he eats so little," said Roach comparing his old school training group against Morales' team of certified experts in all the various disciplines from Velocity Sports Performance Center. "That was no weigh-in, it was a Weight Watchers meeting," continued Roach. "I don't know what Velocity has on his menu, but I guarantee you on November 18, Manny will be serving Erik a steady diet of Reyes leather all night long until he can eat no more."

Klassen the underdog!
By Ron Jackson
South Africa's Malcolm Klassen who challenges Gairy St Clair for the IBF junior lightweight belt on Saturday night at Emperor's Palace near Kempton Park goes into the fight the as the underdog, but he hopes to prove his critics wrong. Klassen 18-3-2 (9) the South African featherweight champion who came in as a replacement for Cassius Baloyi, moves up a division, and can be considered lucky to get a crack at the belt when he has never fought a ranked contender in the junior lightweight division.

Huck injured!
Unbeaten Dettweiler faces Sprott
Up-and-coming heavyweight Rene Dettweiler has been handed his first-ever title fight after an arm injury forced Marco Huck to pull out of Saturday´s EU-championship fight against Pietro Aurino in Muelheim/Ruhr. Cruiserweight Huck, unbeaten in 16 fights (13 KOs), will now take on his Italian opponent on December 16. "That is a pity," the KO artist said. "I was in great shape but unfortunately the injury keeps me from entering the ring on Saturday night." With Huck on the sidelines, Dettweiler will try to rise to the occasion and try to get the better of Great Britain´s Michael Sprott when they battle it out for the vacant EU heavyweight title.