Hernandez-Perez on Telemundo!
All Star Boxing, Inc. and promoter Felix "Tuto" Zabala, Jr. have announced that popular series of Boxeo TELEMUNDO comes to the 4th & B Hall in San Diego, California on November 17. In the main event, WBC Mundo Hispano Champion, Alejandro "Payasito" Hernandez of Mexico City, Mexico will face WBO Latin Champion, Jonathan Perez of Barranquilla, Colombia in a 12 round flyweight fight. Hernandez is ranked #13 by the WBC and brings a record of 15-3-1-9 KO's and Perez is ranked #15 by the WBO and is undefeated at 12-0-9 KO's. There will be a total of 6 bouts featuring Sergio "San Diego Sensation" Espinoza, James "Chocolate" Parrison, Israel Ornelas, Christopher Martin and Lenny Hall.
Shuler Headlines in Indy
by Andre Courtemanche
Maximum Sports and Entertainment Group presents an evening of nine professional bouts on Saturday, November 18, at the Tyndall Armory in Indianapolis. Super middleweight Anthony "Showtime" Shuler (19-4-1, 13 KOs) vs. Virgil McClendon (22-9-0, 9 KOs) headlines, with undefeated middleweight Jimmy "The British Assassin" Campbell (7-0, 4 KOs ) vs. Marvin Greathouse (3-3-0, 3 KOs) in the six-round co-main. Jeff "Boom Boom" Baker will also fight in an eight-round bout against TBA. Former National Amateur PAL Club Champion Ced Johnson will start his comeback in a six-round bout against Francis McKechnie of Michigan. Undefeated Cruiserweight Patrick Liles of Richmond, Kentucky faces Chris Baldi of Columbus, Ohio, in a four-round bout. Two MMA fights are also scheduled.
Stomp in the Swamp III set!
By Damien St. Pierre
Fight to the Finish Productions is back with live professional boxing. "Stomp in the Swamp III" will be presented Saturday, November 18, 2006 at the Cut Off Youth Center in Cut Off, Louisiana. Doors open at 6:00pm. Bell time will be 7:00pm. Once again in the main event of the night, Zane "The Train" Marks (14-2) of Golden Meadow, Louisiana will be featured in a 6 round middleweight contest. Marks wowed the crowd in his last bout (Stomp in the Swamp II) as he scored a vicious 4th round knockout of Chance Leggett after being knocked down earlier in the bout. Marks still carries with him the UBO All-Americian super middleweight title. Marks will take on Brookwood, Alabama native Brad "Boom Boom" Thompson (15-10-1).
Harrison fight canceled!
WBO title likely to be stripped as champion languishes in Spanish jail; Interim titlist Marquez to be made full champion
WBO featherweight champion Scott Harrison will be unable to defend his title against Nicky Cook on December 9 after failing to secure his release from a Spanish prison, promoter Frank Warren has confirmed today. "The situation with Scott is obviously very disappointing," said Warren. "For the last month or so we've been advised that he would secure bail and be in a position to defend his title. It now looks as if that won't be the case, so it's with great regret that the fight has been called off. "As for Harrison's position regarding his title, his future is now in the hands of the WBO. From a non boxing point of view, Scott obviously has a lot of problems that he needs to address, and I just hope that he can sort himself out." If Harrison is unable to defend by December 9, the WBO has stated that interim titlist Juan Manuel Marquez will ascend to the full title.
---
Scott Harrison will be replaced on the huge ExCel Centre card by WBO cruiserweight champion Enzo Maccarinelli who will face an opponent to be named. Cook will also be on the loaded card that also includes Matt Skelton's Commonwealth heavyweight title defense against Audley Harrison, Amir Khan's first eight round contest, British title fights between Tony Oakey and Peter Oboh and Andy Morris and John Simpson, as well as Kevin Mitchell, Ross Minter and Matthew Marsh.
KEA Extravaganza in Whippany!
by Kurt Wolfheimer
KEA Boxing returns to Whippany, New Jersey, with one of its best cards ever. The appropriately titled "The Brawls at Birchwood" will bring seven action-packed bouts featuring top local fighters to the Birchwood Manor on Friday night November 10. Wayne "Light Out" Johnson (13-1, 8 KOs) of Lyndhurst, New Jersey, is set to square off in the eight-round main event, against Josh "The Hammer" Hammock (7-0, 5 KOs) of Fort Smith, Arkansas, in a battle of unbeaten super middleweights. Johnson, who is on a four bout-winning streak, will face the heavy-handed but untested Hammock. Johnson showed his power in stopping James Sundin, whom he went the distance with a year earlier, in the second round of his last bout.
Stewart's Opponent Named!
by Rick Scharmberg
Former USBA Junior Welterweight Champion and Contender Season II star Mike "No Joke" Stewart (39-5-2, 23 KOs), of New Castle, DE, will face tall journeyman Roberto Valenzuela (38-26-2, 24 KOs) of Agua Prieta, Mexico, in the eight-round main event next Thursday, November 16 at Dover Downs Hotel & Casino in Dover, DE. The bout will be Stewart's first since dropping a decision to eventual Contender champion Grady Brewer last February 6. The co-main event will feature Michael's older brother, Richard Stewart (10-2-1, 6 KOs), also of New Castle, DE. Richard will meet Ron Boddie (15-34-4, 7 KOs), of Philadelphia in an eight-round light heavyweight bout. This bout is a rematch of a September 29 match that took place at the New Alhambra in Philadelphia, where Stewart defeated Boddie by unanimous decision.
MSG Workout
By Ed Mulholland/FightWireImages.com
IBF/IBO Heavyweight Champion Wladimir Klitschko, his challenger Calvin Brock, and WBC/IBA Women's Super Middleweight Champion Laila Ali held public workouts at the Metrazur Restaurant in New York City's Grand Central Station in support of their upcoming bouts Saturday night at Madison Square Garden.
Jermain Taylor Still Hungry!
By David L. Hudson Jr.
One might think that defeating the legendary Bernard Hopkins twice and battling the skillful Winky Wright to a draw would satisfy most fighters. After all, Hopkins will be a sure-fire inductee into the Boxing Hall of Fame at Canastota, New York, and Winky Wright may be the most highly avoided fighter of his generation. Undefeated middleweight champion Jermain "Bad Intentions" Taylor not only faced these great fighters but also did not lose in all three bouts. He accomplished these monumental feats by wrestling the title from Hopkins in a disputed decision, capturing another close decision over the legend and then retaining his title for a second time by battling Wright to a draw. But, the 25-0-1 Taylor is not satisfied. He wants to accomplish more; he is hungry for even greater ring glory and accomplishment.
Hoye returns to the ring!
By Lee Bates
Former light heavyweight title challenger Rico Hoye (19-1,14 KOs) returns to the ring on Friday night against veteran Sam "The Fighting Policeman" Hill (17-6-1, 10 KOs) at the Quiet Cannon in Montebello, CA. Hoye has only one defeat in his career and that was in his world title attempt against Clinton Woods back in 2005. He is now trained by Shadeed Saluki, who trained Lamon Brewster in his monumental upset of Wladimir Klitschko and trained the underdog winner of this year's "The Contender" reality show. The card will be put on by All Star Boxing and will be a dinner show. Meals to be served will include three-course filet mignon and shrimp scampi.
Briggs-Liakhovich recap!
By Graham Houston
It is often said that when a boxer wins a world title he automatically becomes a better fighter, if only because of a sometimes imperceptible lift in confidence-level, an added touch of authority. Sergei Liakhovich seems to have regressed, though, in the seven months he has been WBO heavyweight champion, because in his last-round knockout defeat against Shannon Briggs he did not look much liked the fired-up competitor who had outfought Lamon Brewster to win the title. (Nor the fighter who had soundly beaten Dominick Guinn, come to that.)
Buhlalu in grudge fight!
By Ron Jackson
The return match on Saturday night between Irvin Buhlalu and Benedict Dlamini at the Victoria Mxenge Hall in Umlazi, Durban when Buhlalu defends his South African lightweight title, has turned into a grudge fight because their first meeting, in May this year, ended in a disputed decision. Buhlalu, whose record now stands at 21-5 -1 (14) was declared the winner after twelve closely contested rounds. However, Dlamini's trainer, Nick Durandt, was upset and demanded that his boxer be given an immediate return fight. Adding to the controversy, it was later found out that the twelfth round had ended at two minutes instead of the normal three minutes
'Riot' card set for Nov. 15!
Now in their 15th year of promoting pro boxing shows in Central California, 12 Sports Productions has put together another six-bout card scheduled for Saturday, Nov. 18th, in downtown Monterey, Calif. Promoter/matchmaker Jerry Hoffman, who has included at least one women's bout in every show since 1993, will introduce New York's Stella Nijhof (2-0) against undefeated teenager Kaliesha West (4-0), of Moreno Valley, in a six-round bantamweight brawl. Nijhof is unbeaten in two pro bouts following an amateur career featuring 11 national titles. In the main event, for the USBC (United States Boxing Council) junior welterweight championship, Jesus "Chuy" Rodriguez (11-2) of Salinas is challenged by Hector Saez (8-5) of Denver. Rodriguez is on the comeback trail after a three-year layoff, which included a prison stint where his weight ballooned to over 200 pounds. The contract weight for this showdown is 138. All-Navy super heavyweight Keith Spencer of Ventura Ca., makes his long awaited pro debut after a stellar amateur career fighting in the service. Spencer is still a Navy serviceman stationed in Oxnard. Three other four-round bouts complete the card. After a ten-year success story in Monterey with his RIOT AT THE HYATT series, Hoffman has moved the event to a bigger location at the Conference Center. THE RIOT evolved after a five-year run in Santa Cruz, where the SHAKEDOWN IN QUAKETOWN shows featured future World Champions "Sugar" Shane Mosley twice, matched James Page and Stevie Johnston in an epic war, and, more recently, gave Robert "The Ghost" Guerrero his start as a professional in Monterey.
Montiel-Gorres still uncertain!
By Dennis Principe
Everything is still shaky, but top Filipino superflyweight prospect Z 'The Dream" Gorres is a cinch for a world title fight for his next bout. According to Gorres' Filipino promoter Sammy Gello-Ani, they already sent an official request with the World Boxing Organization (WBO) regarding a purse bidding between them and representatives of current champion Fernando Montiel of Mexico. Gello-ani made the move after being informed that there is an ongoing bickering within the camp of Montiel. "I just gathered that trouble is brewing within the Montiel camp and we do not want to be caught up with their internal squabble. That is why we're informing the WBO of the next best move to give Gorres his much cherished title shot," said Gello-Ani in a telephone interview. Gello-ani said that Montiel reportedly fired his American manager Gary Gittelsohn for reasons unknown to him. "I really do not know why but I guess that's the least of our problems. All we want is a title fight. Gorres is raring for battle whether it will be against Montiel or an interim title challenger," divulged Gello-ani. Gello-ani believes that the WBO will eventually order a purse bidding and that he is confident they will be able to submit the best offer.
Ballroom Boxing back Thursday!
By Gary "Digital" Williams
Two of Maryland's finest undefeated prospects will be showcased on the next Ballroom Boxing show on Thursday, November 9 at Michael's Eighth Avenue in Glen Burnie. Featherweight Tyrell Samuel (8-0, five KO's) of Baltimore is in the main event, a six-round encounter against Damon Antoine (4-11-1, two KO's) from Akron, OH. One of the co-feature bouts involves welterweight Tim Coleman (5-0, one KO) of Laurel, MD.
Morales: I'm ready to win!
By Karl Freitag
"I'm ready to win," declared former world champion Erik Morales today from the Otami in the mountains north of Mexico City in advance of his November 18 PPV superfight against Manny Pacquiao in Las Vegas. "It's a tough fight, it's a difficult fight and it's one that I'm going to win and that's all that is on my mind....We took a lot of time to get ready for this fight, a lot to make the weight and I feel real strong and I think that's going to be the key, not only lose the weight but be real strong after it."

---
"The first fight I needed to win, it was an emergency and I needed to get credibility back into my career. I was coming off a tough loss and I think I was ready. I prepared myself as well as I ever have for that first fight, and it showed....as for the second fight, I just made too many changes in my routine, from my camp, on everything, I just made too many changes that I shouldn't have done. I should have just stayed with what I had and, I mean, you learn. I think it was the big difference. For this fight, I know I'm going to be 100%. I feel real good, I've worked real hard for the last three months, and I'm going to be as ready as I'm ever going to be for a fight....I feel no pressure, I know what I need to do to win this fight, and I've done it."
---
Promoter Bob Arum said today that 13,000 tickets have already been sold with just 4,000 remaining. Arum said he expects a sellout several days before the fight.
Holyfield hits San Antonio!
Four-time world heavyweight champion Evander Holyfield hit San Antonio by storm Monday, covering nearly all of this very large metropolis. Holyfield, who just turned 44 and is campaigning to become the first-ever five-time heavyweight champion, fights slick Latino champ Fast Fres Oquendo as the main event of a PPV card promoted by Murad Muhammad of M & M Sports and Real Deal Events this Friday night at the Alamodome. The scheduled 12-rounder is supported by some great local matches including a grudge fight between welterweights Oscar Diaz and Golden Johnson. Muhammad said he is expecting a crowd of at least 12,000.
Dimitrenko foe named!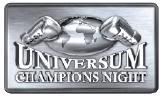 Unbeaten WBO Intercontinental heavyweight champion Alexander Dimitrenko (23-0, 14 KOs) will defend his title against Billy Zumbrun (20-7-1, 11 KOs) in the co-feature of the November 18 "Universum Champions Night" on November 18th at the Burg Wächter–Castello in Düsseldorf featuring the WBA heavyweight eliminator between unbeaten Ruslan Chagaev (21-0-1, 17 KOs) and former world champion John Ruiz (41-6-1, 28 KOs). Zumbrun is best known for his controversial split decision loss to former heavyweight champion Riddick Bowe. Universum has also added two strong women's bouts to the card with WIBF Super Middleweight World Champion Natascha Ragosina (11-0, 8 KOs vs Scroller Carrington (7-1-1, 4 KOs) plus GBU jr. bantamweight world champ Alesia Graf (15-1-0, 7 KOs) against Heather Percival. In other fights, welterweight Maurice Weber supermiddle Dimitri Sartison will see action.

Stas Kashtanov to defend title
December 23 in Donetsk, Ukraine
Ukrainian super middleweight Stas Kasthanov is scheduled to defend his WBC Youth title again on December 23 in Donetsk, Ukraine. No opponent has been named yet but it could be against his official challenger Daniel Allotey from Ghana. However the promoters consider several options which include to make one more voluntary defence. Undefeated Kashtanov, 16-0 10 KOs, won the title last July stopping French Magid Ben Driss in 4 rounds and made a successfull defence against Belgian Michael Henrotin last Saturday in Monaco.
Ibragimov WBO mandatory:
Briggs will have short reign!
"I congratulate Shannon Briggs on winning the WBO title last weekend, though I wasn't terribly impressed by his performance," says mandatory challenger Sultan Ibragimov (19-0-1, 16 KOs). "I hope he enjoys his time with the belt now because he won't have a long reign." The WBO confirmed at their recent convention that Briggs must face Ibragimov within 90 days or be stripped of his title. Ibragimov's promoters - Golden Boy Promotions, Seminole Warriors Boxing, and Golden Grain Promotions - have all left messages with Briggs' promoter Don King and are ready to begin negotiations immediately. Golden Boy Promotions President Oscar De La Hoya stated "We're confident that Sultan Ibragimov is the next heavyweight champion of the world, and we're eager to see him beat Shannon Briggs and put that championship belt around his waist."
Sam, Alpaslan good to go!
In the studio of famous artist Bruno Bruni in Hamburg, Germany, 60 reporters were at hand to listen to the "new" Sinan Samil Sam. On Friday, heavyweight contender Sam faces Australian Bob Mirovic at the Alsterdorfer Sporthalle in Hamburg. Says Sam, "The spectators will see a different Sinan than the last time. I will be better!" Sam`s trainer Fritz Sdunek stated "We worked very hard, Sinan is perfectly prepared for Friday`s fight. But we'll have to break down hard resistance in Mirovic." Mirovic commented, "I've got a lot a respect for Sinan. It`s nice to be back in Germany. I already fought two times in Germany, against Nikolay Valuev and Timo Hoffmann. Both fights were very close, I don´t think that I lost even one of them. I`m eagerly awaiting the fight on Friday." Mirovic`s trainer Angelo Hayden added "Both fighters move forward, this will be a brilliant fight.

---
In the co-feature of Arena Box-Promotion's event, WBC #11 Alpaslan Aguzum challenges WBC #5 Joseph Makaringe for the South African`s WBC International welterweight Title. "There`s no way he can beat me. I will win," vowed Makaringe. Aguzum responded "I want to get back to where I already was. And Joseph Makaringe won't stop me." The 29-year-old Alpaslan previosly held the WBC International welter title but lost it to Carlos Baldomir.More than 4,000 tickets are already sold, so with a capacity of 5,000 the Alsterdorfer Sporthalle will be sold out at fight time. Ahmet Oener, head of Arena Box-Promotion, told the press that his company will stage its next event on December 15 again in Hamburg with EU middleweight champion Mahir Oral in the main event.
Takayama wins WBA 105lb belt!
By Joe Koizumi
Fast-moving and busy-punching Japanese Katsunari Takayama (18-2, 7 KOs), 105, acquired the WBA interim minimumweight belt as he kept throwing punches upstairs and downstairs to sweep all rounds before he sustained such a nasty cut by an accidental headbutt that a technical decision over Panamanian Carlos Melo (16-5, 2 KOs), 105, was duly taken in favor of Takayama at 1:30 of the ninth round on Tuesday in Osaka, Japan. The official tallies were as follows: Levi Martinez (US) and Cesar Ramos (Puerto Rico) both 90-81 and Chalerm Prayadsab (Thailand) 90-82, all in favor of the Takayama, who became the seventh current world champ out of Japan. The referee was Silvestre Abainza (Philippines) who did a good job.
Golden Boy inks Singwangcha!
Golden Boy Promotions has signed WBA #1 lightweight contender Prawet Singwangcha (30-2-1, 18 KOs), who is in line for a title shot at WBA lightweight champion Juan Diaz. "We're pleased to be working with Prawet Singwangcha and I'm grateful to Sampson Lewkowicz for bringing yet another talented fighter to our team," said Oscar De La Hoya, President of Golden Boy Promotions. "Singwangcha has been unbeatable over the last six years and has truly earned his shot at the title. We are eager to begin negotiations with Team Diaz so we can bring the WBA lightweight title back to where it belongs."

Rossy on Klitschko Undercard!
by Jason "J-Gon" Gonzalez
On a warm night, reporters from the Long Island area flocked to Morton's, the steakhouse in Great Neck, Long Island, to find Sal Musumeci and his Final Forum Promotions waiting for us with what appeared to be steak sandwiches and chicken fingers. Musumeci took center stage to make an announcement: His heavyweight prospect, Derrick Rossy (13-0, 8 KOs) of Patchogue, Long Island, the current New York State heavyweight champion, will be putting his prestigious trinket on the line for the second time against Shannon Miller (14-2, 8 KOs) of Troy, New York, on the undercard of Wladimir Klitschko and Calvin Brock on November 11, at Madison Square Garden.
Yorgey to Face Clay!
by Kurt Wolfheimer
Undefeated junior middleweight Harry Joe Yorgey (16-0. 8 KOs) of Bridgeport, Pennsylvania, will face late replacement Martinus Clay (12-13, 4 KOs) for the Vacant IBU Junior Middleweight Title on Thursday night, November 9 at the Wachovia Spectrum in Philadelphia, Pennsylvania. Yorgey is a local fan favorite, who has continued to run roughshod over the junior middleweight division and will finally get his first shot at a world title on Thursday night against Clay of Wilson, North Carolina, in a bout scheduled for ten rounds. You have to throw out the record when you speak of Martinus Clay who has fought top competition and provided several upsets and lost some questionable decisions. Clay recently defeated Matt "the Predator" Vanda (34-2, 21 KOs) and will look to pull the upset and add a title to his cap.
Hirsch Responds to Protest
Angered by issue being raised.
New WBO Heavyweight Champion Shannon "The Cannon" Briggs manager Scott Hirsch says he is incensed by the proposed protest recently made public by the camp of former champ Sergei Liakhovich. "This seems to me to be a very desperate attempt to regain the title without getting back in the ring because they know Shannon would beat him even worse in a rematch!" says the Florida businessman. "Sergei took a terrible beating and my hope is that he is going to be ok and can resume his career. We are looking to unify the belts with WBA Champ Nikolay Valuev ASAP and after that Shannon will be happy to beat up Sergei again if they have the courage to rematch Shannon. Shannon knocked Sergei out of the ring and took the title at 2:59 of the 12th round and millions witnessed it on Showtime. Even Ivaylo can't change history. This is just a bunch of cowardly nonsense from a very scared fighter and manager. I had tremendous respect form them but that has changed based on this crap!"
Klitschko Speaks!
By David Greene / Photos: David Greene
Heavyweight champion Wladimir Klitschko (46-3, 41 KOs) will be defending both his IBF and IBO heavyweight titles when he steps in the ring against unbeaten Calvin Brock, Saturday night at Madison Square Garden. Klitschko recently spoke to Fightnews.com about the fight. "I'm on my way and I don't want to underestimate Calvin Brock. Without Calvin Brock I cannot talk about a unification bout because it makes no sense." Klitschko continued, "He is a very, very strong fighter, even if he's not famous like somebody else... He's undefeated, he's young, and willing to be champion. I don't want to be a gift for anyone. This is my time and I won't give it away."
Q&A: Oscar De La Hoya!
By Karl Freitag
As boxing's most popular fighter, one of boxing's most successful promoters and one of the sport's ring legends, Oscar De La Hoya often finds himself in the news. Tonight the Golden Boy will one of featured highlights of tonight's premiere of Episode Six of the popular USA Tuesday Night Fights "Knockouts" pay-per-view series. Fightnews.com asked Oscar about that fight (his 1993 clash with Mike Grable, the son of well known Michigan referee Dale Grable) as well as his reaction to Floyd Mayweather's win over Carlos Baldomir and his upcoming plans.
Elizondo ready for Navarro!
By Jose Reyes
NABA super flyweight champion and WBA #8 Gabriel "Kid Kombo" Elizondo (22-1, 10 KOs) defends his title against 2000 Olympian and WBC #5 and WBO #6 Jose Navarro (24-2, 11 KOs) on Friday in one of the featured fights on Friday's Evander Holyfield vs Fres Oquendo PPV clash at the Alamodome in San Antonio, Texas. The fight could be the most evenly matched and entertaining match up on the FOX Sports PPV telecast and is being promoted by M&M Sports and Real Deal Events. Elizondo and Navarro have fought each other once beforein the 2000 Olympic Trials. "I am probably facing the best left hander in the world in my weight division," says Elizondo. "I will go into this fight motivated, real confident and I will be victorious."
Sam: Maskaev is next!
On Friday, heavyweight contender Sinan Samil Sam returns to action. At the Alsterdorfer Sporthalle in Hamburg, Germany, Sam (26-3) faces game Australian Bob Mirovic (28-16-2). Sam is currently ranked WBC #4 and hopes to get back in the ring with WBC world champion Oleg Maskaev soon. Maskaev earned his title shot against then-champion Hasim Rahman with a decision win over Sam in November 2005. In his last fight in July, Sam won an unanimous decision over Saul Montana. Mirovic has previously fought twice in Germany. In 2003, he lost a decision to current WBA heavyweight world champion Nikolay Valuev, two years later he lost a very controversial decision to former German champion Timo Hoffmann. Most of the ringside observers had Mirovic clearly winning on points. Says Sam, "I will knock Mirovic out – and Maskaev is next."
California Promoters To Organize!
Southern California fight promoter and sports entrepreneur Roy Englebrecht, announced today that he is taking the lead in the formation of a California Fight Promoters Association, and that an informational luncheon has been scheduled for Wednesday, November 15th. The 1pm luncheon, to be hosted by Golden Boy Promotions at their downtown Los Angeles office will be open to all licensed California Boxing and MMA promoters. "In 2006 Fight Promoters in California will generate close to 30 million dollars in box office and television sales," said Englebrecht. "With the state receiving 5% of this revenue, plus an additional assessment of $1.46 from every ticket, you can make a case that we help drive the California State Athletic Commission. Yet over the years we have had very little say or input into decisions that are being made that could impact us and the fight business negatively. But we have no one to blame by ourselves, because we were not organized or speaking with one voice, and that needs to change."
Oscar: Floyd deal off the table!
By Karl Freitag
"My deal is off the table for Floyd," boxing's biggest attraction Oscar De La Hoya told Fightnews.com today. "I was really turned off by what Richard [Golden Boy CEO Richard Schaefer] was telling me. The way he was acting after the fight, and his performance and the people walking out of the arena and the people booing. Why does he deserve to be up there in that ring and make all that money with me?" Oscar stated he still plans to fight again next year. "I'm going to fight, whether it's Mayweather or not I'm going to fight. This is what I do. I love fighting. Is it going to be Mayweather? If he takes the deal that I give him!"
FREE public workouts in NYC!
See Klitschko, Brock & Ali in action
Boxing fans are welcomed to attend the public workouts of world heavyweight champion Wladimir Klitschko, his challenger, undefeated Calvin Brock, and super middleweight women's champion Laila Ali, the fighting daughter of legendary heavyweight champ Muhammed Ali, on Tuesday afternoon, November 7, in Grand Central Station at Metrazur Restaurant as the trio preps for Saturday night's big fight card at Madison Square Garden. Brock is first up at 12:00 noon, followed by Ali at 12:30 PM, and Klitschko at 1:00 PM, giving fight fans a first hand glimpse of these great athletes in training
Kolodziej injured; title defence off
Nov. 25th in Warsaw, Poland
Unbeaten cruiserweight Pawel Kolodziej (16-0, 9 KOs) is off the big Hammer Knockout Promotions show of Nov. 25th in Warsaw, Poland. Kolodziej was set to defend his WBC Youth title but unfortunately broke a finger in his fight last Saturday in Mülheim an der Ruhr against Remijius Ziausys. Kolodziej is co-promoted by Sauerland events.
The main event on the show will be local hero Krzysztof "Diablo" Wlodarczyk (36-1, 27 KOs) against unbeaten American Steve Cunningham (19-0, 10 KOs) for the vacant IBF cruiserweight title. On the same card Russian Vadim Tokarev (22-0-1, 15 KOs) will defend his NABF cruiserweight title against Shane Swartz (18-4, 12 KOs).
Heavyweight Tomasz Bonin, lightheavyweight Dawid Kostecki and light welterweight Krzysztof Bienias are scheduled to appear on the undercard. Three other fights with youngsters Tomasz Hutkowski, Sergei Babich and hot prospect Damian Jonak will complete this interesting bill
Finkel's Art of the Deal!
By Lisa Scott
When it comes to the behind-the-scenes bargaining maneuvers for high profile fights, most people have no inkling as to what goes into making a championship fight come to fruition. Often times, such particulars are overshadowed by accusations, hyperbole and mudslinging by various adversaries. A good example of this would be the upcoming bout between IBF heavyweight champ, Wladimir Klitschko and top ranked contender, Calvin Brock on November 11th at Madison Square Garden. In June, it looked like Klitschko would defend his title against Brooklyn, NY native, Shannon Briggs, when suddenly Oleg Maskaev's name was brought into the mix after he beat Hasim Rahman for his WBC title in August. That move triggered Briggs (who is promoted by Cedric Kushner) to seek out another fight and allege publicly that he fell victim to a bait-n-switch tactic. Ultimately, Briggs came to terms with promoter Don King and a fight was scheduled for him to square off against WBO champ Sergei Lyakhovich on November 4th in Phoenix. Thus, Team Klitschko was left without an opponent and Brock was then selected. At the epicenter of the deliberations was Klitscko advisor, Shelly Finkel who cleverly established control at the onset by securing an airtight deal for Klitschko to fight at the Garden.
Melo, Takayama faceoff tomorrow!
By Joe Koizumi
Ex-WBC 105-pound champ Katsunari Takayama (17-2, 7 KOs), Japan, will square off against WBA top ranked contender Carlos Melo (16-4, 2 KOs), Panama, in a quest for the WBA interim minimumweight belt tomorrow (Tuesday) in Osaka, Japan. Each tipped the beam at the 105-pound class limit this afternoon. Though Melo was reported to have a difficulty making the weight, the Panamanian looked fine enough at the weigh-in ceremony. Takayama, a year his junior at 23, also appeared confident to win the belt before his local adherents. Takayama was slated to face WBA full champ and compatriot Yutaka Niida on September 2, but the defending titlist suffered a rib fracture during a sparring session to be unable to face Takayama as he turned out to require a rest for more than three months. The WBA gave a special sanction to the interim title bout between the perennial #1 contender Melo and the victim of the cancellation.
Rocky opens new gym!
By Daniel Hiller
On Sunday, ex-world champion Graciano Rocchigiani (42) opened a new boxing gym in Duisburg-Meiderich. "In Berlin there is (trouble) without end, but the whole Ruhr area is a white spot. I can help fix that," joked the former German "Bad Boy" on why he relocated to the Ruhr Valley. Brother Ralf (43), also a former world champ, works with Rocky in the new gym, in addition to two other coaches. The 700 square meter facility has three floors. It offers fitness devices, a sauna and a wellness area. "The development of young boxers is especially important for me," stated Rocchigiani. "Therefore, I'll work closely with the amateur Boxing Federation of North Rhine-Westphalia." In the medium term, the Rocky Gym wants to get into promoting professional fights. "Rocky," who says he feels fit as a fiddle, would be willing to climb back into the ring with a million dollar offer like those for Axel Schulz and Henry Maske. "With so much cash you can't say no," confesses the ex-world champion. "With Maske and Schulz, it's also about nothing other than the money."

Escobedo added to Chicago card!
2004 US Olympian super featherweight Vicente Escobedo will face Ramon Guevara in an eight-rounder this Friday night at Cicero Stadium near Chicago it has been announced by Golden Boy Promotions and 8 Count Productions. "He's got amazing talent, a strong work ethic, and the type of star quality you can't teach," stated promoter Oscar De La Hoya. "I definitely see him becoming a world champion in the coming years if he stays on the path he's on now." Headlining the Telefutura-televised card is Rogers Mtagwa vs. Martin Honorio in a twelve-rounder for the USBA featherweight title along with light heavyweights Tavoris Cloud vs. Douglas Lafontsee.
Briggs-Liakhovich
By Chad Barcus & Oscar Paredes at Ringside
The first heavyweight championship in Arizona is history. The moon was fullSaturday night in Phoenix and so was the night of boxing at Chase Field.Don King Promotions put out an exciting lineup that included Luis Collazo,Juan Diaz versus Fernando Angulo, and Shannon Briggs versus Sergei Liakhovich. Showtime broadcast the event which witnessed one belt remain in the hands of its owner and another belt switch hands with only one second left in the 12th and final round.
---
In the co-feature of Arena Box-Promotion's second event Alpaslan Aguzum challenges Joseph Makarine for the South African`s WBC International Welterweight Title. Alpaslan Aguzum (32-2), whose lone two losses came at the hands of former world champion Carlos Baldomir, is currently ranked number 11 in the WBC ratings. He is fighting for Makaringe`s number five spot.
Goossen responds to Oscar!
By Karl Freitag
Dan Goossen, promoter of Floyd Mayweather Jr., has responded to comments made by rival promoter and possible Mayweather foe, Oscar De La Hoya. In an email to Fightnews, Goossen wrote:

---
The only "deal" that was on the table that I know of, is Oscar's own "deal," when he said last month, "its Mayweather or that's it for me." It seems to be déjà vu with Oscar and what he says or means when he says something that he says he means? Very reminiscent of another promoter when he said, "Yesterday I was lying, today I'm telling the truth." Oscar can be a big asset to our industry as a promoter, but I believe it is very important to build up our business and not try to bring it down like so many others before him. As for Oscar being "really turned off" by the way Floyd acted after the fight (the interview with Larry Merchant) I would simply say no one should ever be turned off with someone speaking honestly. I know I'm not. Regarding Oscar's comment on "why does he deserve to make all that money," please inform Oscar that Floyd was just paid $8,000,000 to fight Carlos Baldomir, a virtual unknown in the US. In closing, I can definitely say Floyd is going to fight next year, whether it's Oscar or not, he's going to fight (and make a lot of money!).
Miranda's message to Abraham!
Not content to rest on his laurels and take the rest of 2006 off after his controversial fight against IBF middleweight titleholder Arthur Abraham in September, Edison 'Pantera' Miranda (26-1, 23 KOs) will finish off the year by taking on rugged contender Willie Gibbs on December 16th. This bout will take place at Miccosukee Resort & Gaming in Miami, Florida and will be televised live on HBO Boxing After Dark beginning at 9:30pm ET. Miranda, who will risk his IBF mandatory challenger status against Gibbs, had a message for Abraham: "As you are resting with your broken jaw, I will be fighting on HBO in front of the entire world. However, when you feel you are ready to step back into the ring and test your jaw, I will be waiting for you. I broke it in the first fight, and you should know that I will be the one to take the first crack at your jaw to see how well it has healed."
Liakhovich protesting!
Former WBO Heavyweight Champion Sergei "The White Wolf" Liakhovich and his manager Ivaylo Gotzev are preparing a case for review, in hopes of being granted an immediate rematch against Shannon Briggs. Liakhovich lost his belt to Briggs by TKO at 3:07 of the twelfth and final round on Saturday night at Chase Field in Phoenix, Arizona, after he fell through the ropes and onto the scorer's table. Upon seeing Liakhovich fall through the ropes, Referee Bobby Ferrara waved the fight seven seconds after the final bell should have rung, without issuing a 20 count (per the WBO rules) to the still conscious champion. "If you were watching on television, the Showtime clock stopped after Sergei's first knockdown," explains Gotzev. "But what we're talking about is the official clock. If you watch the tape with your own stopwatch, you will see that Sergei doesn't fall through the ropes until 2:59 of the round. And the referee doesn't wave the fight over until 8 seconds after that! The final bell should have sounded while Sergei was still falling," explains Gotzev. "If the bell had sounded when it should have, then the referee wouldn't have waved it off without giving Sergei a chance to get up."
Vera wins IBA belt!
By Byron Spurlock at ringside
Saturday night in Kinder, LA at Knockouts at Coushatta XIII, Brian Vera 12-0 (9) captured the IBA super middleweight title by stopping Etienne Whitaker 32-23 (21) in round three. Vera didn't waste much time as he sized up the crafty veteran Whitaker in the first two minutes of the opening round and then went to work, delivering and an overhand right that sent Whitaker reeling to the ropes. Whitaker appeared to be hesitant to mix it up with the younger fighter, while Vera threw powerful combinations to the head and body in an all around attack. In round three, Vera landed combinations to the head of Whitaker that sent him to the canvas. Whitaker managed to barely make it to his feet before the count of ten, but moments later was on the canvas again, this time prompting a stoppage to the bout.
Armmann outscores Vea!
By Ray Wheatley -- World of Boxing
Nationally televised Fenech Fight Night featured Australian cruiserweight champion Daniel Armmann (7-0-1) retaining the title when he oustcored Dominic Vea (3-1) over ten rounds at the Blacktown RSL, Blacktown, NSW on Friday. Vea had not been more than four rounds previously to this contest but paced himself well to give the champion the fight of his life. The 6 foot 1 inch Armmann used the southpaw jab to good efect but was bullied around the ring by the aggressive A Grade footballer Vea when he took a spell. Scores were Trevor Christian 95-95, Des Bloyd 97-93, Charlie Lucas 96-95. Armmann known as the "Doberman" said that he would be happy to give Vea a return bout with the title up for grabs.
Duva High on Holt!
Kendall Holt promoter calling out best at 140 lbs.
"We said this would be Kendall Holt's coming out party and that's exactly what it was," says promoter Dino Duva of his fighter Kendall Holt's nationally televised performance last Friday. Holt (21-1, 12 KOs) picked up the NABO Light Welterweight Title via unanimous 12-round decision over world-ranked and highly regarded South African Isaac Hlatshwayo (Hlatshwayo was down in the 9th, 11th and 12th rounds) on Showtime's ShoBox "The New Generation" series. Duva says he is prepared to call out any junior welterweight in the world for Holt, especially top contenders and world champions like England's Ricky Hatton and IBF belt holder Juan Urango: "I'd put Kendall in with anybody. He's that good. But he's got something special for these guys that try to come forward with pressure. Not just Hlatshwayo, look what he did to David Diaz before that!" (Holt scored an impressive TKO 8 over Diaz in another nationally televised ShoBox appearance). "He's fast, exciting, powerful, skilful, and dynamic. He's the best fighter in the world at 140 lbs and he continues to prove it with every fight. It's time to put him in a major fight on premium television and let him take his place among boxing's elite. Kendall Holt is ready!"
Liddell & Ortiz do it again!
UFC 66 press conference report
Two-and-a-half years ago when former champ Tito Ortiz stepped into the Octagon to take on UFC light heavy champ Chuck Liddell, it was to work his way back for a shot at the belt he'd lost to Randy Couture. But the closest thing to a belt he received from the "Iceman" was the kind that puts you on your back, staring up at the lights. Things have changed since then—at least that's what one of the UFC 66-headlining fighters says about their Dec. 30th rematch at the MGM Grand Garden Arena in Las Vegas, Nev. . . .