Arthur, Limond victorious!
Super featherweight Alex Arthur (24-1, 18 KOs) scored a fifth round TKO over previously unbeaten Sergio Palomo (24-1) to retain his European title Saturday at a packed Kelvin Hall in Glasgow, Scotland. Arthur floored Palomo in rounds one and two before stopping him at 1:31 of round five. He is now eyeing a world title challenge within 12 months. Also, lightweight Willie Limond (28-1) won the Commonwealth belt by defeating Kpakpo Allotey (12-4) over twelve by scores of 116-111, 117-112, 116-113.

Enciso stops Quintero!
By Kevin Bello
Peruvian challenger Raul "Courage" Enciso won the vacant UBC Intercontinental super lightweight title with a second round TKO over Ecuadorian challenger Segudo Quintero on Saturday at the Municipal Colisseum in San Juan de Lurigancho, Peru. Enciso connected with a combination of power shots early in round two prompting the referee to stop the fight. Quintero replaced to Nicaraguan Juan Garcia who had a problem traveling to Peru due to the presidential elections in his country. Enciso improve to 13-6-2, with 5 KOs, Quintero's record drops to 4-4-1, 2 KOs.

'Pretty' One-sided for Floyd!
by Albert Howell & Mike Sloan, photos by Chris Cozzone
Mayweather wins WBC & lineal welterweight championship with uncrowning unanimous over Baldomir: Entering the ring dressed as a gladiator, four-division world champion Floyd Mayweather Jr. (36-0, 24 KOs) turned the 2006 Cinderella story of Carlos Baldomir (43-10-6, 13 KOs) into a pumpkin, as he claimed Baldomir's WBC Welterweight title with a one-sided twelve round unanimous decision on Saturday night at the Mandalay Bay Hotel & Casino in Las Vegas, Nevada
Ex-champ Tubbs victorious!
Former heavyweight champion Tony Tubbs scored a six round unanimous decision over last minute sub Adam Smith at the Waterfront Place Hotel in Morgantown, West Virginia on Saturday night. Tubbs won every round convincingly and still showed the great hand speed. Original opponent Travis Fulton was a no-show. Middleweight Jason Jordan won a unanimous six round decision over Jason Carter. In an all out war and fight of the night, heavyweight Octavius Smith won a four round unanimous decision over Jerry Simpson. Local light heavyweight Steve Borrelli took a six round unanimous decision over Santiago Hillario. Super middleweight Will Prieto refused to fight opponent Jarrell Jackson even though contracts were signed and Prieto showed for the weigh-in. Prieto and Fulton will be suspended indefinitely by the WV State Athletic Commission.
Indonesian Update!
By Jeffrey Pamungkas
WBA featherweight champion Chris John is scheduled to fight Jose Cheo Rojas for his mandatory title fight in January next year, instead of March. However, Muhammad Arsyad, the promoter of the fight, will propose the fight on February 17, 2007, because Tenggarong City, Eastern Borneo, Indonesia, the site that will stage the fight, will be very busy with so many national and international events until January. John vs. Rojas became unfinished business after their first fight in December 2003, also in Tenggarong City, resulted a technical draw following an accidental head butt in the fourth round. At that time Rojas took the first 2 rounds, and John was dominating rounds 3 and 4 before the fight was stopped.
---
The 12 round IBF jr. welterweight eliminator between Naouffel ben Rabah and Lovemore N'dou, is scheduled as the main undercard of John vs. Rojas. Ben Rabah was lost controversially against Juan Urango earlier of this year in the USA for the IBF jr. welterweight title. "Urango will not be allowed to fight anyone else before a rematch with ben Rabah," claimed Tony Priatna, Ben Rabah's assistant manager.
---
After several period of uncertainties and postponements, the IBF strawweight champion Muhammad Rachman can now smile, after he gets the confirmation to fight to defend his title against Benjie Sorolla of the Philippines in December 23, 206. The fight will be done at the Indoor Tennis Senayan Stadium, Jakarta, same venue when Rachman beat the Mexican Omar Soto, May, 2006. "We are now waiting for the finalization of the contracts for Rachman and for his opponent," explained Martinez dos Santos, Rachman's new manager.
---
Indonesian hard hitter and the country's hottest prospect for the future featherweight world champion Daud "Cino" Jordan continued his terror as well as maintaining his undefeated record, after defeating Boy Malindo Manulang by TKO in the third round of scheduled 10 rounds, November 2 in Jakarta. "Cino" expanded his record to 11-0, 10 KOs. By the end of this month, Jordan will get his first opportunity for the national featherweight championship in Bali Island.
Monte Carlo Boxe Masters III
Greenberg, Kashtanov and Bianchini retain titles

Heavyweight Roman Greenberg scored a come from behind win knocking out Alexei Varakin in the 6th round last night in the main event of the Monte Carlo Boxe Masters III in the fully packed Salles des Etoiles. Greenberg was caught at the end of the first round by Varakin and in all kind of trouble from there on. However he showed that he had a big heart and except for a brief moment in the fouth never really looked in danger of being stopped till he produced that cracking right uppercut that knocked out Varakin for more than the count. Greenberg now unbeaten in 23 fights, 16 inside, will appear on the Warriors Boxing show in Hollywood, Florida on December 9th. Leon Margules of Warriors, who co-promotes Greenberg, was ringside in Monaco. Two other titlefights took place on the undercard. Italian Stefania Bianchini holds on to her WBC flyweight title with a split draw against Zhang Xi Yang from China and Ukrainian supermiddle Stas Kashtanov retained his WBC Youth title with a unanimous decision over Belgian Michael Henrotin.
Floyd says one and he's done!
By Mike Sloan
"All I have is one more fight and that's it," said WBC welterweight champion Flopyd Mayweather at last night's post-fight press conference. Mayweather, his eyes swelling with tears, turned away from the crowd and covered his face, unable to withhold the tears streaming from his eyes. A few minutes passed before the emotional pound-for-pound king was able to speak clearly and elaborate on his pending retirement. "I've been saying this for a while but nobody wanted to believe me," the new 147 pound champion said. "I actually thought about quitting from this sport after the Zab fight but this is it. I'm doing only one more fight and then I am walking away. I love this sport and the sport of boxing has been very good to me. I have been blessed with the talent to do what I do and I am very happy right now. I don't need boxing anymore and I don't need money anymore."
Salud seeks GAB support!
By Nick Giongco
Filipino boxing promoter Wakee Salud will ask the Games and Amusements Board (GAB) to lend a hand in his quest to get to the bottom of the decision by his fighter, super-featherweight Jimrex Jaca, to sign a promotional contract with Oscar De La Hoya's Golden Boy Promotions (GBP). Salud told Fightnews that he is keenly awaiting the arrival of chief GAB officials led by chairman Eric Buhain and boxing division head Dr. Nasser Cruz, who are both attending the 44th WBC convention in Dubrovnik, Croatia. The GAB regulates professional boxing in the Philippines. "I will ask the GAB to send an inquiry so we would all be enlightened," said Salud on Sunday, stressing that he had nothing to do with the decision of Jaca to fight on a GBP show slated Nov. 25 in Hidalgo, Texas.

Newly crowned WBC welterweight champion Floyd Mayweather gets emotional during Saturday night's post fight presser. Floyd stated that he plans to retire after his next fight.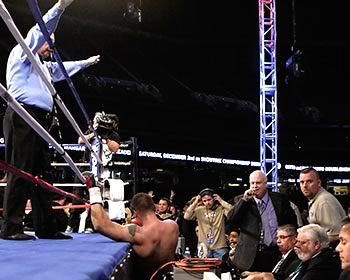 Former WBO heavyweight champion Sergei Liakhovich sprawls on the scorer's table after being knocked out of the ring by new world titleholder Shannon Briggs.
Last :30 decides fight!
"What if" questions will haunt Liakhovich
Defending WBO heavyweight champion Sergei "White Wolf" Liakhovich appeared to be cruising to a decision win in a relatively uneventful contest under a full moon at Phoenix's Chase Field Saturday night until Shannon "The Cannon" Briggs exploded in the last 30 seconds in the 12th and final round to score two miraculous knockdowns--the last of which left Liakhovich sprawled out on the timekeeper's table outside the ring as referee Bobby Ferrara waved off the action with one second to go in Arizona's first-ever heavyweight world championship. What Liakhovich didn't know was that had he survived the last 30 seconds -- even with two knockdowns -- he would have retained his title.
"Pretty One-Sided!"
By Albert Howell at ringside
Photos: Chris Cozzone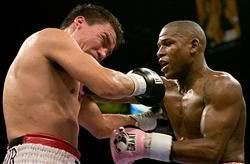 Four-division world champion Floyd Mayweather Jr (36-0, 24 KOs) turned the 2006 Cinderella story of Carlos Baldomir (43-9-6, 13 KOs) into a pumpkin as he claimed Baldomir's WBC welterweight title with a one-sided twelve round unanimous decision on Saturday night at the Mandalay Bay Hotel & Casino in Las Vegas, NV. Baldomir unsuccessfully tried to neutralize Mayweather with pressure and a high punch output, but Floyd was much, much quicker, landing at close to a 50% clip. The boxing clinic went all twelve rounds with Floyd virtually shutting out Baldomir by scores of 120-108, 120-108, 118-110. Floyd said he hurt his right hand during the fight.
---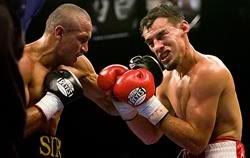 IBF mandatory challenger Orlando Salido (28-9-2, 18 KOs) schooled featherweight champion Robert Guerrero (19-2-1, 12 KOs) over twelve rounds to claim the IBF belt. The veteran Salido won practically all of the exchanges as the bout progressed, pulling away for a 115-113, 117-111, 118-110 upset win.
---
Unbeaten welterweight contender Paul "The Punisher" Williams (32-0, 24 KOs) lived up to his nickname, punishing late sub Santos Pakau (27-4-1, 10 KOs) until the the bout was mercifully stopped by referee Joe Cortez in round six. Williams scored knockdowns in rounds one and two and pounded the game but outgunned Pakau until Cortez waved it off at 2:16 of the sixth. Pakau was a late sub for Mauro Lucero who arrived an astonishing 26 pounds over the contract weight.
---
In an action-packed battle of unbeaten heavyweights, Chris Arreola (17-0, 15 KOs) removed the "O" of Damian "Bolo" Wills (21-0-1, 15 KOs) with a seventh round TKO. Wills cut Arreloa over the right eye in round one, but Arreloa came back to win round two big, leaving Wills bleeding from the mouth. The bout turned into more of a tactical affair after that until Arreola trapped Wills in the corner in round seven and bombed away until referee Kenny Bayless stopped it at 2:17.
---
Pro debuting welterweight Alejo Sepulveda dropped Cedric Holmes (0-4) twice in round four before the bout was halted at 1:09 of round two.
---
What would have been an attractive bout between former world 130lb champion Robbie Peden and prospect Wes Fergusen fell through when Peden couldn't make the weight. "I hadn't eaten a real meal in three weeks," Peden told Fightnews. He was only able to get down to 141 for a bout contracted at a catchweight of 138.
Briggs KOs Liakhovich!
By Chad Barcus and Oscar Paredes at ringside
Photo: Tom Casino/SHOWTIME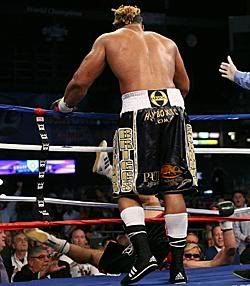 Shannon Briggs (48-4-1, 41 KOs) scored an explosive twelfth round knockout over Sergei "White Wolf" Liakhovich (23-2, 14 KOs) to claim the WBO heavyweight championship on Saturday night at Chase Field in Phoenix, Arizona. Action was very measured for most the fight as both fighters appeared wary of engaging in exchanges. Finally in the twelfth round, with about 30 seconds left in the fight, Briggs floored Liakhovich, then when Sergei beat the count, Briggs blasted him completely out of the ring to win the title. Official time was 2:59. Entering the last round, Liakhovich was leading 106-103, 106-103, 105-104. With the win, Briggs breaks the monopoly on the major heavyweight titles by former Soviet fighters.

---
Unbeaten WBA lightweight champion Juan "Baby Bull" Diaz (31-0, 15 KOs) overcame gritty Fernando "La Fiera" Angulo (18-4, 11 KOs) to win a twelve round unanimous decision. Diaz pressured Angulo the entire fight to win 118-109, 118-109, 116-111.
---
In a clash of welterweight contenders, IBF #13 welter James "Spider" Webb (19-2, 16 KOs) came out fast, brutally manhandling WBC #7 Miguel "Miki" Rodriguez (28-2, 23 KOs) until out of nowhere Rodriguez landed a crushing left hook that knocked Webb out. Time ws 2:02.
---
In his first bout since his controversial loss to Ricky Hatton, former WBA welterweight champion Luis Collazo (27-2, 13 KOs) stopped Artur "Scar" Atadzhanov (10-4, 7 KOs) :33 into round six.
---
Unbeaten heavyweight Mario Preskar (11-0-1, 7 KOs) blitzed Gene Valdez (5-3, 5 KOs) dropping him twice in round one before the bout was halted at 1:58.
---
Undefeated super featherweight Elio "The Kid" Rojas (18-0, 13 KOs) had little trouble with faded Luis Bolano (38-4, 28 KOs), winning easily 80-71 on all cards.
---
When unbeaten light heavy Marcus Johnson dropped (9-0, 7 KOs) dropped Oleksandr Garaschenko (14-10, 6 KOs) just 30 seconds into the bout, few thought it would go the eight round distance,but that's what happened with Reyes winning 80-71, 80-71, 79-72.
---
Featherweight Justin Savi 3-0-1 (3 KOs) knocked out Michael Mendez (4-5-2, 2 KOs) :48 into round two.
Stunner: Klassen upsets St. Clair!
By Gerhard Burger
South Africa's Malcolm Klassen won the IBF junior lightweight title when he beat Gairy St Clair on a split decision in Kempton Park near Johannesburg on Saturday night. Klassen produced a stunning performance to win 118-112 and 117-111 on two cards. The other judge, an Australian, gave it to St Clair, 115-113. The new champion, given almost no chance by most experts, outgunned the Guyana-born Australian in almost every department. He showed outstanding hand speed, good balance, probably the best jab in South Africa, all the combinations in the book, concentration and, above all, the courage and confidence to go after the champion for the whole fight. St Clair, with strength and experienced on his side, was never given the chance to change into his usual buzz-saw mode. The crowd at Emperor's Palace saw one of the best fights in recent years in South Africa and one of the best performances in many years by a South African. Klassen, 25, who now has a record of 19-3-2, with 9 stoppages, came into the bout as a replacement for Cassius Baloyi and had to move up a division to fight the Australia-based St Clair.
Hoffman defeats Koc!
Sprott tops Dettweiler;Platov over Akinwande
By Karl Freitag
In a crossroads heavyweight clash between Sauerland stablemates, Timo Hoffmann (35-4-1, 19 KOs) won a hard-fought ten round unanimous decision over Cengiz Koc (23-3, 15 KOs) in an entertaining ten rounder at the RWE Rhein-Ruhr Sporthalle in Mülheim/Ruhr, Germany. The 6'7 Hoffmann came out bombing early on, dropping Koc in round three. However, Hoffman started slowing down in the fifth round. Koc found a home for his right hand in round seven, winning that round big. Both were still battling hard in the tenth round. Scores were 97-94, 98-91, 96-93.
---
In a bout delayed 30 minutes by a power outage, heavyweight Michael Sprott (29-10, 14 KOs) won a close twelve round split decision over previously unbeaten Rene Dettweiler (18-1, 9 KOs) in an EU heavyweight title clash. Dettweiler seemingly outworked the former British champion in many rounds, especially down the stretch as Sprott tired badly. However Sprott was never really hurt in the bout and judges felt he did enough to win 116-112, 114-112 on two cards. Dettweiler won on the third card 115-111.
---
Earlier, in an IBF Intercontinental heavyweight title fight, Oleg Platov (23-1, 19 KOs) won a split decision over former heavyweight champion Henry Akinwande (49-3-1, 30 KOs).
Matchmaker's Corner!
Analysis of Baldomir vs. Mayweather
By Ron Katz
Tonight boxing's number one pound for pound fighter Floyd Mayweather steps into the ring against the modern day Cinderella man Carlos Baldomir as they battle twelve rounds for the WBC welterweight title. It has been almost eight years since Baldomir has tasted defeat and he faces a monumental task as he tries to retain his crown against the supremely talented Mayweather.
Holt, Alvarez Notch Wins!!!
By Kurt Wolfheimer at Ringside
ShoBox: "The New Generation" returned to Bally's Hotel and Casino in Atlantic City, New Jersey, on Friday night with an exciting NABF Junior Welterweight title bout, as Kendall Holt shed the rust from a thirteen-month layoff with an impressive unanimous decision over formerly undefeated South African Isaac Hlatshwayo.

The co-feature of the evening pitted two young rising welterweights, as Shamone Alvarez (15-0, 10 KOs) of Atlantic City swapped punches with Enrique Gutierrez of Santa Rosa, California, over eight rounds.

The bout more than lived up to the expectations in this back-and-forth struggle, which saw Alvarez capture a closer than it appeared majority decision.
Tua Stops Wheeler!!!
By Matt Richardson & Jason "J-Gon" Gonzalez
Former world heavyweight championship challenger David Tua won his second consecutive comeback fight in New York when he stopped journeyman Maurice Wheeler in the seventh round of a scheduled ten in the main event of promoter Cedric Kushner's "Gotham Boxing" at the Roseland Ballroom in New York City.
More on Marquez-Jaca saga!
Salud cries foul over Jaca disappearance
By Nick Giongco
Filipino boxing promoter Wakee Salud is in hot water following the decision by his fighter, super-featherweight Jimrex Jaca to hook up with Oscar De La Hoya's Golden Boy Promotions (GBP) which has penciled a lucrative Nov. 25 bout in Texas against Mexican master counter-puncher Juan Manuel Marquez. Salud told Fightnews that Jaca left the Philippines for Los Angeles accompanied by his trainer Robert "Jun" Bubuli. The two are now under the care of GBP vice-president for matchmaking Eric Gomez. Upon Jaca's arrival, he signed a three-fight contract with GBP. Jaca had initially been booked to face Marquez last month, but the bout fell through after Jaca encountered problems with his travel documents (US visa). Salud thought GBP would not re-schedule the fight and he decided to negotiate for Jaca to see action underneath the high-profile Nov. 18 rubber match between Manny Pacquiao and Erik Morales at the Thomas and Mack Center in Las Vegas which will be promoted by Bob Arum's Top Rank.
#2 Honmo, #13 Kobori keep belts!
By Joe Koizumi
WBA#2/WBC#7 super-feather Nobuhito Honmo (29-4-2, 5 KOs), 129.25, barely kept his OPBF 130-pound belt as he showed a shaky start but fought back hard with busier combinations to be awarded a unanimous technical decision (88-83 twice and 88-85) over lefty compatriot Junji Murakami (15-4-2, 7 KOs), 129.25, at 1:18 of the ninth round in a scheduled twelve on Saturday in Tokyo, Japan. It was a lousy fight. The taller southpaw Murakami had the champ staggering to the ropes with a solid left in the opening canto, but Honmo took back the initiative with sharper combos from the third onward. The light-punching contestants swapped soft shots with low precision, and the notorious bleeder Honmo, as expected, began streaming blood from a cut over the left optic caused by a butt in the seventh. Another bad head-collision in the fatal ninth opened such a nasty gash between the eyebrows of the champ that the ringside physician duly advised the ref to halt the proceedings.
---
WBC #13 Japanese 130-pound champ Yusuke Kobori (18-2-1, 9 KOs9, 129.75, also kept his national belt by a technical decision (98-94, 96-95 and 98-92) over top ranked southpaw Akio Mikami (18-2-1, 6 KOs), 129.5, because of the challenger's bad gashes at 0:47 of the tenth and final session. Though it was stopped midway in the tenth, the scores in the final round were included in the tallies. It was a hot but less skillful combat. Promoter: Kadoebi Jewel Promotions.
Legends at D.C. Fight Night!
by Mike Greenhill
The 17th annual D.C. Fight For Children was another rousing success at the Washington Hilton and Towers in Washington, D.C., Thursday night. As usual, the evening included a dinner, a laser show, in-ring performances by the Washington Redskin cheerleaders followed by the legendary soul group The Temptations, the introduction of legendary fighters, a live auction of a fighter-autographed Harley motorcycle, and four pro bouts. Fighters on hand were Jake LaMotta, Buster Douglas, Gerry Cooney, Micky Ward, Hector Camacho, Jr. and Sr., Roberto Duran, Joe Frazier, Marvis Frazier, Aaron Pryor, and Michael Spinks. Legendary race driver Mario Andretti was also a surprise guest.
'Pretty Risky' weigh-in gallery!
Photos: Chris Cozzone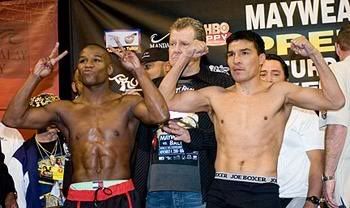 Friday's weights and photos from Carlos Baldomir vs. Floyd Mayweather "Pretty Risky" card at the Mandalay Bay in Las Vegas .
Pavlik crushes Pierre!
by Josh Womack & Antonio Castro, photos by Joe Bada
Kelly Pavlik (29-0, 26 KO's) continues to prove that he is going to be a player in the middleweight division with a dominant stoppage over Leonard Pierre (18-3) Thursday night in front of 4,416 of his hometown fans at the Chevrolet Centre in Youngstown, Ohio on a card promoted by Top Rank, and aired by Versus . . . .
Johanneson stops Fehintola!
By Enrico "Erik" Crociati
Leeds big puncher, superfeatherweight Carl Johanneson (25-2, 18 KOs) retained his British title at the Metrodome in Barnsley, UK on Friday night, stopping formerly undefeated Femi Fehintola (14-1, 1 KOs) in six rounds. Johanneson dropped Fehintola two times in the third round and later forced a stoppage in the sixth becoming the first fighter to stop the brave Fehintola. It was the first title defense for the 'British Ingemar.' He has now won seven straight contests since getting knocked out in round one by Leva Kirakosyan in 2004 and might now be ready for a European or Commonwealth title fight. On the undercard, Belfast super middleweight Brian Magee (26-3, 18 KOs) was back in action and outpointed decent Paul David (4-2, 3 KOs) over six rounds.
Northwest Boxing Scene!
by Sam DiTusa
After a busy October that saw several venues put on great shows, more of the same is in store for November in the Pacific Northwest. The action begins at the Seven Feathers Casino & Resort in Canyonville, Oregon, on 11/4 with a seven-bout card promoted by Ringside Ticket and Patrick Ortiz. The feature bout of the evening has Women's Featherweight Champion Kelsey Jeffries, (35-9-1, 3 KOs) vs. Lena Ramirez, (4-9-1, 1 KO) in an eight round rematch. The main event, however, is the much anticipated eight rounder between Portland's David Banks (13-1-1, 2 KOs) and Luis "El Lobo" Lopez (14-7, 7 KOs). These two super middleweights have been on a collision course for about eight months, and the crowd will be in for a great fight between the boxer Banks and the brawler Lopez.
Buzz: ShoBox, Guinn, Audley
Unbeaten featherweights Mario Santiago (16-0) and Rashiem Jefferson (10-0-1) collide on the December 1 edition of ShoBox at the Chumash Casino in Santa Ynez, CA.
---
Heavyweight Dominick Guinn would like to see his name added to the list of candidates going toe to toe in the big money Superfighter tourney on December 1. "I have been preparing Evander Holyfield for his upcoming fight as well as sparring various fighters," says Guinn. "I have been hitting the gym hard since August so I am ready to go, I am ready for this tournament and you should give me a chance to win it all!"
---
Heavyweight Audley "A-Force" Harrison (20-2, 15 KOs) will be working with Thell Torrence for his upcoming Commonwealth heavyweight title fight against Matt Skelton at the ExCel Centre in London on December 9th.
---
Undefeated welterweight prospect Henry Crawford will battle Christopher Henry on Nov 10 at the Birchwood Manor in an eight round bout, it was announced Friday by Main Events CEO Kathy Duva. In his last bout on Sept 16, Crawford (12-0-1, 5 KOs) needed just 12 seconds to knock out Adam Wynant on the Barrera-Juarez II PPV undercard in Las Vegas.
---
Fightnews.com feature writer Lee Bates will be a live in studio guest for the Rich Marotta "Neutral Corner" Boxing show today from the Mandalay Bay Casino in Las Vegas. The program is Southern California's only all boxing show and airs live on AM 570 and worldwide at www.570klac.com. Bates will go on at 11AM PST.
"La Araña" update!
By Hector Villarreal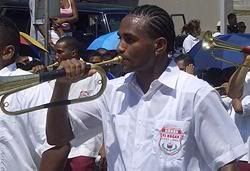 In the middle of his preparation for his December 2nd interim title fight against Japan's Takefumi Sakata, Roberto "La Araña" Vasquez took part in the patriotic parade to commemorate the 103th anniversary of Panama's separation from Colombia. The former WBA light flyweight champion who is moving up to 112 pounds, played the clarin for El Hogar band on Friday. (Photo: Hector Villarreal)
Correcting a referee's mistake!
By Joe Koizumi
This is a manuscript of my short speech made at the officials seminar of the WBC convention in Dubrovnik, Croatia. Yours truly asked for opinions of highly respectable referees and judges attending there on my proposal. Boxing depends on democracy. Without winning more than two votes out of the three judges, you cannot win a decision. If two judges see a fight even, it becomes a majority draw. Boxing stands on the majority system of democracy. I would like to mention a case that the referee should make an obvious mistake, for example, in declaring a slip knockdown or calling a knockdown slip, and then the three judges currently have to accept the referee's wrong call. In a world title bout each boxer has 120 points, 10 points multiplied by 12 rounds, at the beginning of the fight under the ten-point must system. Should all the judges be forced to accept the referee's wrong decision on a knockdown or a slip, six points (three times 10-8) may move in a wrong way, which may wrongly affect the final result on which the winner is. How about my idea?
King at Navajo-Hopi ceremony!

Don King took time out from promoting the first world heavyweight championship ever staged in Arizona to attend a significant signing ceremony Friday by Arizona's Navajo and Hopi nations, ending a 40-year battle over religious sites. King gave both tribal leaders 50 pairs of tickets to his history-making card at Chase Field to celebrate their historic conflict resolution. Pictured at the event, from left to right, are: Navajo Nation President Joe Shirley Jr., Secretary of the Interior Dirk Kempthorne, King, and Hopi Vice Chair Todd Honyaoma Sr. (Photo: David Martin Warr/DKP)

Ferrara to ref Liakhovich-Briggs!
Local referee Bobby Ferrara will be the third man in the ring when Sergei Liakhovich defends his WBO heavyweight title against Shannon Briggs Saturday night at Chase Field in Phoenix, Arizona. Judges for the event are Denny Nelson (Minnesota), Jose Rivera (Puerto Rico) and Chris Wilson (Arizona). The referee for the WBA lightweight clash between champion Juan Diaz and Fernando Angulo is Raul Caiz Jr. (California). Judges are Raul's Dad Raul Caiz Sr. (California), Luis Pabon (Puerto Rico) and Gerald Maltz (Arizona).

Holt dominates Hlatshwayo!
By Kurt Wolfheimer at ringside
Super lightweight Kendall Holt (21-1, 12 KOs) returned from a 13 month layoff to score a big twelve round unanimous decision over previously unbeaten and world rated Isaac Hlatshwayo (25-1, 9 KOs) to claim the vacant NABO 140-pound crown on Friday night at Bally's Casino Ballroom in Atlantic City, NJ. The unbeaten Hlatshwayo, who is rated WBA #2 at lightweight and WBC #5/IBF #9/WBO #7 at super lightweight, pressed the action against the hard-hitting Holt, who used ring movement and superior hand speed to beat Hlatshwayo to the punch more and more as the bout wore on. An accidental headbutt opened a deep cut over Hlatshwayo's left eye in round six. Holt knocked down Hlatshwayo in the ninth, eleventh and twelfth to punctuate his win. Scores were 116-109, 119-106, 119-106.

---
Earlier, in a battle of unbeaten welterweights, Shamone Alvarez (16-0, 10 KOs) won a majority decision over Enrique Gutierrez (10-1, 8 KOs). Alvarez was credited with a flash knockdown in round one and went on to a 77-74, 76-75, 76-76 nod.
Tua KOs Wheeler!
By Matt Richardson and Jason "J-Gon" Gonzalez at ringside
Heavyweight contender David Tua (46-3-1, 40 KOs) scored a seventh round knockout over Maurice Wheeler (10-9-1, 1 KO) on Friday night at the Roseland Ballroom in New York City. Tua ended what had been a competitive fight to that point with a crushing left to the body that put Wheeler down and out.
---
Unbeaten super middle Mean Joe Green (13-0, 10 KOs) knocked down Edson Aguirre (11-5-1) seven times before their bout was halted at 2:30 of round five. Aguirre was cheered everytime he got up.
---
Unbeaten bantam Jose Nieves (16-0-2, 8 KOs) shut out Alejandro Moreno (21-20-3) over eight 80-72 on all cards.
---
Unbeaten super middle Peter Quillin (8-0, 7 KOs) blitzed David Estrada (10-10) dropping him twice before the bout was stopped at 2:56 of round one.
---
Lightweight Jorge Teron (13-0-1, 8 KOs) was dropped in rounds one and three while opponent Marcus Luck was down in round two. Teron came away with a six round decision by scores of 57-54, 56-55, 56-55.
Mock wins EU title!
By Thomas Jensen at ringside
Danish-based Congolese Lolenga Mock captured the vacant EU super middleweight title tonight in Skive, Denmark when Frenchman Franck Mezzache was forced to retire with a hand injury in the corner before the sixth round. Mock floored his opponent in the second round and was ahead on all three scorecards. Despite that the Frenchman fought well and managed to cause some problems for Mock before the injury. With the victory Lolenga Mock moves on to 26-10-1 (11 KOs). Mezzache is now 16-7-1 (6 KOs).

---
In other action unbeaten jr. middle Reda Zam Zam, WBA #7, WBO#9 returned to the ring after a minor injury and knocked out Alvaro Moreno Gamboa of Colombia in the second round. Zam Zam could be headlining the next Team Palle show.
---
WBO I/C lightweight champion Martin Kristjansen outpointed Stuart Green of Scotland after six entertaing rounds in a non-title bout. Green moved forward the entire fight, but Kristjansen was a notch quicker and landed the more precise punches. The scores were 59-55, 59-56 and 60-54.
---
Other results:
Danish cruiserweight Anders Hugger defeated Leri Okhanashvili of Georgia by a TKO in the 3rd round of a cruiserweight bout.
Thomas Povlsen of Denmark outpointed Sevedin Syroos, Belgium over six rounds in a jr. middleweight contest.
Danish heavyweight Claus Bertino knocked out Aleksandre Borhovs of Latvia at 2:18 in the first round.
Featherweight Ervis "Prince" Mascha floored his opponent, Miloud Saadi of Belgium, in the last round and outpointed him over 4 rounds.
Segura tops Tamara!
Unbeaten flyweight Giovanni Segura (16-0-1, 12 KOs) outpointed Olympian Carlos Tamara (12-2, 9 KOs) over twelve hard-fought rounds on Friday night at the Palo Duro Creek Golf Club in Nogales, AZ. Judges preferred Segura's aggressiveness over Tamara's ring movement in a 118-110, 117-111, 116-112 win. Segura wins the NABF light flyweight interim title.
---
Super lightweight Victor Ortiz (16-1, 11 KOs) knocked out Yair Aguilar (6-7, 4 KOs) at 1:27 of round two.
Caballero: I am the hunter!
The cheers had barely died down from WBA Super Bantamweight Champion Celestino Caballero's spectacular third round stoppage of 46-1-1 Somsak Sithchatchawal on October 4th when bantamweight champion Rafael Marquez started making noise about moving up to 122 pounds to fight 'Pelenchin' for his title. Caballero (25-2, 18 KOs), unbeaten in his last six fights (four by knockout) and the holder of the only win over fellow titleholder Daniel Ponce De Leon, has some choice words for the brash Marquez. "I've heard what Marquez has said about me, and I just want to make one thing clear – he is not the hunter, I am the hunter," said Caballero, the pride of Colon, Panama. "If Marquez' fists are able to back up his mouth, I will be more than willing to send him back to 118 pounds with his tail between his legs. My promoters, Seminole Warriors Boxing Promotions and Sycuan Ringside Promotions have already approached Marquez' promoter Gary Shaw, and he knows where to reach my people. I respect Marquez' accomplishments as a bantamweight, but at 122 pounds, he will merely be a boy playing with men." The ball is now in the court of Rafael Marquez and Gary Shaw.
Baldomir, Floyd make weight!
By Albert Howell & Chris Cozzone
From the Mandalay Bay Events Center in Las Vegas for tomorrow night's "Pretty Risky" HBO-PPV-televised card. Promoter: Goossen Tutor
For the WBC and lineal welterweight championship:
Floyd Mayweather 146 vs. Carlos Baldomir 147
For the IBF featherweight championship:
Robert Guerrero 126 vs. Orlando Salido 126
Paul Williams 147 vs. Mauro Lucero **
** Lucero will weigh in tonight
Chris Arreola 229 vs. Damian Wills 250
Robbie Peden 141.5 vs. Wes Ferguson 136
Alejo Sepulveda 146 vs. Cedric Holmes 147
Perez loses title on scale!
By Oscar Paredes
IBF super flyweight champion Luis Perez was unable to make the 115lb limit for his title defense on Saturday against Ricardo "Chapo" Vargas in Phoenix. Perez weighed in at 120 for the bout during today's weigh-in. "That fight will not go," DKP executive Bob Goodman informed Fightnews.com. "The Commissioner John Montano determined that there was just too great a disparity in the weights and since boxers have an obligation to make the weight contractually, they should do that. It's not fair to anybody, not fair to the promoter, not fair to the fans, not fair to the other boxer. So he said unless he makes weight there's no fight." Perez is the latest in a rash of fighters to not make weight before high-profile fights.
Berbick's nephew charged!
Jamaican Authorities have charged the nephew of former heavyweight champion Trevor Berbick with his murder. 20-year-old Harold Berbick and 18-year-old Kenton Gordon have both confessed accoding to police. The accused killer's mother is the sister-in-law of the ex-champ, with whom Trevor Berbick had a long-running feud.

Wheeler will fight Tua!
By Flattop
Matchmaker Jim Borzelle informed FightNews that journeyman Maurice Wheeler (10-8-1, 1 KO) out of Philadelphia will fight David Tua (45-3-1, 39 KOs) in the main event tonight at the Roseland Ballroom in New York City. "Wheeler is solid opponent in this situation," stated Borzelle. "He has had five fights this year, which included going the distance with three prospects." Wheeler went the distance with 2004 Olympian Jason Estrada (then 6-0) in his last fight in September. Wheeler also went the distance with Alonzo Butler (then 23-0-1) and he lost a split decision to Zakeem Graham (then 9-1-1) back in May. "Wheeler is a tricky southpaw out of the Philly gyms. He is a durable opponent that will come to fight!" Several opponents fell out for Tua over the past few weeks, including Kelvin Davis, Ross Puritty and Abraham Okine but ironically the heavy-duty Wheeler may prove to be the toughest of the lot due to his activity and toughness.
Weights from Phoenix!
Perez five pounds over
By Riley Henry at the scale
The weigh in for the undercard of the Liakhovich-Briggs showdown at Chase Field in Phoenix, Arizona on Saturday Nov. 4th was held at the Tradiciones Restaurant this morning at 11AM.
Here are the weights:
Juan Diaz 134 vs Fernando Angulo 134
(WBA lightweight title)
Luis Perez 120 vs Ricardo "Chapo" Vargas 115
*****Perez has 2 hrs. to make 115*****
(IBF super flyweight title)
Luis Collazo 150 vs Artur Atadzhanov 148
Elio Rojas 128 vs Luis Bolano 136
(Bolano has 2 hrs. to make 130)
Miguel Rodriguez 147 vs James Webb 146
Mario Preskar 216 vs Gene Valdez 215
Marcus Johnson 179 vs Oleksandr Garaschenko 175
Justin Savi 127 vs Michael Mendez 131
Marquez-Jaca on again!
Hopkins vs Castaneda announced
Golden Boy Promotions today reconfirmed that Juan Manuel Marquez will indeed make the first defense of his WBO interim featherweight championship on Saturday, November 25th in an HBO Boxing After Dark-televised bout against Jimrex Jaca at the Dodge Arena in Hidalgo, Texas. The 12 round championship match between Marquez (45-3-1, 34 KOs) and Jaca (27-2-1, 12 KOs) was originally scheduled for October 21st, but VISA issues caused the bout to be postponed until November 25th. Jaca's manager Rex "Wakee" Salud had told several reporters that Jaca had accepted another fight.
Petersons, Wolfe at the Fitz!
The undefeated Peterson brothers are set to appear in separate bouts on November 18th at the Fitzgeralds Casino & Hotel in Tunica, MS, topping the latest installment of Prize Fight's "Fights At The Fitz." The main event will feature undefeated and #3 world ranked NABO lightweight champion Anthony Peterson (20-0, 16 KOs) in an 8 round clash against former world titlist Alfred Kotey (24-13-1, 14 KOs). Brother Lamont Peterson (18-0, 8 KOs) squares off against spoiler Marteze Logan (23-25-2) in a jr. welterweight bout. Also, 8-time female world champion Ann Wolfe (24-1, 16 KOs) will also be on the card in a 6 round super middleweight clash against Valerie Mahfood (19-11-3, 9 KOs). Also scheduled are jr lightweight Ira Terry (10-0, 6 KOs) and Josiah Judah, the younger brother of three-time world champion Zab Judah.
Dettweiler 218.25, Sprott 242
René Dettweiler 218.25 vs. Michael Sprott 242
(European Union heavyweight title)
Cengiz Koc 221 vs. Timo Hoffmann 256.25
Oleg Platov 227 vs. Henry Akinwande 240.75
(IBF Intercontinental heavyweight title)
Pawel Kolodziej ?? vs. Remigijus Ziausys 190.5
Alexander Frenkel 193.5 vs. Stefan Raaff 188
Dominik Britsch 150.5 vs. Erik Nazarian 150.75
Nikita Dubunin 154.5 vs. Frank Harroche Horta 148
Karo Murat 170.2 vs. Tanju Günes 174.5
Frank Shabani 140.5 vs. Saber Gasmi 135.5
Andreas Evensen 132.25 vs. Younes Amrani 136.5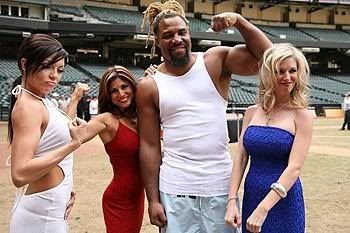 Shannon "The Cannon" Briggs finds himself outgunned by the ringcard girls who will count down the rounds Saturday during his challenge to WBO heavyweight champion Sergei "The White Wolf" Liakhovich on SHOWTIME Championship Boxing. (L-R) Tammi, Leah, Shannon and Scarlett.
Briggs looks and sounds ready!
By Chad Barcus
"Look, I've been an underachiever in some ways in my career and an overachiever in a lot of ways, but I really trained for this fight," says WBO title challenger Shannon Briggs. "I did one thing I didn't do in years--sparring. Don't ask me how the last eight or nine years I had a career without sparring. Then I realized, why haven't I made a hundred million dollars like Mike Tyson and Lennox Lewis and these different guys? Are they so different from me? No, no they're not. It's just that I didn't have the right people around me. I wasn't going in the right direction and I was slacking. That's when I made the turn around and I realized yo, I need to run. I need to go to the gym everyday."
Vetyeka making fifth defense!
By Ron Jackson
South African bantamweight champion Simphiwe Vetyeka makes the fifth defense of his title when he meets Sakhumzi Bongwana on December 9 in East London. However, the fight date and defense was only confirmed after a heated dispute between promoters Siphatho Handi and Mzimasi Mnguni. Handi intended including the fight that was to be televised by SATV at a function in East London on December 16, to commemorate past struggle heroes. Unfortunately Vetyeka was already committed to fight on Mnguni's December 9 tournament to be televised by Supersport. It appeared that Vetyeka had signed two promotional contracts, one with Handi and the other with Branco Milenkovic, who had agreed that Vetyeka could fight on Mnguni's tournament. If Vetyeka 15-0 (8) one of the brightest prospects in South African boxing retains his title he will also become the proud holder of the prestigious Old Buck championship belt
Thomas Damgaard retires!
By Thomas Jensen
Two-time European champion boxer Thomas "Lionheart" Damgaard of Denmark says in press release he's retiring. Damgaard last fought in January 2006 in a welterweight contest, where he lost by TKO in round 11 to Arturo Gatti. He retires at age 35 with a record of 37-1 (27 KOs). The Dane had his pro debut in 1998, when he signed a deal with Team Palle. That very same year after only 9 fights he stepped in as a late substitute and won the European jr. welterweight championship by stopping Spaniard Jose Manuel Berdonces in the 12th round. His best victory came when he defendend his title against former WBA champ Khalid Rahilou, whom he knocked out in 4 rounds. In 2000 he captured the same European title in the welterweight division, when he defeated Alessandro Duran of Italy. Damgaard, a popular aggressive southpaw fighter, also won the IBC and WBA International welterweight title and defeated notable names such as Philip Holiday and Greg Haugen. Thomas Damgaard will start his new career this Saturday, when he starts working as a fulltime boxing trainer in a large Danish fitness company.

Alexander's KO loss overturned!
By "Philly" Keith McMenamin
On October 14th Fingerspoon Promotions made their promotional debut with a card titled "Redemption" featuring some of the best fighters in Philadelphia. In the co-main event, Max Alexander (12-0-1, 1 KO) faced off against Marty Lindquist (12-4, 10 KOs) in a fight that most thought would be a showcase of Alexander's skills. That was not to be as Lindquist charged and landed a right hand as the opening bell sounded on a seemingly unsuspecting Alexander who was still in his corner. The punch landed square on the temple leaving Alexander in the ring unconscious for over five full minutes and putting the first blemish on an otherwise perfect professional record. The official time of the stoppage was 10 seconds into the round. On Wednesday evening, Pennsylvania State Athletic Commissioners office overturned the decision changed the official ruling to a No Contest. PA boxing commish Greg Sirb stated that "Mr. Lindquist failed his drug test, thus the results were changed to a No Contest."
Dettweiler set to face Sprott!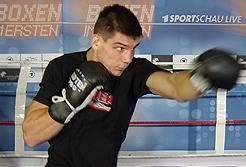 René Dettweiler is determined to make the most out of his surprise shot at the EU-heavyweight belt. The clash with Great Britain´s Michael Sprott has been lined up on short notice after cruiserweight Marco Huck had to pull out of his meeting with Pietro Aurino due to an arm injury. "Of course it was a bit of a surprise," said Dettweiler of his first-ever title fight. "But I have been practicing anyway. It´s not a problem for me to fight against such a strong opponent. I consider it a big opportunity of which I will try to make the most of." Coach Manfred Wolke shared the optimism of his gifted youngster. "He certainly has enough potential," Wolke stated. "The time is right for him to go up against these opponents. If he lives up to his potential, he will win this fight."
Gato's Fight For Bragging Rights!
by Jason "J-Gon" Gonzalez
New York State Junior Welterweight Champion Francisco "Gato" Figueroa (13-2, 10 KOs) will be featured on the undercard of the Wladimir Klitschko-Calvin Brock undercard taking place next Saturday at Madison Square Garden. Figueroa will be putting his title on the line for the first time when he faces fellow Bronx resident "Mr." Joey Rios (14-0, 6 KOs) in a scheduled ten rounder. This exciting showdown of two Puerto Rican prospects will feature the proverbial match-up of boxer versus puncher.
Holt, Hlatshwayo make weight!
In a crossroads fight, Duva Boxing will pit two of the brightest young super lightweights when Kendall Holt (20-1, 12 KOs) squares off against unbeaten Isaac Hlatshwayo (25-0, 9 KOs) for the vacant NABO 140-pound crown tonight on "ShoBox: The New Generation." In the co-feature from Bally's Casino Ballroom in Atlantic City, N.J., Shamone Alvarez (15-0, 10 KOs) will take on Enrique Gutierrez (10-0, 8 KOs) in a welterweight attraction.
---
Kendall Holt 140 vs Isaac Hlatshwayo 140
Shamone Alvarez 147 vs Enrique Gutierrez 146.75
Q&A Paul Spadafora!
by Andre Courtemanche
In the spectacular 1971 Anthony Burgess novel 'A Clockwork Orange', there is only one force in the universe powerful enough to ultimately curb main character Alex de Large's insatiable taste for "ultra violence." And it's not prison, not beatings, or even torture. In the end, maturity is what leads him to change his evil ways. Having been through his own lifelong Clockwork Orange-like odyssey of violence and mayhem and now hoping for a brighter, less tumultuous future, former IBF Lightweight Champion Spadafora can certainly relate. Spadafora began serving three years of parole earlier this year after seven months in state prison and a stint in boot camp for shooting then girlfriend Nadine Russo at a gas station during an intoxicated rage in October 2003. Now an admitted alcoholic in treatment, "The Pittsburgh Kid" says he's living alone in Erie Pennsylvania and learning to "keep it simple," as he begins putting the pieces of his new life together. The slick, 31-year-old southpaw (38-0-1, 15 KOs) will return to the ring for the first time in over two years to headline promoter Mike Acri's 22nd-annual Erie Boxing Classic, on Wednesday, November 22, at The Avalon Hotel against Indiana's Frankie Zepeda (16-3, 9 KOs).
Arum: Pavlik to HBO next!
By Brady Crytzer
After Kelly Pavlik's dominant win over Lenord Pierre, promoter Bob Arum announced Pavlik will return January 27 on HBO at the Arrowhead Pond of Anaheim. "We will have to sit down and figure out a real viable opponent," Arum said. "It will be his first fight on HBO and it will be a very significant night. I have promoted Ray Mancini and Harry Arroyo," Arum said. "I have had a lot of luck with Youngstown guys, but this kid (Pavlik) is going to be the best."
---
"Everyone says 'the heavyweight division is what carries boxing,' but that's not the case," Arum said. "I have promoted twenty five fights for Muhammad Ali but for me the best era in boxing was the middleweights in the eighties. That's when you had fighters like Tommy Hearns, Marvin Hagler, Roberto Duran and Sugar Ray all fighting each other! Kelly Pavlik is the guy that is going to bring back the middleweight division to prominence. There are guys out there like Jermain Taylor, Winky Wright, John Duddy and this kid from Ireland Andy Lee. He is going to have good competition because you have to have good competition to achieve greatness."
Another new opponent for Tua?
Heavyweight David Tua is still without an opponent for Friday night in New York City. Thus far, bouts with Kelvin Davis, Ross Puritty and now Abraham Okine have fallen through, Okine having apparently failed his medical. Promoter Cedric Kushner is now reportedly trying to bring in Maurice Wheeler (10-8-1) as a late sub.
Marquez-Jaca off again!
For the second time, the defense of WBO interim featherweight champion Juan Manuel Marquez against Jimrex Jaca is off. Jaca's manager, Rex 'Wakee' Salud told fight scribe Dennis Principe that he already has a commitment for his fighter to appear beneath the November 18 Pacquiao-Morales card. According to Mr. Salud, Golden Boy Promotions' decision to resurrect the fight came right after he had come to an agreement with Top Rank. A source also told Principe that it is currently impossible for Jaca to make the featherweight limit.

Pavlik pounds Pierre!
By Josh Womack & Antonio Castro at ringside
Super middleweight Kelly Pavlik (28-0, 25 KOs) thrilled his hometown fans with a fourth round destruction of Lenord Pierre (18-3, 13 KOs) on Thursday night at the Chevrolet Centre in Youngstown, Ohio. Pavlik dropped Pierre with a right hand at the end of the first round and brutally punished "The Haitian Sensation" until a left hook decked Pierre :46 into the fourth round when the slaughter was immediately halted.

---
Contender: Season One star Ahmed Kaddour (20-2) jabbed his way to a split decision over Jesus Valverde (21-13-1) in an eight round welterweight matchup. Scores were 77-75, 77-75, 75-77.
---
Other results: Unbeaten cruiser Aaron Williams (10-0-1, 6 KOs) scored a second round TKO (2:35) over Mike Word (3-4) and super middle Darnell Boone (12-6-2) dropped William Johnson (7-9-1) in round two en route to a 40-35, 40-35, 39-36 UD.
Donovan George TKO5 (2:27) Julio Jean - Supermiddle
Billy Salsar KO2 (2:33) Shane Schneider - Supermiddle
Darroll Cunningham W4 (40-36 3x) Dannon Svab - Lightheavy
Litzau lands HBO date!
Undefeated featherweight prospect Jason Litzau (20-0, 18 KO's) makes his first appearance on HBO on December 16 when he battles Jose Hernandez (21-3, 13 KO's) in a 10 round co-feature bout that will open the "Boxing after Dark" broadcast, it was announced today by Main Events CEO Kathy Duva. The main event features what is expected to be a 10 round middleweight war between Edison Miranda (26-1, 23 KO's) and Willie Gibbs (20-1, 16 KO's). Miccosukee Resort & Gaming will host the exciting evening of boxing. HBO's "Boxing After Dark" telecast will begin at 9:30 pm ET/PT. "This fight card is an example of B.A.D. returning to its roots," said Main Events VP Carl Moretti. "Two pick'em fights with no titles on the line—just four contenders vying to become future stars." Exciting welterweight prospect Joel Julio (28-1, 24 KO's) will compete on the non-televised portion of the undercard.
Liakhovich 238, Briggs 268!
Photo Courtesy of Tom Casino/SHOWTIME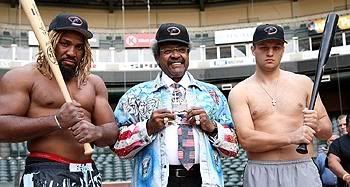 Shannon Briggs, promoter Don King and Sergei Liakhovich get into the swing of things as they pose at home plate after Thursday's heavyweight weigh-in at Chase Field in Phoenix. Briggs weighed 268 pounds, 30 more than Liakhovich, who tipped scales at 238. In a battle of power hitters who prefer to play long ball, Liakhovich defends his WBO title against Briggs
Augustus rips into Hopkins!
By Jose Reyes
Fan favorite Emanuel Augustus is still stumping for a fight with Demetrius Hopkins on the November 25th "HBO After Dark" show at the Dodge Arena in Hidalgo, Texas. "Homeboy be talking about how I need him and he don't need me. We need each other," stated Augustus. "He ain't fought nobody that's on my caliber. Now he be talking about facing Rogelio Castaneda instead of me! Didn't he just mention that he wants to fight me and prove he's the best at 140? Well then step up to the plate and fight me like you say you will. We need each other to showcase ourselves on HBO. Let's give the fans what they want, which is a good matchup in the 140 pound division. Now about him saying that he beat Michael Warrick and that I lost to him so that proves I am an easy fight, well enjoy that victory. But if he thinks because he got an easy victory with Warrick he will get an easy victory with me, he is terribly mistaken. He doesn't want to fight me but he's got to fight me if he wants to give the Hopkins last name a decent piece of honor coming from him. What would Bernard Hopkins do if he was in Demetrius' shoes? I'll tell you what he would do. He would step up and fight me, but I doubt his nephew has an ounce of his blood and would do the same."
Cotto, Quintana easily on weight!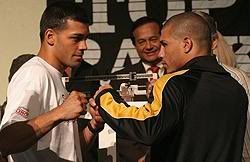 Today in Puerto Rico, Miguel Cotto (right) and Carlos Quintana had their 30 day pre weigh-in. The maximum weight allowed was 169 pounds. Cotto coming at 163 and Quintana at 159. Cotto and Quintana will battle for the WBA welterweight crown on December 2 at the Boardwalk in Atlantic City in a show that is going to be televised by SHOWTIME. (Photo: Jose Perez.)

Lacy-Tsypko II planned!
By Justin Stone
While it would appear that no names have been attached to contracts yet, Jeff Lacy is expected to fight WBA #6 Vitali Tsypko (17-1-0, 10 KO's) on December 2nd as part of the Winky Wright vs Ike Quartey undercard at the St. Pete Times Forum in Tampa and scheduled to be aired live on HBO. Tsypko and Lacy met once before back in 2004. The fight was stoped and delcared a no contest when Tsypko suffered a cut due to an accidental headbutt.
Night of the Heavyweights!
Michael Moorer returns December 9
In the Heavyweight division, a fighter is always just one punch away from glory. When you're a three-time holder of the sport's most prestigious crown, your odds are even better, so with boxing's glamour division wide open and in need of a spark of life, Michael Moorer has returned to provide that spark, beginning with a 10 round bout against hard-hitting Cliff Couser on Saturday, December 9th at the Seminole Hard Rock Live Arena in Hollywood, Florida. "Night of Heavyweights", which is presented by Seminole Warriors Boxing, will also feature unbeaten young gun Roman Greenberg.
Cummings wins in comeback!
After a two-and-a-half year layoff, former world title challenger Craig "KidFire" Cummings (53-6-1) made a triumphant return to the ring last night, stopping Matt Gockel (9-7) at 2:20 of the second round at the Ameristar Casino in Kansas City. Following his last bout in February 2004, Cummings underwent a second reconstructive surgery on his left