Aurelio And Kang To Prove ATT Truly Is The Top Team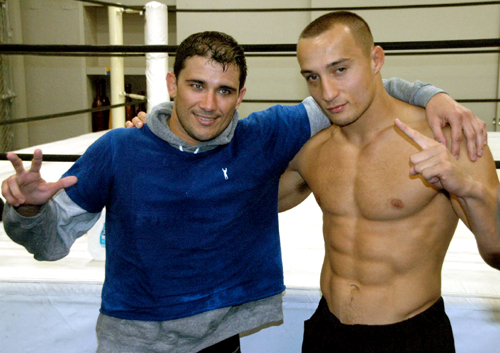 American Top Team, fresh from celebrating Gesias Calvacanti's HERO'S Middleweight Grand Prix victory, will seek to capture the PRIDE Bushido World Lightweight Championship and the Welterweight Grand Prix Championship this Saturday. Marcus Aurelio will face Takanori Gomi for the Lightweight strap while Denis Kang, in the first of a possible two bouts, will face Akihiro Gono in the Welterweight Grand Prix semifinal. Today, the two held an open training session for the media.
In sparring and heavy bag work, Kang displayed a variety of tools for his stand-up, his flying knee and front kick standing out to spectators. Marcus Aurelio brought a light suprise in his newly refined boxing technique. Aurelio seemed to also be cutting weight simultaneously as he was clothed in sweats for the entirety of the session.
Concerning training, Kang made a note of the great intensity which he brought to each session, speaking to the need to "train like a champion" at all times. When asked for his reaction to opponent Akihiro Gono spending his open practice preparing his entrance dance, Kang expressed indifference, caring only for what Gono had prepared for the ring.
Marcus Aurelio, trainnig his jiu-jitsu skills always, sought to sharpen his striking. In addition, in order to match Gomi's reknowned power, Aurelio and his team decided it'd be advantageous to add additional muscle to Aurelio's frame and only now is he beginning to cut water weight. Aurelio reported remaining 2kg over the weight limit, but had confidence he'd be ready Saturday night. Aurelio's greatest confidence, however, lay in perceiving no growth in Gomi's ground game such that he'd feel threatened on the ground. Aurelio, having watched Gomi's battle with France's David Baron, stated: "You don't prove any growth in your ground game if you're pounding your opponent".
We will know for sure whether this is true or not Saturday night.