Ali-Burton hype NYC fight in Vegas
An informal round table was held Thursday at the Wynn Hotel in Las Vegas, Nev. for the November 11th WBC/WIBA world title fight between champion Laila Ali and challenger Shelley Burton.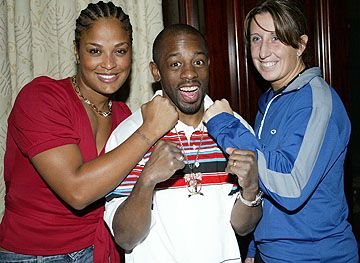 Photo of the day: Laila Ali, Kevin Kelley and Shelley Burton pose
for shots at yesterday's press conference at the Wynn Hotel & Casino
in Las Vegas , Nevada. Ali & Burton will fight each other Nov. 11 on
the undercard of the Klitschko-Brock card at Madison Square Garden
in New York. Kelley takes on Manuel Medina on the same card.
Photo by Mary Ann Owen for FightWireImages.com
The fight will be a feature fight on the Klitschko/Brock card at Madison Square Garden in New York City.
Press conference quotes:
ALI: I want to thank Shelley Burton for taking this fight. There are a lot of fighters out there that run their mouths about how they want to fight me but when the contract is on the table they refuse to sign. Shelley and manager Butch Gottlieb agreed to this fight immediately and had no problem signing the contract. I have watched Shelley for a long time and I respect her and I know that if she didn't feel that she would and could win this fight she wouldn't have accepted it.
BURTON: I just want to thank Laila Ali for this opportunity. I have been training in Las Vegas with Don House and this is the best training camp that I have ever had. I am just looking forward to fighting in Madison Square Garden and to a great fight.