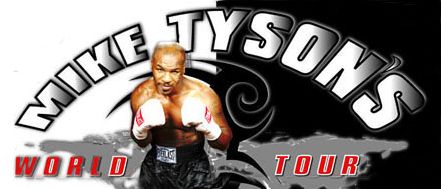 'T-Rex' on Trinidad & Tyson Tour!
October 18, 2006
By Gary "Digital" Williams
Photos: Joe Bada
Corey "T-Rex" Sanders is in the midst of the most eventful week of his boxing career.
Not only is the 6'6" heavyweight from Washington, DC involved in one of the most celebrated world tours since last year's Rolling Stones concert tour, but Sanders prepared for this Friday's first stop on the "Mike Tyson World Tour" by participating in his first sanctioned boxing match in more than two years last Friday on the islands of Trinidad and Tobago.
Sanders (23-11, 15 KO's) lost a 10-round unanimous decision to undefeated hometown boxer Kertson Manswell. Sanders lost the bout, despite knocking Manswell down in the seventh round. Speaking from Youngstown, OH, Sanders told Fightnews that there were some interesting situations that took place after the knockdown.
"When I knocked him down, the referee counted to eight," Sanders said. "Then he said 'eight' again. Then he said 'nine.' Then he said nine again. Then he actually picked him up off the mat."
Despite the loss, Sanders said he is ready to resume a career that begin in 1994 and includes a highly-regarded 10-round unanimous decision loss to Andrew Golota in 1998 and an eighth-round knockout victory over current WBC champion Oleg Maskaev in 2002. Sanders also said he has overcome the detached retina he suffered in the Golota fight.
In fact, Sanders said it wasn't his eye that kept him out of boxing for more than two years; it was what he called "the politics of boxing" that drove him from the sport.
"After the detached retina (which kept him out of boxing for almost three years), I got back into boxing and had the longest winning streak of my career (seven straight victories culminating with the knockout of Maskaev)," Sanders said. "But I couldn't get the big fights I should have."
During his time away from competitive boxing, Sanders found a career as a sparring partner for Tyson, preparing him for his last few bouts, including Tyson's last contest, the loss to Kevin McBride in Sanders's home town of DC in June of 2005.
Sanders called working with Tyson "a beautiful experience," and said Tyson helped him as much as he helped Tyson.
"Truthfully, during the time we were in camp together, that's where I got my boxing confidence from," Sanders said. "To be in the ring with one of the greatest of all time and a heavyweight champion; I've never been in the ring with someone who hit that hard. It feels like he has bricks in both hands."
Sanders said that his sparring work with Tyson led to his involvement in the world tour, which he said, has been in the planning stages since Tyson's loss to McBride.
"Tyson's trainer, Jeff Fenech, talked to me about it after the bout in DC," Sanders said. "But I didn't think much about it."
In fact, Sanders said he found out about his involvement in the tour the same way most people find their news; word of mouth.
"My sister-in-law called me and said 'I saw your picture on TV! You're going to fight Mike Tyson,'" Sanders said. "I said 'are you sure that's me? You know there are two (Corey and Corrie) Sanders.' She said, 'they showed your picture.' Then Jeff called me afterwards and said I was in."
"The tour will be beautiful because it will attract a lot of people who didn't get a chance to see Mike before," Sanders said. "He's calmer than he was when he was going for a title. Plus, young kids who were too young to really know Mike will get a chance to see him and be a part of history. I'm just glad to be a part of it myself."
SPECIAL ADDITION
'T-Rex' Talking Trinidad and Tyson Tour!

DC Heavyweight Corey "T-Rex" Sanders talks about his return to boxing in Trinidad last Friday as well as his involvement in the "Mike Tyson World Tour" on October 20 in Youngstown, OH.